Not far from where I live, at the end of the highway 20 spur, is the Allatoona Lake Visitor Center and Museum. It's really an interesting place to visit at a price any dad can appreciate (free). Even before entering the building, a short walk to an overlook of Allatoona Dam or hike to Cooper's Furnace are available.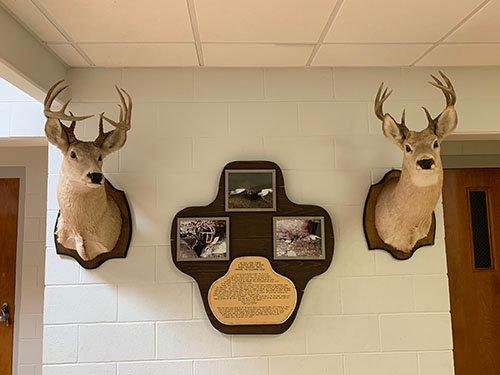 SCOTT BARKLEY/Index
The museum itself is like many that look to educate visitors on local flora and animal life, along with some examples of life in the area before the dam was built. However, one display really gets your attention.
It's of two full-grown bucks, heads mounted aside a collection of pictures. One photo shows their bodies, antlers interlocked, floating at the edge of the lake after having been discovered by a fisherman at Stamp Creek. They had engaged in a battle that, indeed, went to the death.
Apparently, the two had met and began battling over territory. Distracted by the fight, though, they completely forgot about the lake nearby. Not until falling in to the lake did the bucks realize the danger. By the time instinct kicked in, they were literally locked in a fight they could not escape. Ultimately, it would claim both of their lives.
The recent Annual Church Profile report, coupled with a level of online vitriol that often veers into shameful, should cause all Southern Baptists to take pause as to where the battle currently lies. When it comes to communicating the Gospel to others, is our energy better spent in contact with those needing the Good News or fighting among ourselves?
When there's a problem it's tempting to go after the most visible target, the one directly in our line of sight. Check your social media feed and I'd bet it consists mostly of those in your circles of interest. That's just human nature. What that can lead to in times of debate, however, is an internal focus on an external issue.
For Southern Baptists – evangelical Christians, on a wider scope – that issue is a culture now demanding a greater burden of proof about what we believe. The social clout enjoyed by evangelicals in decades past has gone. To follow Christ today requires greater personal risk and, indeed, has come to more reflect the narrow path.
After reading through the most recent ACP report on the SBC, I went back and looked at Georgia specifically over the last five years. In 2014 our state recorded 27,742 baptisms. That number fell to 17,740 in 2019, a drop of almost exactly 10,000. That's a head-jolting, eyes-wide-open statistic for any time frame. Considering it took place over the last five years should cause all of us to search our own souls.
The Southern Baptist Convention and Georgia Baptist Convention are both large groups consisting of a much more diverse collection of churches than those outside our tribe can truly appreciate. And while that diversity makes us stronger, it also introduces different opinions on how things should be done. Strong, orthodox theology must be maintained, but there's danger when it ceases to be a shield for the faith and instead becomes a spear for fellow believers.
There's nothing wrong with healthy discussions taking place. The problem occurs when those discussions overshadow our need to communicate and tell others of the Gospel. That's the only way these trends turn around. There are brothers and sisters in Christ whose methodology differs from my own. But I know their methods reach people mine won't, and vice versa. There are groups and places my ministry goes that theirs doesn't, and vice versa. It's going to take all of us.
Nearly 40 years ago two bucks squared off on a lake shore and literally locked horns. They battled for who knows how long, ignoring the obvious warning signs. It led to their demise.
Will Southern Baptists continue in a similar showdown while the world continues without the Gospel? Or, will we look to each other's strengths and become the hands and feet of Jesus? After all, we don't battle against flesh and blood, but "the cosmic powers over this present darkness." It's time to realign against the true opposition, because right now the numbers say we're distracted by inward fighting that I doubt is bringing anyone to a saving faith in Christ.