FORT WORTH — The College at Southwestern is getting a name change. The trustees of the school have approved the new name as Scarborough College. The college was founded in 2005 and is a four-year institution of higher learning that offers majors in Bible/Biblical Studies, Humanities/Humanistic Studies, and Music. The college is the undergraduate school that is a part of Southwestern Baptist Theological Seminary and occupies space on the seminary campus.
The new name – Scarborough College – is derived from Lee Rutland Scarborough, who was president of the Seminary from 1914- 1942, during which time he also served as president of the Southern Baptist Convention (1938-1940).
According to a press release from Southwestern Seminary. Current president Paige Patterson, speaking of the college's new name at the spring trustee meeting April 12, said he was initially hesitant to name the college after Scarborough for fear that he was not a well-known name. But when Patterson considered the monumental contributions Scarborough made to the seminary, he realized this was undeniably the best choice.
"We are happy about the faithfulness and the example that Lee Scarborough left to us that we can now follow," Patterson said. Patterson added that this is the appropriate time to rename at the college, as it will move this fall into the Fort Worth campus' newest building, Mathena Hall. "They are getting ready, and it's going to be an exciting time," he said.
An intellectual, effective pastor
Scarborough was an intellectual giant. He graduated from Baylor University and went to Yale University to study law, but while at Yale realized that God had other plans for him. His intellectual ability was verified by virtue of his induction into Phi Beta Kappa at Yale. Having surrendered his life to the Gospel ministry Scarborough left Yale and enrolled in Southern Baptist Theological Seminary.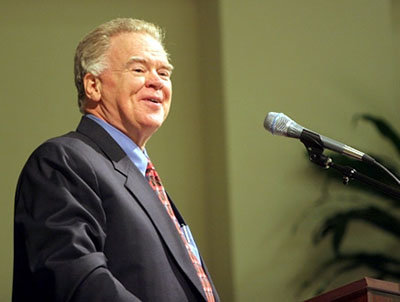 "We are happy about the faithfulness and the example that Lee Scarborough left to us that we can now follow," SWBTS President Paige Patterson said.[/caption]
L.R. Scarborough was not only an intellect, but also an effective pastor. His first church was First Baptist Church of Cameron, TX, south of Waco. After five years in Cameron he was called to First Baptist Church of Abilene, where he remained from seven years. Curing that pastorate there were almost 1,500 added to the church, most of whom came into the fellowship as candidates for baptism.
Scarborough became known as a powerful, passionate preacher. He wrote, "the preacher and his Gospel messaged are the primal human factors in redemption."" He also wrote that "all preaching, whether didactic, apologetic, hortatory, expository, or soul-saving, should be in the evangelistic spirit."
In his most notable work, With Christ After the Lost, Scarborough indicated that evangelistic sermons should be preached with certainty and conviction and stated, "Flabby, spineless preaching will produce a soft and effeminate convert."
While Scarborough was in Abilene, B.H. Carroll, the president of a new seminary in Waco, contacted him and asked him to come and teach in the fledgling school. After a two-year struggle, Scarborough explained his reasoning to a friend by saying, "It looks like this. I can stay here, and preach in this great church, perhaps for the rest of my life. But if I go to the seminary, I can be preaching in a thousand pulpits after I am dead and gone."
From professor to president
Scarborough agreed to teach evangelism in the seminary and no one was more qualified to occupy this "chair of fire" than the Abilene pastor who had a passion for reaching the lost.
As time passed, Scarborough became Carroll's choice to succeed him as president, but he continued to teach the students until his retirement in 1942. It has been estimated that during his tenure at the seminary he taught over 8,000 students.
Scarborough took the reins of Southwestern Seminary in 1914. Under his leadership the seminary won its way into the hearts of Texas Baptists and Southern Baptists as well.
Scarborough became known as a Baptist statesman for his leadership of the 75 Million Campaign, an effort to subscribe $75 million to Southern Baptist causes. It was this campaign that ultimately led to the adoption of the Cooperative Program.
On April 10, 1945, Lee Rutland Scarborough entered into his heavenly rest, but left behind a legacy of winning souls to Christ and training men to preach the Gospel. It is fitting that the College at Southwestern be called Scarborough College.
"The mission of Scarborough College is to create effective witnesses for the Gospel of Jesus Christ, regardless of the student's academic pursuit," the website declares. The college thus prepares students to follow in the footsteps of L.R. Scarborough, who lived "with a heart on fire with evangelistic zeal and a head filled with the wisdom of God."