Robby Foster, senior pastor of Northside Baptist Church in Valdosta, delivers the President's Address Nov. 9 at Ingleside Baptist Church in Macon. SCOTT BARKLEY/Index
---
MACON — Not that he's known for anything different, but Robby Foster didn't mince words during the President's Address at the GBC annual meeting Monday.
"I don't know if you've realized, but the fields are white," he declared, preaching his message "The Great Harvest," based on Matthew 9:35-38.
Foster, senior pastor of Northside Baptist Church in Valdosta, made the comments with his two years as Georgia Baptist Convention president coming to a close. He addressed the current realities of ministry during COVOD-19. However, in the passage he also pointed to a difference in perspective that can allude Christians.
"Jesus was igniting a passion for evangelism with his disciples here. … He was giving them the opportunity to see what exists. He wasn't presenting a problem; He was presenting an opportunity for us to seek the harvest," Foster said.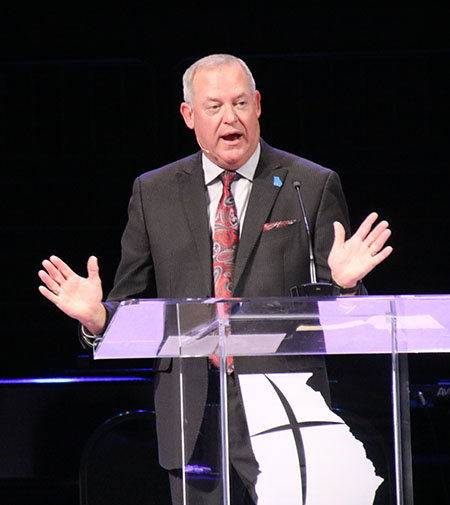 "If we're going to be a church that sees the true harvest of God, we can't focus on one or two things. We must focus on the whole ministry of Jesus," Foster preached. SCOTT BARKLEY/Index
"I believe with all my heart it's time to wake up. The alarm is going off. We're living in perilous times and we must realize the importance today of the harvest that Jesus has for us."
Discipleship cannot be understated in its role alongside evangelism, the Valdosta preacher emphasized.
"If we're going to understand the ministry of Jesus, we're going to have to disciple our people," he stated. "He taught his people the importance of discipling. And not only did He teach, but He preached."
Addressing the healing aspect of Jesus' ministry, the outgoing GBC president talked about a side of health that can be overlooked.
"One of the most important ministries we may have right now is healing in the body of Christ. We are emotionally scarred. We are mentally scarred. We are physically beat up. I tell you with all my heart, I believe in the healing ministry of Jesus that [He] came to set His people free.
"Jesus shows us a ministry of being balanced. … If we're going to be a church that sees the true harvest of God, we can't focus on one or two things. We must focus on the whole ministry of Jesus."
Foster circled back to the concept of opportunities versus problems. Our default perception can often be different from where it should be.
"We see things and we think 'problems," he pointed out. "God sees things and He thinks 'opportunities.'"
Recounting his first pastorate, Foster said there were often more cows in the adjacent pasture than people filling the pews on Sunday morning. When he arrived at Northside in 2013 it was a church that wasn't healthy but had a lot of people who wanted Jesus to work among them.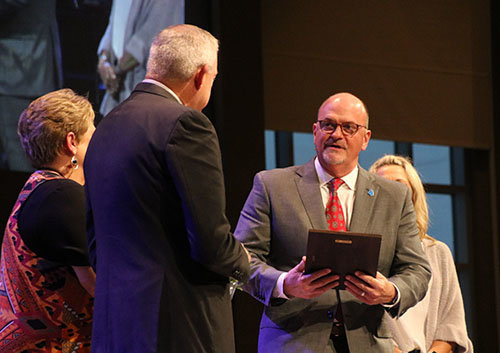 Georgia Baptist Executive Director W. Thomas Hammond, Jr., accompanied by his wife, Kerri, presents a token of appreciation to outgoing GBC President Robby Foster and his wife, Laura, at the close of the annual meeting Nov. 9. SCOTT BARKLEY/Index
"They needed healing, to know what love was. To know that God loved them and had a purpose for them," he said. "Since then, God has done something in Valdosta that only He can get glory for."
Foster stressed to his fellow pastors that God has intentionally placed them in the field where they are currently serving. That field of souls, he continued, is for them to cultivate and be ready to harvest, the harvest that God will bring.
He went on to recollect the previous two years of traveling the state with his wife, Laura, while visiting pastors. Many roads went to places the Gainesville native didn't know existed. Many roads didn't even have a name. Nonetheless, Foster shared an observation from those trips – no matter the location, the field is still there. And, it's ready for the harvest.
"The opportunities are far greater than the problems. Nothing has changed the harvest. The fields are white today," he said.
"It is time to see a great harvest of God. I pray you will have the greatest harvest ever."
---