At right Howard Koepka of Noonday Association of Churches stands with other volunteers while loading items kept in cold storage at Truist Park, home of the Atlanta Braves. Community partners have proven critical in Noonday's efforts to provide food through Storehouse Ministries. NOONDAY/Special
---
MARIETTA — On a recent Saturday a car wound its way through the line at the offices of Noonday Association of Churches. Boxes of food – fresh fruits and vegetables, meat, milk and other dairy products – were placed inside and the car, like so many others, left. But then it returned.
The driver in tears, she thanked the volunteers for their kindness. She had been laid off over two months ago and, along with her children, hadn't eaten in three days. The previous night she reached out to friends for advice. They told her about the distribution site on Canton Road. Those people would help.
"The way our volunteers treated her helped her to relax," said Tish Young, director of Storehouse Ministries for Noonday. "They just loved on her."
The ministry is being highlighted as a way to encourage Georgia Baptists as a part of Mission Georgia to take part in July's Project: Well Fed emphasis by connecting with food ministries in their area. Last week's story covered the ministry of The Real Life Center in Tyrone.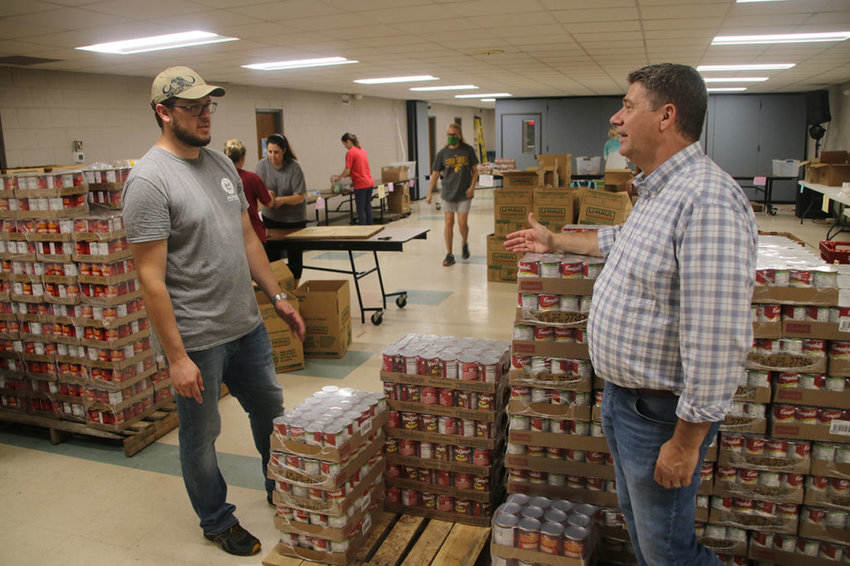 At left Adrian Coetzer, teaching pastor for Mosiac Church Marietta, talks with Daryl Price, executive director for Noonday Association of Churches, while volunteers prepare food to be distributed recently at Mosaic. SCOTT BARKLEY/Index
Noonday's food ministry began 20 years ago handing out sandwiches to the homeless, noted Daryl Price, executive director. Of course, it has grown since then. But the impact left by COVID-19 cannot be overstated and, as such, neither can the need in its wake.
"Around eight months ago we started to do more things in the south Cobb area. That led to collaborative meetings with businesses, churches, and government leaders. We're coordinating now with the Cobb County Commission on how to distribute food throughout the county," he said.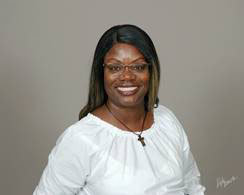 "People can't believe how well-stocked the boxes are," said Tish Young, director for Storehouse Ministries.
For a while the south Cobb location for food giveaways – Mosaic Church in Marietta – averaged 500-600 boxes distributed a week. Toward the end of June that number had climbed to nearly 700. The reason, said Price, was that word had gotten out about the center. More distributors such as Athena Foods and Kroger were getting involved as well to provide fresh beef and poultry as well as up to 600 gallons of milk.
Young, a member of Roswell Street Baptist Church, also noted the change in demand.
"Usually we'd give out around 300 boxes a month. In May and June, we needed 2,000 boxes each month to meet needs. Churches are letting others know about Storehouse Ministries."
A consistent need and response
"We've been doing this for four months, six days a week, more than 12 hours a day," stated Howard Koepka, part of Noonday's church consulting team who focuses on enlisting churches to be part of community initiatives. "I may be tired, but God is doing a lot of great things through this and we're able to take the gospel into areas that we weren't able to reach before."
Sunday is the only day off. The rest of the week, Koepka added, is spent coordinating various ministries to work together in supporting the work of churches in their communities. "It's a pretty detailed operation we have going on," he said.
The current need for food was seen at the beginning of the quarantine over the coronavirus, said Koepka. "One of the first conversations we had was with Ricky Thrasher [of Georgia Baptist Associational Missions and Disaster Relief]. We studied the demographics on who was most likely to lose their jobs first in the shutdown. Ricky helped us secure a $2,500 hunger relief grant."
That, plus donations, has helped position Noonday Association and Storehouse Ministries to partner with others from the government and business worlds. Vinings Bank has been a key partner in the effort. A need for more cold storage space led to those facilities being offered at Truist Park, home of the Atlanta Braves.
A need for more partners
Up to 22 churches are involved, Price pointed out. Mosaic may be a distribution center and provide some volunteers, but the work doesn't happen without more help from churches such as Johnson Ferry, Roswell Street, Burnt Hickory, West Cobb, East Cobb, and Eastside, Marietta. "Mosaic has also developed into a missions center for us," he added, "that addresses job training, ESOL, resume building, free childcare, parenting skills, and provides a computer lab to learn computer skills.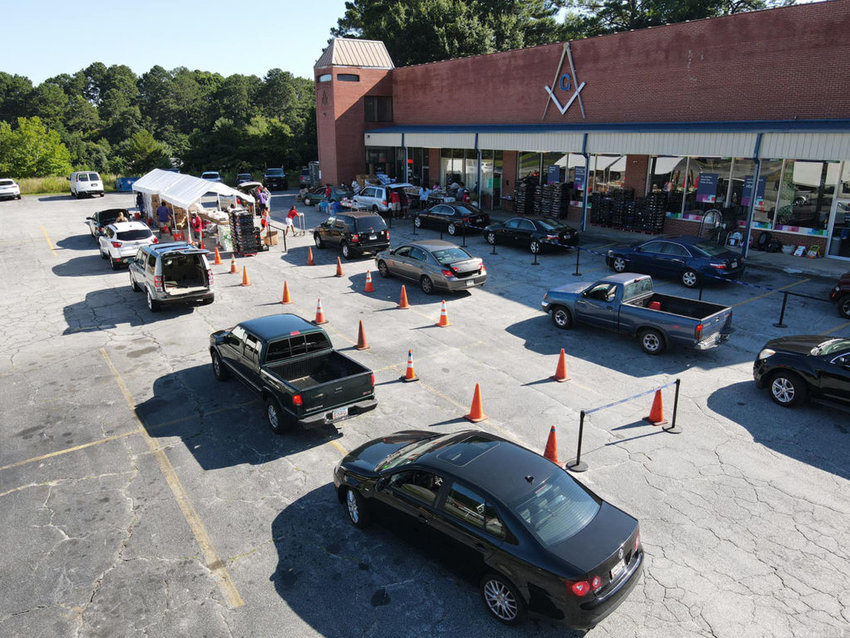 Cars line up for boxes of food prepared through Storehouse Ministries of Noonday Association of Churches. NOONDAY/Special
Young's volunteers range from as young as six years old to 95. Because of COVID, those older volunteers are (understandably) opting to stay home. Right now, the Canton Road location is preparing 500 boxes a week. Coupled with Mosaic, the ministry is preparing and praying over the 2,000 boxes a month mentioned earlier.
"People can't believe how well-stocked the boxes are," she said. "We just want to make sure they have a good meal. They understand we care about them and this isn't just something we're doing."
Storehouse Ministries volunteers actually prepare the boxes so church volunteers can hand them out. "The boxes are a tool to evangelize and disciple people," Young said. "We get all the information on people so that the churches come in and only have to give the boxes and love on others."
---