ATLANTA – Nestled on the back lot of a county church property sits a brand new village with nine tiny houses. The appliances are shiny. The floors are hardwood, and there's even an added touch of crown molding. There's a club house, a place for an outdoor picnic/movie viewing, and a playground. Residents can look out their window and see sidewalks and grass on which children to play, a fountain, and even a fire pit.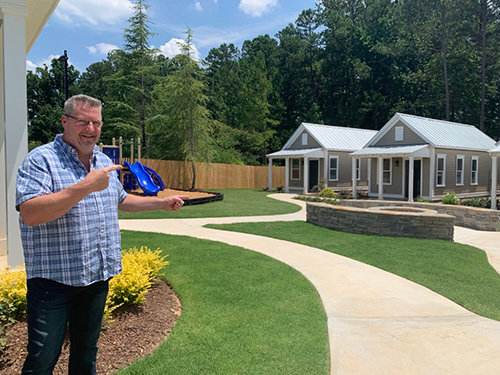 Noonday Association's Howard Kopeka gives The Christian Index a tour of the tiny house village. MYRIAH SNYDER/Index
These homes, however, weren't built as a retirement center or temporary missionary housing. They will house victims of human trafficking and their children, as the last step in a rehabilitation program designed to re-integrate them into society.
"We wanted to take this thing over the top," Howard Kopeka, who oversees coaching/consulting/missions for the Noonday Association of Churches, said. "Because these women and their children have been through so much – traumatized, abused, victimized – we just really had the heartbeat to instill value, dignity, and worth in them."
Kopeka shared that he wanted the project to tell them a "very different message then they've probably been told their whole lives." He wants them to know that, "Regardless of your past, this is what you deserve. This is what God has for you. You are worth this."
The half-million-dollar project was completed in 18 months – all with donated supplies, land, funds, and volunteer work. Twenty-six churches and over 80 local business took part. Noonday's role was as a "catalyst," Kopeka said, referencing their mission statement to "care, coach, connect, and collaborate."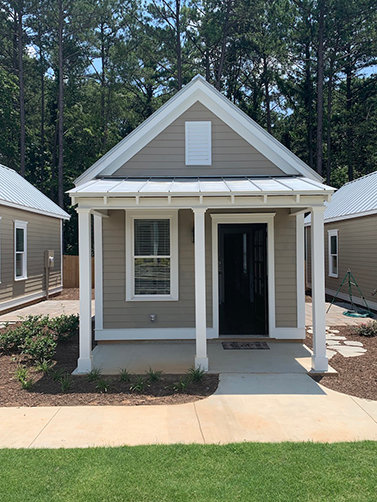 Each of the nine tiny houses will become home to a rescued victim of sex trafficking from the Atlanta area. MYRIAH SNYDER/Index
The project was done in collaboration with Wellspring Living and Wellspring Hope. After the ministries go in and rescue women out of trafficking, they are taken to a temporary safe house. Eventually, they're moved to an 18-month rehabilitation program. The tiny house community is designed to be a safe place for them and their children to stay for up to three years. Here, there's a counselor on site for them 24/7 and local churches involved in the project will come in, do Bible studies, and provide needs.
This approach is holistic, Daryl Price, executive director of the Noonday Association, shared.
"This is systemic … the final leg of rehabilitation, or re-entry, into society." Even in the homes that have children, he added, "Those children will have a lifestyle that's affected by the local church and Jesus," thereby keeping them safe and off the streets.
The program is designed so that after the women leave, the bulk of their minimal rent has been put aside for them to use as a down payment on a home to start over.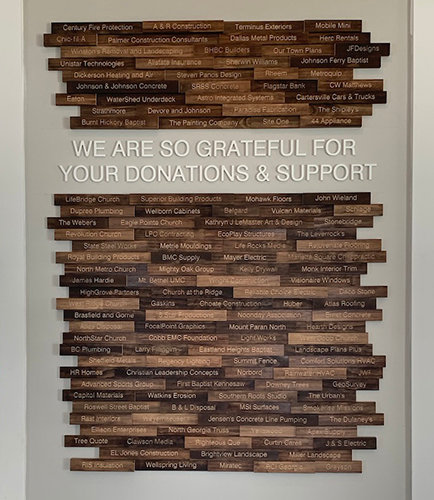 The half a million dollar project was accomplished completely with volunteer effort and donations. MYRIAH SNYDER/Index
The official ribbon cutting happened on June 25 with Georgia's First Lady Marty Kemp in attendance as well as many others who invested in the project. The ladies who will be living in the community are set to move in mid-July.
Both Price and Kopeka hope for this to be an example others can follow. They've already received calls and emails from other areas and ministries wanting to replicate the effort. "This is the pilot," Kopeka added, stating that brainstorming for another village in the area is already underway.
They agree this has been a beautiful picture of collaboration and meeting physical needs to break down barriers to meet spiritual needs.
And although so many churches and business have given their time and resources, this project could never have been done without "the everyday church person, the retired church member that could be doing other things, but he or she is giving their free time to impact eternity by volunteering time and energy," Price added.
"There are some folks eternal treasures are going to be incredible because of the investments they made in this kind of project."