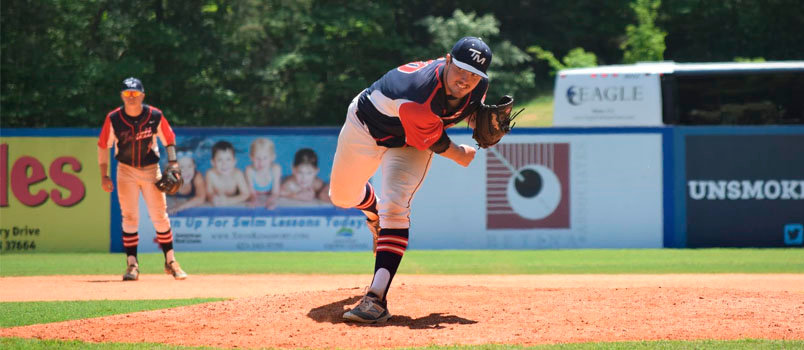 Truett McConnell's Chris Carden had a day in the Bears' opening round victory in the AAC Tournament, knocking in the tying run off a double while pitching a complete game in the 10-3 win over (RV) Bryan. TMU ATHLETICS/Special[/caption]
KINGSPORT, TN — The Truett McConnell baseball team tied the TMU single season wins record and won its first ever game at the AAC Tournament with a 10-3 win over (RV) Bryan in the Opening Round. The Bears now have 29 wins on the season.
The Bears looked as if they would get on the scoreboard in the top of the first with runners on second and third, but Bryan was able to work out of the opening frame jam and scored a run of their own to take an early 1-0 lead.
TMU answered with eight straight runs starting in the third inning. After a leadoff single by Tate Gaines, Chris Carden brought home the tying run with a double off the left field wall. The second run was scored on a Bryan error for TMU to take a 2-1 lead through the fifth inning of play.
The Bears put the game away in the sixth inning when they sent 10 batters to the plate. The inning started with an Evan Bensch double off the fence in left field followed by an Austin Bishop double off a bunt. Davis Dasher brought home the first run of the inning on a single through the left side before the Bears pulled off a double steal to double their lead.
Carden continued the scoring in the sixth with a double down the left field line before the Bears made four more runs in the inning, including the last one on a balk.
Bryan put up a single run in the eighth inning, but the Bears answered with two insurance runs in the ninth on a Dasher single to left field that scored Josh Johnston and Bensch.
Carden earned the win on the mound, throwing a complete game. He scattered nine hits and three walks with his seven strikeouts.
The Bears continue tournament play this evening in the winners bracket against Point University.