CLEVELAND — Don't blame the Allen University Yellow Jackets for being sick of Christian Davis.
On Jan. 25 Allen fell for the second time this season from a buzzer-beater courtesy of Davis, a sophomore guard in his first year of action for the Bears. Further, it also happened to be the only two times in Davis' playing career – from North Augusta (SC) High to last year at North Greenville University – for him to end a game on the final shot.
On the basketball court, point guards take on different identities. Some fill up the basket and look to shoot first. The more effective ones, though, find ways to get others involved. They typically don't appear at the top of the stat sheet. And, they have a habit of hitting the spotlight at just the right time.
"I feel like I'm a true point guard. I look to pass and stuff like that but when I need to score I can," he says when asked to describe his style of play. "But, I look to set up my teammates for the most part. If they're hitting and we're winning that's all that matters."
Davis' 10 points, two assists, one block, and a steal helped the Bears finish off a pesky Milligan (TN) College squad 83-74 on Jan. 28 in the Bear Cave in Cleveland. The win capped TMU's best month of basketball ever, going 8-2 in January.
Finding the hot hand
Slightly undersized at slender 5'10", Davis' court vision and quickness has rewarded the faith placed in him by Coach Jon Yeh. In his first season of substantial playing time at the collegiate level, Davis leads Truett McConnell in assists (81) and steals (44). But his biggest contribution to the team, he says, is understanding who not named Christian Davis needs to get the ball.
"We have a couple of players who can hit shots at any time and you have to find the hot one at that moment," he explains. "We've got a few guys like David Campbell, Kai Lambert, Jacob Booke, Rio (Mario) Westbrooks – who can really stroke it and get hot in any game. And then, there are guys off the bench like Brandon Cerezola and Tylor Brown who can get us some buckets."
The Bears' hot January brought their overall record to 13-11, 7-7 in the Appalachian Athletic Conference. Tomorrow night's showdown on the road against Montreat (NC) begins a five game stretch to close the season before the conference tournament in Kingsport, TN.
Those five games include the final two games to be played at the historic Bear Cave, as the George Blaurock Student Wellness Center will host next season's Bears. The $13 million facility – to be known as "The Rock" – will feature three basketball courts in addition to the game court, aquatic center, fitness center, aerobics room, indoor walking track, and other state-of-the-art wellness amenities.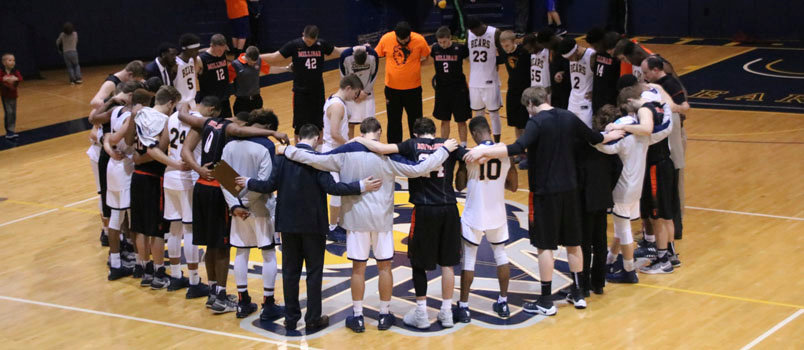 Players from TMU and Milligan – a Christian college in Tennessee – gather in prayer after the game Jan. 28. SCOTT BARKLEY/Index[/caption]
Faith on the court
The son of a preacher, Davis says he learned about God at an early age and prayed to receive Christ at eight years old. In college he learned to grow in his faith on his own. His play on the basketball court, he says, is meant to reflect the sacrifice of Christ on the cross. In effect, put others before yourself.
One way to express a witness in athletics, he says, runs counter to an unfair – and inaccurate – stereotype of Christian athletes.
"Jesus was a servant for all of us, and we're called to be a servant for others. That doesn't mean being soft; it's being tough, being hard-nosed. Just do it the right way."
A natural competitiveness can challenge the resolve to do it the right way, he acknowledges. "I'm trying to work on being even-keel and more consistent. No matter how the game is going, don't be too high or too low."
Davis and his teammates met that challenge Saturday. After building up a big 22-point lead against Milligan at halftime, the Buffaloes frustrated the Bears in the second half with a full-court press, whittling the advantage down to six before Truett McConnell sealed the win with free throws.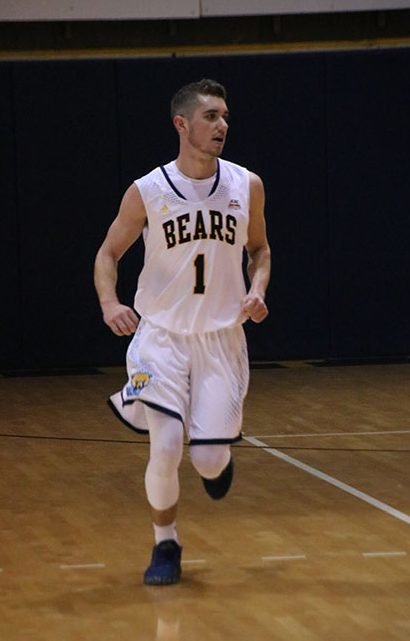 "Jesus was a servant for all of us, and we're called to be a servant for others. That doesn't mean being soft; it's being tough, being hard-nosed. Just do it the right way," says Davis of being a Christian athlete. SCOTT BARKLEY/Index[/caption]
Taking your shot
Not known for his scoring, Davis' heroics at the end of both games against Allen highlighted the Bears' season thus far. In the first contest Dec. 3, the Yellow Jackets tied the game on a three-pointer late before Davis brought the ball up the floor.
"It was kind of a scramble. They were pressing us and I brought the ball down the floor. It just opened up and I took the shot."
In the second game, Allen missed a free throw that would've put them up by one late. Instead, the Yellow Jackets again found themselves tied and Davis holding the ball as the clock ran down.
"I held the ball around half-court [to run the clock down]. We set a screen that got me open just inside the three-point line."
Milligan proved to be a different challenge.
"Basketball is a game of runs," he explains. "Teams are going to go on a run and that's when you need to stay calm. We knew we just had to take care of the ball. They were pressing and things were getting crazy, but we just kept telling everyone to be strong with the ball. We didn't really need buckets at that time, so we just backed it out and ran clock.
"But, if the shot was there we were going to take it."