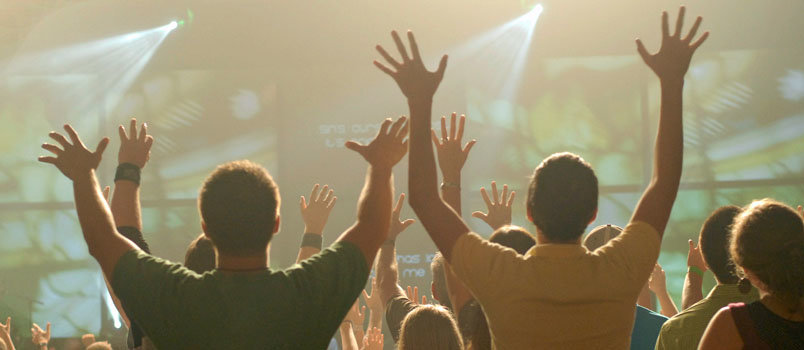 Study after study points to a lessening of religious acceptance among young people. As a result, a renewed focus on reaching a younger generation has taken hold within the Georgia Baptist Mission Board through U2019. [/caption]
The church in America is in trouble, including Southern Baptist churches. Steve Parr, Georgia Baptist Mission Board vice president for Staff Coordination and Development, recently said to our staff, "The average number of teen baptisms per church in Georgia last year was "one." The median number was "zero" meaning half did not report a teen baptism.
Parr continued, "The average number of children's baptisms per church in Georgia last year was 'three.' The median number was 'one,' meaning half reported only 'one,' or 'zero,' baptisms of children."
Not only are we not reaching the children and teenagers in our communities, we are losing the ones we once had in the fold. According to the recent book, Why They Stray, by Parr and Tom Crites, 20 percent of young adults who were active in church as teens were still active in church at age 29. They also stated that in America only 16 percent of all churches across every denomination have a significant young adult population.
These alarming statistics do not bode well for the future of the church in America. There is less than half the number of churches today than there were only 100 years ago. Many churches are on life support or dead and don't even know it. If we continue to fail to reach and keep our youth our churches will falter and our demise will be assured.
Woo, win, work
We not only need to develop a strategy to get them, but once we get them we need to do our best to keep them, because once they are disengaged they are not nearly as easy to get back into the fold.
C.S. Lewis once commented on the difficulty of re-engaging the church member who has deserted the fellowship of believers. He wrote, "It's the difference between courting a divorcee and a virgin. A divorcee won't easily fall for sweet nothings from a suitor – she's heard them all before – and has a basic distrust of romance."
So, the present challenge for the church is to woo them, win them, and work them into the fellowship so they become "steadfast, unmovable, and always abounding in the work of the Lord."
The Georgia Baptist Mission Board is launching an initiative to assist churches in reaching the next generation. The initiative is called U2019, and the descriptor is "Choosing to Reach the Next Generation."
The vision emerged in the heart of the Georgia Baptist Mission Board executive director, J. Robert White, and his recent message to the staff at the Georgia Baptist Conference Center in Toccoa was inspiring. He declared, "I am a John 3:16 Christian; and there are a host of young people we need to reach for Christ.
"In 2017 we are going to talk about our initiative to reach our young people and in 2018 and 2019 we are going to do our best to assist our churches in reaching hundreds and thousands of young people for our Savior."
'Bear down on it'
"I am longing for a revival that will touch the lives of children and youth," continued White. "We used to have 'Children's Nights' and 'Youth Nights' in our revivals. We served hotdogs to the children and pizzas to the teenagers, shared the Gospel, extended an invitation, and many of them responded. I loved those experiences, and I pray that we can get back to those days when we were reaching children and teenagers like that."
White challenged the staff, "Our U2019 initiative is all about reaching young people. Think creatively about how we can reach our youth. Every idea you have will be considered. Bear down on it. I want you to talk about it. I want us to do whatever we can to reach our next generation for Christ.
"John 3:16 is a verse with 25 words. There are 12 words at the beginning and 12 words at the end. The first 12 words are all about God and the last 12 words are all about us. The middle word is 'Son,' referring to Jesus. Jesus is the Savior, the Redeemer, the Mediator between God and man. I want us to be John 3:16 Christians who are faithfully and consistently sharing the Gospel message with those who come behind us."
... who in turn influenced ...
The executive director then told the compelling story of how a Sunday School teacher by the name of Edward Kimball in the year 1854 witnessed to a 17-year-old teenager working in a shoe shop by the name of D.L. Moody. Moody influenced F.B. Meyer, who in turn influenced J. Wilbur Chapman, who influenced Billy Sunday, who influenced Mordecia Ham. It was Mordecia Ham who was preaching when Billy Graham was saved. Over the years Billy Graham has taken Jesus to the world.
When we tell someone about Jesus, we have no way of knowing what the domino effect is going to be. White exclaimed, "You don't ever know what will happen at the end of the story until you get involved on the front end like Edward Kimball. Let's get involved on the front end of U2019 and there is no telling what God will do by the story's end."