ATHENS — A little after 3 p.m. today the group of 39 cyclists and supporters made it to the end of a 300-miles-in-30-hours journey. Tired legs and lack of sleep were worth it, though, in what has become a successful annual fundraiser for the Baptist Collegiate Ministries at the University of Georgia, not only building missions support but comraderie among participants.
In 2000, ministry areas within the BCM at the University of Georgia were tasked in developing ways to raise money for summer missions. "Some athletes were trying to think of a way to do that when Rhonda Abbott, campus minister at the time, suggested a bike ride that coincided with the fall break," said UGA current campus ministers, Nathan Byrd.
Back then the ride from the outskirts of Athens to Jacksonville, home of the annual matchup with the University of Florida, would begin Wednesday and last until Friday. Homes for overnight stays for participants were secured along the way, Byrd explained, before everyone slept in a hotel the night before the showdown with the Gators.
A goal of raising $2,000 was set, with double that collected the first year. The numbers kept going up, with a high point reached of $30,000 raised and 115 students involved in 2007.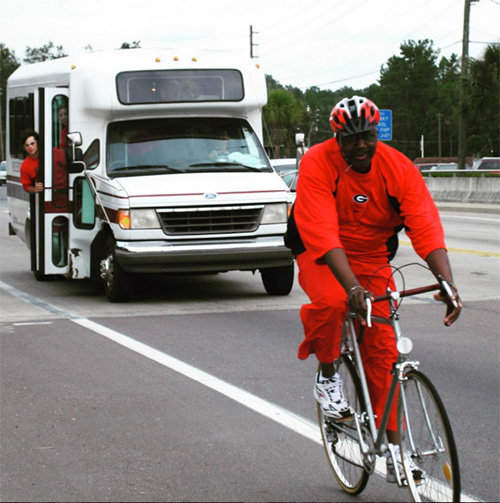 UGA campus minister Franklin Scott trains for the 2007 Ride For Christ. This year, he drove one of the support vehicles for the annual event. The church where he is a member, Beech Haven Baptist in Athens, provides a bus and trailer each year. UGA BCM/Instagram[/caption]
This year marked the 15th Ride For Christ, as it's become known. Seeing that the first ride was in 2000, you'll notice the math doesn't add up. That's because one year the ride was cancelled when UGA's fall break was cut to one day. Students asked for the Ride to return, though, and so it did. What had been a nice three-day trip through Georgia in late October, though, would now become a 300-mile sprint beginning Thursday morning and continuing through the night before finishing up Friday afternoon.
"When we tweaked it we thought no one would ride it the whole way," said Byrd. "Then, that first year Larry Wynn (then-pastor at Hebron Baptist, Dacula) rode the entire 300 miles. Our students felt challenged and decided they'd do it as well."
Most participants only bike sections of the ride. When not doing that, they encourage those still riding from one of several vehicles serving as guides for cyclists. Those who never leave the bicycle are rewarded with their names etched Stanley Cup-style to a 300 Club plaque hanging in the BCM.
The route may change some year-to-year. For 2015 it started at Watkinsville First Baptist – breakfast donated by a local Chick-fil-A – and skirted highway 441 via side roads through Milledgeville down to First Baptist Dublin, where dinner was served Thursday night. From there various planned rest stops through the night led up to breakfast at First Baptist Waycross this morning. Length of sections between breaks vary between 10.5 miles to a 24.5-mile ride in the dead of night between Lumber City and Alma.
Current students as well as UGA BCM alumni take part, with some riding several times. Brittany Spaid, a senior from Metter (where she is a member of First Baptist Church), rode sections while coordinating this year. Those responsibilities included staying in touch with the eight vehicles escorting riders – two always bookending cyclists while others rode past and shouted encouragement or drove ahead to set up the next rest stop/meal.
"It's a great time of bonding for all of us and opportunity to witness to other students who see us as they drive to Jacksonville," she said. "I've had people in class talking about the game and say they rode past us. They'll ask if we went to the parties on the beach and I'll say, 'No we were raising money for missions. That gives me a chance to be a witness.'"
Spaid benefitted from funds raised for missions, going on a two-week trip to Seaside Heights, NJ in 2014 to help victims of Hurricane Sandy through construction efforts including hanging sheetrock, painting, and moving furniture.
"This ride helps students realize they can have fun raising money for missions and be together," said Byrd. "They can encourage each other while trying to not think about their legs screaming from exhaustion. During that time on the road you talk a lot about God and life, too. It's a lot of fun."