A group of hikers look at a photo they had taken after praying together in the north Georgia mountains. They are, from left, Charles Jones of Athens, Ga.; Denise and Vernon Masters of Cook Springs, Ala.; David Tolbert of Athens, Ga., and Archie McCook of Commerce, Ga.

By Roger Alford

SUCHES, Ga. – The expression on the stranger's face told the story as he sat on a bench alongside the Appalachian Trail pondering matters of eternal significance.

For the previous few days, he had been talking to God, asking for help. He knew his life needed to change. He knew he needed to find a new direction.

As he sat there feeling the weight of the world on his shoulders, a group of gregarious Georgia Baptist hikers were passing by. They struck up a conversation with the man, who introduced himself as John. It turned out to be a divine appointment.

One of the Georgia hikers, Charles Jones, a Southern Baptist preacher from Athens, Ga., told John about Jesus, shared the plan of salvation with him, and guided him through a sinner's prayer.

John's eyes grew bright. A smile broke across his face. And his parting words still ring joyously in the ears of Jones and his fellow hikers:

"I just feel so good."

With the popularity of hiking at an all-time high across the U.S., Southern Baptists have found a productive new mission field in the backcountry. Considering an estimated 50 million people will take to the trails this year in the U.S., it's a field ripe for harvest.

Hiking ministries have been springing up across the country, particularly along the 2,175-mile Appalachian Trail that meanders across hill and dale from Springer Mountain in north Georgia to Mount Katahdin in central Maine.

"We all have a deep concern for people," said Archie McCook, a hiker and member of Mars Hill Baptist Church in Watkinsville, Ga., who has found trail ministry especially fulfilling. "We try to show kindness to everyone we meet. That lets them see that Christians aren't just people with flowery speech, but that we're a people willing to extend a helping hand."

Earlier this week, McCook, Jones and David Tolbert, a deacon at Beech Haven Baptist Church  in Athens, Ga.,  ventured onto the Benton MacKaye Trail in northern Georgia for a day of hiking. Before they had taken their first step, Tolbert shared a devotional message and a prayer asking the Lord to give the three of them opportunities to share the Gospel with other hikers.

Their hike began with a descent into a shaded gorge where a swinging bridge crossed a whitewater stream. There, they happened into a group of hikers who had just crossed the unsteady span. After cordial hellos, they chatted about the beauty of the mountains. They talked of how God reveals himself in His creation. And, in that encounter, seven people who had never before laid eyes on one another joined hands and prayed together.

It was the last thing Nancy Ovens of Maumee, Ohio, had expected to experience on the trail.

"I think it's wonderful," she said, standing with her friends surrounded by the fragrant blooms of mountain laurel.  "When you hear the authenticity of the prayers, then you realize that it is a special moment that God has provided."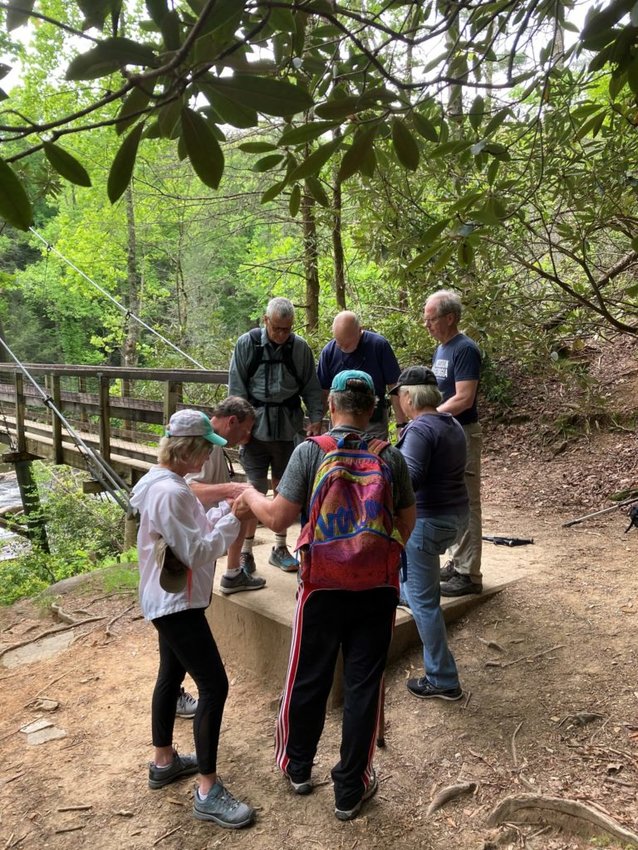 Hikers pray with a group of Georgia Baptist men who have a backwoods prayer ministry.


Vernon Masters, a firefighter from Cook Springs, Ala., and his wife, Denise, crossed paths with the Georgia Baptists on the banks of the same stream. Vernon was concerned about a hospitalized woman back home. They prayed for her. They also prayed for Vernon and for his safety in the course of his dangerous work keeping others safe. They prayed for Denise, who as a first responder's spouse, has her own burdens to bear. When they were finished, they posed for photos together, as if they were old friends.

"We're in God's creation when we're out on the trails," Tolbert said. "We see God's spectacular work all around us. What better place to talk about God, to praise God."

Tolbert sees the scenic overlooks, the breathtaking waterfalls, the eye-catching rock formations as natural conversation starters. He and the others feel totally at ease talking about God here.

"We are intentional in our witnessing," Tolbert said. "Out here, I can focus on the hike but also look for divine appointments to tell someone about Jesus."

The Georgia Baptists work as a team.

"If we were out here by ourselves, we wouldn't be nearly so effective as we are together," Tolbert said.

That was obvious during a hike on California's Mt. Whitney, the highest peak in the 48 contiguous states.

During that grueling 24-hour journey, they came upon two hikers in distress, one of whom was unresponsive. Tolbert, a retired nurse, sprang into action while Jones, whose trail name is Atlas, went looking for a place with cell signal so that he could provide coordinates for a rescue helicopter.

While helping hikers with physical needs is important, for these Georgia Baptists, nothing trumps meeting spiritual needs.

That's why they glow when they tell about a hiker from Virginia – Chris – who spent a day hanging out with them near the northern end of the Appalachian Trail in Maine.

As always, the Georgians talked openly about their faith with Chris. He heard the excitement in their voices. He saw the joy on their faces. And he came to the realization he wanted what they had. So, he committed his heart and life to Christ.

 "We've seen a lot of people, and we've witnessed to a lot of people," McCook said. "Sometimes we've seen dramatic results; sometimes not. But we're thankful for every encounter."