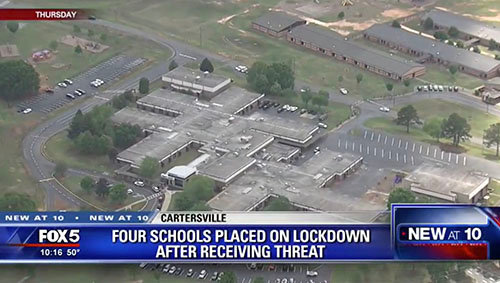 The news chopper for Fox 5 in Atlanta circles over Cartersville Primary School, foreground, and Cartersville Elementary, in back. FOX5ATLANTA.COM/Screen grab
I was sitting in the media center of Cartersville High Thursday, meeting with a couple of seniors and talking about their next steps academically, when the announcement came over the intercom.
I couldn't make out the words at first, only the phrase "Code Red." Immediately staff in the library began shuffling students and myself into a back room. All phones were ordered off and everyone to be quiet. A threat had been made against the school, they said.
There we remained for a short time until the status changed to a "soft lockdown." This meant that while the school itself was no longer considered to be in direct threat, students had to remain in their classrooms until further notice. I was granted permission to walk the 30 or so feet to a classroom nearby where the student newspaper, which I've been assisting for several years now, meets.
They were a little shaken, but calm. At the first warning they'd huddled in a corner away from the door. But it placed them beside a window to the outside, not helping them feel any more secure. The teacher noticed backpacks still in view from the small windows on either side of the locked door, so she moved quickly to place them elsewhere. The change to a soft lockdown had eased their minds somewhat, but the mood was still tense. As young journalists, they'll be posting their own story very soon.
I wasn't the only Barkley to experience this threat, which affected all four schools in the Cartersville System. My 16-year-old daughter was a few doors down from my location. My youngest was at the primary school just across the road from Carterville Elementary, where my wife and son were in separate rooms on the fourth-grade hall. My other son, a sixth grader at Cartersville Middle, had been outside when the lockdown was issued and ushered with others into a multipurpose room until it was lifted about an hour later.
The threat to the elementary school turned out to be a hoax call. Several Atlanta stations report that the FBI says this individual – who has no ties to Carterville – has done the same thing to other school systems. So, while it appears we were never in danger, officials weren't going to take that chance. Approaching the 20th anniversary of the Columbine High shooting, they're to be commended for their actions.
While in that classroom with the students – after the mood had eased a little ­– I talked about Columbine and individuals like Rachel Scott, the first shooting victim that day. Sometimes I forget that I'm at the I-remember-when-this-happened age for things that, in my mind, didn't happen so long ago. But for these students, it's only existed in a Wikipedia entry.
The next day the whole event took on a different resonance for me. I saw scenes from the air of the schools where my children attend and wife teaches. Police cruisers patrolled slowly along sidewalks as grade-schoolers with brightly-colored backpacks make their way to a safe place. I could see the playgrounds where my kids have played kickball and we've volunteered for fall festivals.
They're the scenes associated with some of the more horrific events in our country's history. We were blessed it was just a hoax.
Twenty years ago I was a youth minister in Gadsden, Alabama. In the days after the Columbine shooting I watched all the coverage and memorized the victims' names, learning their stories. A call was issued in the student ministry community to reach youth who had trouble fitting in, to communicate the Gospel as being for all.
My wife and I had already been preparing to move to Cheyenne, Wyoming that July as missionaries through the North American Mission Board to work with students. Cheyenne is only a couple hours' drive north of Denver and Littleton, so the Columbine shooting felt close. That emphasis on reaching at-risk youth was even more ingrained in local student ministries. When I attended a youth event in Colorado as a counselor, I ended up talking to some Columbine students about the Gospel and their experience.
The day I write this falls on a Saturday, the aforementioned 20th anniversary of that tragedy. It's also the day between Good Friday and Easter, known as Holy Saturday. On this day Christians are stuck, in a sense, between remembering the sadness that came with the cross but anticipating the victory shown through an empty tomb. We feel the weight of what's past, even while knowing the hope for the future.
Hope spreads gradually, but it does spread. Despite man's best attempts the Gospel cannot be contained.
In those classrooms Thursday we waited with an unease of what was going to happen. Surely, I wasn't the only one planning out what I was going to do if I heard a commotion outside the door and ­– Lord help us – a threatening voice from someone with a gun attempting to enter. Yes, for a few minutes we had questions in our minds like Is this happening? Here? At least, I did. But for me the biggest, most important question of where I was going if things went bad had been settled long ago.
I'm not going to overplay this. I never feared for my life. But going through those motions and knowing it wasn't a drill was different. Seeing the doors I walk through once a week to take lunch to my wife and son from the vantage point of a news chopper was … different.
From Friday through Sunday morning, Easter weekend is a time of various emotions. We feel defeat and loss. However, Sunday is coming.
And with it, we must remember, comes a victory.