Associational news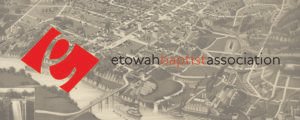 Etowah Baptist Associaton's annual meeting will be on Tuesday, Oct. 29, 2019.
The schedule will be as follows:
6:00 p.m. - Meal
7:00 p.m. - Worship Service
The meeting will be held at North Central Area Missions, 4206 North Arnold Mill Road, Woodstock 30188
Mike Griffin, public affairs representative for the Georgia Baptist Mission Board, will be the speaker.
A collection of requested items for the Georgia Baptist Children's Home will begin at 5:00 p.m. Items include: kitchen and bathroom cleaners, laundry detergent, cooking oil, trash bags (tall kitchen and 55 gallon), paper products (plates, cups, paper towels, bath tissue), and gift cards are always appreciated.
If your association is meeting this fall or has already met, please let us know. Send sbarkley@gabaptist.org and msnyder@gabaptist.org the following information:
Association name
Association city
Associational Missions Strategist
Newly-elected moderation
Newly-elected vice moderator
Secretary/clerk
and any other news you'd like to include
Please don't forget to send a picture of the gathering, if you have one.
Obituary
Justin Lee Baskins, pastor of Providence Baptist Church in Danielsville, died Sunday, Oct. 6 at Greenville Memorial Hospital. He was 37.
Baskins was driving a motorcycle that evening when he struck a deer. He later died from injuries in the accident. A Carnesville native, he is survived by his wife, Sara, and a son.
A memorial service will be held Friday, Oct. 11, at 3:00 p.m. at Providence Baptist Church with Billy Owensby officiating. The family will receive friends at the church from 1:00 p.m. until memorial hour on Friday afternoon.
Ministerial moves
Reidsville Baptist Church in Reidsville welcomes Jean Elden J. Bozor as their new worship leader. He will begin his ministry at RBC on Oct. 20. Bozor is a second year Church Music major at Brewton Parker College. He led leading worship in his home church in Port Au Prince, Haiti for several years. In addition, he is active in Brewton Parker's traveling ensemble, Voices of Truth, and sings with the BPC Concert Choir.
Anniversaries
Harp's Crossing Baptist Church in Fayetteville is celebrating the 35th anniversary of their minister of education, Keith Turner. The church recognized his years of service on Oct. 6. Turner is a Fayetteville native and a graduate of Truett-McConnell College (now University) and Shorter College (now University). He is married to Sheila and they have two children, Ben and Rachel.
In addition, other leaders at the church are celebrating a long tenure as well:
In March 2019, their senior pastor, Dennis Watson, celebrated his 37th year at Harp's Crossing.
In June 2019, their association pastor, Ken Helms, celebrated his 32nd year at Harp's Crossing.
In February 2019, their minister of music, Steve Owens, celebrated his 29th year at Harp's Crossing.
This month, Paul Allen, the church's minister to students, is celebrating his 8th anniversary at Harp's Crossing.
Revival report
On Sept. 22, five children children professed Jesus as Lord and Savior, and five others took their first steps towards Jesus at Beech Haven Baptist Church in Athens.
The church hosted Christian illusionist and artist Shane Wilbanks (Make Known Ministries) as the be the special speaker for kindergarten through 5th graders. Wilbanks spoke to the children in the two morning services and the evening service.
The families in attendance enjoyed a time of pizza and fellowship. The children learned the Bible and were taught the Gospel through Wilbanks illusions.
This was the first time the children had their own special guest while the adults had evangelist Scott Camp speaking to them. "This two-fold approach worked well and allowed both groups to be better focused on and evangelized," Children and Family Pastor Matt Bartlett shared.
"What I liked about Shane is that he's a pastor and evangelist who uses his talents of illusions and story telling to further the Gospel! Having an illusionist come definitely excited the kids and aided in bringing more of their friends (and parents) to church to hear the Gospel," Bartlett added.