Annastasia Slappy sees love all around her. Some of it good, some of it bad as people search to fill a void in their lives.
She observes they are "searching for answers, searching for love. I also see them searching for these things everywhere except in Jesus. I see young people turning to the opposite sex and then the same sex to see if that provides the love they need.
"I see many more turning to alcohol and drugs in an effort to soothe their need for a while. I see pain on so many faces wondering how they will make it to tomorrow. In such a time as this, they are looking for love."
Developing that premise earned the Kinchafoonee Baptist Church high school student a first place ranking in the Georgia Baptist Student Speakers competition. Second place went to Rebecca Poe, a member of Grove Level Baptist Church.
Slappy won a scholarship to one of Georgia Baptists' three educational institutions … Shorter University, Truett McConnell University, or Brewton-Parker College. She also took home the Jenny Rogers Memorial Scholarship for $1,500 to the college or university of her choice.
Each year students in grades 10-12 deliver 4-6-minute speeches, judged 50 percent on content and 50 percent on delivery. The competition is designed "to help students become better communicators, build confidence, and prepare for a lifetime of success and service," said state missionary Maria Brannen.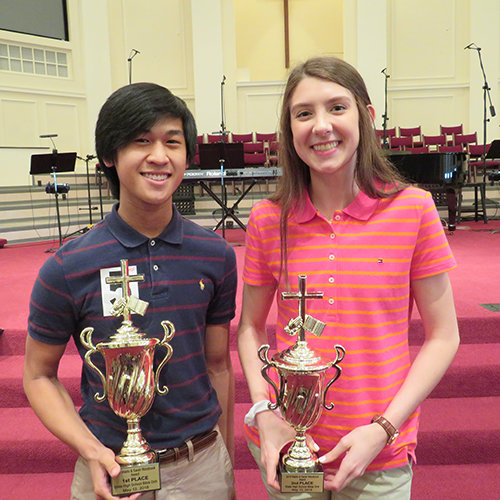 High School Bible Drill Winners were First Place – Darren Li of First Chinese Baptist Church of Atlanta, left, and Second Place – Lauren Tripp of Harps's Crossing Baptist Church in Fayetteville. JUDY ROGERS/Special[/caption]
Slappy based her entry on the title "Loving in a Time Such as This." She drew her observations around the question of why do people not turn to Jesus for true love rather than seeking it in other places. Then she answered her own question succinctly and to the point:
"We, as Christians, as the Church, have not shown it to them."
She continued, maintaining that believers are more concerned with their own worth "knowing already where it comes from, than in showing them their worth. Why would they turn to Christ when the Christians have displayed Him so poorly?
"Could it be that we have lost our first love?"
The Leesburg resident then gave examples from scripture, including Jeremiah 31:3 and I Corinthians 13:8, of how Christians can restore that lost love in their own lives so they can share it with others.
For her second place speech, Poe spoke on "Unashamed" and how her life was impacted by a revival team which came to her church in November 2012. She realized she needed a new set of friends who would be a better influence on her and accepted Christ during the meeting.
"I have my spiritual highs and my spiritual lows. For instance, in the past year I went through a dark time. I held onto a burden that led me away from my Heavenly Father."
But, as she explained, she ran away and tried to cover up her pain before eventually realizing the error of her ways.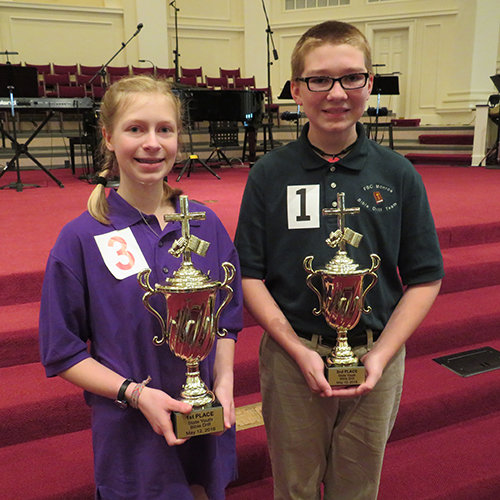 Youth Bible Drill winners were, left to right, First Place Carol Kletcke of First Cochran and Second Place – Will Bowick of First Monroe. JUDY ROGERS/Special[/caption]
"I ran back to my Heavenly Father because I knew He loved me, and I had to fulfill my purpose on this earth. That is why I want to tell you I am unashamed of the gospel"
For her content and delivery Poe won the $500 Jenny Rogers Memorial Scholarship to the college or university of her choice.
The competition was held at Mountain Park First Baptist Church in Stone Mountain. The State Youth and High School Bible Drill competition was also held at the same church in May.
First place in the youth category went to Mary Carol Kletcke. The member of First Baptist Church in Cochran represented Georgia Baptists in the National Youth and High School Bible Drill and Speakers Competition.
Second place went to Will Bowick from First Baptist Church of Monroe.
In high school competition, first place went to Darren Li of First Chinese Baptist Church of Atlanta. He also represented the state in the national competition held June 15 at the Stone Mountain church. Second place went to Lauren Tripp of Harp's Crossing Baptist Church in Fayetteville.