Mike and Julie are pictured here with their grown children John Michael and Holly Ann in the stands at Sanford Stadium in Athens. Mike admits that he and his family bleed red and black. COURTESY/Mike Dorough
---
GAINESVILLE – If you look in Webster's Dictionary you should not be surprised to see Mike Dorough's picture beside the word "affable." Mike is pastor of Air Line Baptist Church in Gainesville and one of the most positive and encouraging Christian gentleman in the Southern Baptist Convention. It is therefore appropriate that we feature him in our series on "Pastors are our heroes."
Dorough is not only affable, but versatile, dedicated and very well connected in Southern Baptist life, but as a child he did not envision himself becoming a pastor. He aspired to be the Governor of Georgia. If you have any doubts, consult his sweet Mama. He enrolled in the University of Georgia to pursue a degree in Political Science; and in his senior year he served Georgia Governor Joe Frank Harris in his Intern Program. His dream appeared to be headed in the right direction, because he was serving under the Gold Dome during the Georgia General Assembly and loving every moment of it.
However, an encounter with God convinced the promising politician that he had never considered His will regarding a lifetime vocation. Dorough was growing in his faith and knew he should follow the Lord's directive. He explained, "I naively thought God would instantly show me His will. I was eager to find out what God wanted me to do, because I was a senior in college and about to graduate, but I soon discovered that God wanted to teach me about trust and the importance of waiting (Isaiah 40:31).
"I felt like God was calling me to preach," Dorough recalled, "but I was attending Prince Avenue Baptist Church in Athens where God was calling many young people into vocational ministry. I wanted to be sure I was not doing what other friends were doing. I remember going to my pastor, Bill Ricketts, to tell him that I was fairly certain God was calling me to ministry. He replied, 'If you can do anything else and be happy, do that. If God is calling you, nothing else will fulfill you.' God has proven that to me for almost 35 years."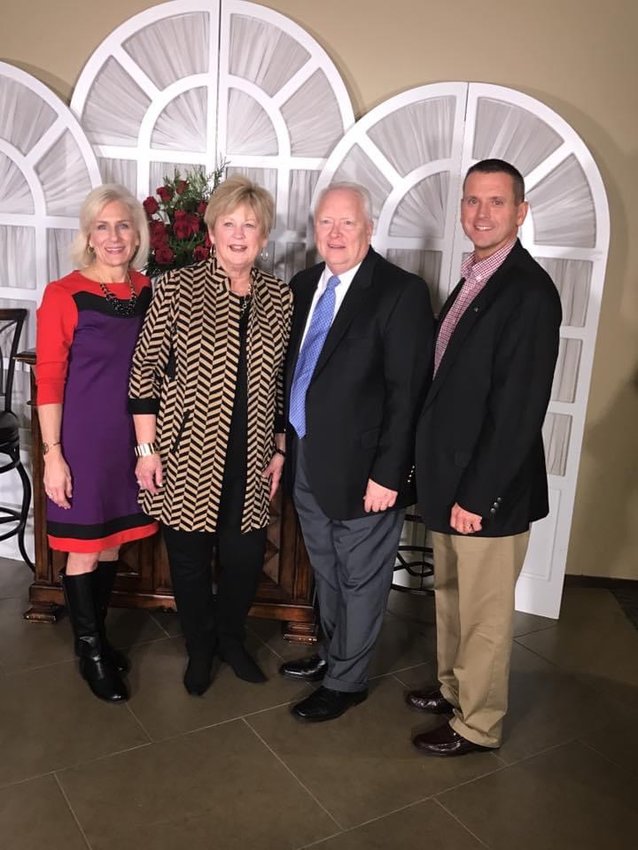 (Left to right) Julie Dorough, Darla Ricketts, Bill Ricketts, Mike Dorough. This photo was taken on the occasion of Bill Ricketts retirement as pastor of Prince Avenue Baptist Church. Mike and Julie met at Prince Avenue when they were students at UGA. Pastor Ricketts performed their wedding ceremony in 1988. COURTESY/Mike Dorough
Prince Avenue was a nurturing place where Mike not only sensed God calling him into the Gospel ministry, but where he also met Julie, also a student at UGA. The initial meeting evolved into a romance that resulted in holy matrimony. He avows, "My bride is my rock. She fully supports me, prays for me, encourages me, serves in our choir and First Impressions ministries. She was raised at First Baptist Church in Jacksonville, Fla., and was greatly influenced by a sweet relationship with Shirley Lindsay, wife of pastor Homer G. Lindsay, Jr. Air Line has fully loved, embraced and encouraged my bride, which gives me great joy."
In addition to being a graduate of UGA, Dorough graduated from Liberty University Theological Seminary in Lynchburg, Va. He mused, "During my graduate studies at Liberty, many of our SBC schools were in turmoil over the inerrancy of Scripture, but I never doubted where Dr. Jerry Falwell, Sr. stood. While at Liberty, God opened a door for me to serve as Youth Pastor of Old Forest Road Baptist Church in Lynchburg. It was in that church the Judge Paul Pressler had previously made his statement about 'going for the jugular' in reference to the seminaries."
During Dorough's seven-year ministry at Old Forest Road he and his wife, Julie welcomed their two children, John Michael and Holly Ann, into the world.
The ever youthful-looking Air Line pastor moved his family from Lynchburg to Warner Robins where he served Second Baptist Church for 18-years as youth pastor under the ministry of the venerable Rastus Salter who was the pastor of Second Baptist for almost 50 years. Dorough hails him as the "wisest man I have ever known. He made a huge impact upon my life and ministry." Under the ministry of Pastor Salter both Dorough children trusted Christ as their personal Savior. Dorough added, "My last year at Second Baptist, I served as staff evangelist; and was blessed to travel, preaching revivals, conferences, youth camps and was privileged to see God do some amazing things."
After a brief pastorate at Riverbend Baptist Church in Gainesville and another stint as an evangelist Dorough was called as pastor of the Air Line Baptist Church, and declares, "Air Line is the most loving church we have ever been blessed to serve. The church is constantly demonstrating a love for the Word and a love for others."
When the COVID quarantine started Air Line spent a considerable amount of money to improve and upgrade our broadcast capabilities resulting in the church reaching more people online than had previously been involved in corporate worship. Life Groups adapted to Zoom meetings. Dorough exclaimed, "Brenda Williamson called each of the ladies in her senior adult class and taught the lesson by phone every week. When we reopened, we quickly jumped to 2/3 of our previous attendance, but a second round of quarantine sent us back to ground zero for five weeks. Even though we had a slower return the second time, this past Sunday we were back over 2/3 of our pre-COVID attendance. God is now sending us first time guests and during the quarantines we had baptisms in a lake and in a stream."
Dorough has contributed much not only to the individual churches he has served but has played a vital role in denominational life. While on the staff at Second Baptist in Warner Robins he became a trustee at Truett McConnell University and served as the trustee chairman in 2010-2011. He explained, "Serving as a trustee I had the privilege of visiting with about 20 of my students from the church, including my son. My top memory was when we voted to require all professors to sign the affirm our Baptist Faith and Message 2000."
Dorough continued, "As chairman at TMU, we had several building projects going on simultaneously – a 16,000 sq-ft addition to Miller Hall, a new 34,000 sq-ft dorm, and a 9,000 sq-ft addition to the dining hall. These were the first construction projects since the Nix building in 2001. As the father of a student athlete, I loved watching the baseball team play and taking my students to eat at Glenda's, a local restaurant in Cleveland." Today, Julie serves Georgia Baptists as a TMU Trustee and Mike is on the University's Board of Visitors.
Every God-called minister wants to leave some kind of legacy; and Mike Dorough's legacy is already becoming a reality. He admits, "Among my greatest joys in ministry has been seeing God call some amazing students to vocational ministry, including pastors Jeremy Morton and Derrick Jackson at FBC Woodstock, Pastor Jacob Green of Shirley Hills Baptist in Warner Robins, and dozens of others serving as pastors, church planters, and missionaries."
Dorough has a real heart for missions and has not only preached in several states, but has also proclaimed the Gospel in Brazil, Russia, Poland, Germany, Nicaragua and the Bahamas. He commented, "I have traveled to Brazil ten times in ministry and mission trips. I preached the first revival meetings in the history of Igreja Batista Caragua in Caraguatatuba, SP Brazil. Julie and I prayed much about moving to Brazil as missionaries, but we clearly felt God calling us to Northeast Georgia, but to continue traveling to Brazil to minister and encourage our dear brothers and sisters there."
Having served as a vocational evangelist, Dorough is passionate about reaching the lost. He declares, "The Great Commission is not optional; it is a mandate. We cannot over emphasize the Great Commission. I came to Christ as a high school freshman during the second week of a revival that was extended an additional week. I am convinced that revivals work. I am forever thankful to God for allowing me to see Him do amazing things when I traveled as a full-time vocational evangelist. These are difficult days for vocational evangelists, but our churches must not forget that God has gifted the church with evangelists who the proclaim the Gospel and draw the net in a powerful way."
"I long for the day when we can host Spirit-filled revivals again. America needs revival now more than ever!"
---