ST. LOUIS, MO — I awoke at six this morning and got ready for the first day of the annual meeting of the Southern Baptist Convention. In addition to getting physically ready for the day I read Psalm 66-70 and Proverbs 14 and spent some time talking to my Heavenly Father.
I left my room and the first person I saw in the lobby of the hotel was former Atlanta fire chief and current staff member of Elizabeth Baptist Church in Atlanta, Kelvin Cochran. We chatted for a few moments and I asked him, "Kelvin, if you had an opportunity to become fire chief of one of America's greatest cities would you take the job?"
He smiled confidently and replied, "No, I am exactly where God wants me to be. I have personally discovered that what Satan meant for evil, God intended for good. I am completely fulfilled in what I am doing for God's Kingdom."
I got to the Convention Center and grabbed a jelly-filled croissant and a cup of decaffeinated coffee – Yuk! I consumed the croissant and ditched the coffee after three sips. I could never find enough cream and artificial sweetener to give it a palatable taste. I found a seat on the front row of the Convention Center and waited for the first session to start.
One of the first items of business was the Crossover St. Louis report given by Joel Southerland, representing the North American Mission Board. Southerland indicated that almost 4,000 volunteers presented the Gospel to more than 8,000 individuals with more than 500 persons praying to receive Christ.
Southerland also reported that next year's Crossover in Phoenix, Arizona will have an added component with Greg Laurie preaching a Harvest Crusade during Crossover at Chase Field, home of the Arizona Diamondbacks. The Crusade will be simulcast in churches, theaters, and homes all over America. The potential of this added Crossover feature is immeasurable.
Following the Crossover report President Floyd introduced General Doug Carver, executive director for chaplaincy services at NAMB. Carver was joined on the platform with dozens of Southern Baptist military chaplains, most of whom were in uniform, and the messengers expressed gratitude for their service.
Then Carver reminded the messengers that every three minutes a WWII veteran dies. He reminded the messengers that this year on December 7 the United States would commemorate the 75th anniversary of the Pearl Harbor attack. He paraphrased a quote by U.S. President Franklin D. Roosevelt, who said of that fateful day, "That was a day that will live in infamy." We owe a debt to those who fought for our freedom and the legacy they left behind."
To personalize the emphasis on Pearl Harbor, World War II veteran Bill McAnany, age 95, was introduced. McAnany, a native of Wood River, IL, enlisted in the Navy in 1938  and in August of 1941 received orders to report to the USS Solace, a former cruise ship that was converted to a 400-bed hospital ship.
The ship sailed to the West Coast and arrived at Peal Harbor, HI on Oct. 27, 1941, where it remained until the fateful events that unfolded on the morning of Dec. 7, 1941. McAnany was one of only 2,000 military personnel who survived the horrific attack on Pearl Harbor, and immediately thereafter spent two days providing care to the injured service members until he was relieved.
Following the recognition of McAnany, President Floyd asked all military service personnel and military veterans to come to the front of the convention hall and several hundred men and women came forward and led the messengers in pledging allegiance to the American Flag and in singing the National Anthem.
Southern Baptists understand that we are strangers and pilgrims down here on earth and that our citizenship is in heaven, but national pride is not a bad thing. We never put our hope in the things of this world, because our primary allegiance is to Christ the King. However, the presence of veterans, current military personnel, and the patriotic emphasis thrilled my heart as a son of a deceased WWII veteran.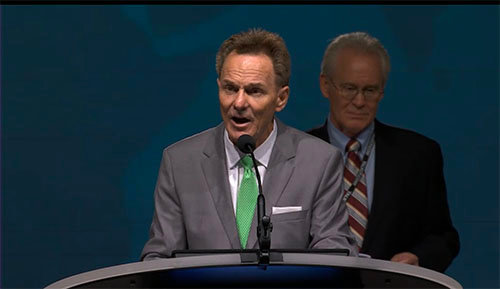 President Ronnie Floyd conducts business with aid from chief parliamentarian Barry McCarty, background.[/caption]The former Southern Baptist presidents and their wives were recognized – many of them champions of the Conservative Renaissance.
Barry McCarty, who has been the chief parliamentarian of the Convention for 30 years, was also saluted for his faithful service. Floyd commented that McCarty had saved many presidents from inadvertently misappropriating the rules of order.
After special music by the choir and musicians of Cross Church where President Floyd is pastor, he presented the President's address. His sermon title was based on a comment made by Speaker of the U.S. House of Representatives Paul Ryan, who recently assessed the social and political condition of America by saying, "The stakes couldn't be higher."
Here are some quotes from the President's message:
"The political discourse in America has become so degenerate that we wonder if our children should even watch it on television."
"Our nation is on the ragged edge of moral insanity."
"If Satan cannot get us to do the wrong thing, he will get us to do the right thing in the wrong way. Both are wrong."
"I believe God is at work in America, but how many more decades can America survive when things are unraveling at the pace they are today?"
"We are on the precipice of either experiencing an awakening or falling into an abyss."
"America is facing a leadership crisis. America is facing a relationship crisis. America is facing a racial crisis. Any form of racism defies the dignity of human life."
"Our churches must rise together as one and lead the way to racial reconciliation. We are not black churches. We are not white churches. We are not Latino churches. We are not Asian churches. We are the church of Jesus Christ."
Five actions to take
Floyd asked, "How are we to respond to the crises that confront us? I propose five actions:
Now is the time for Southern Baptists to come together. We are not in a battle for the Bible, but it appears that we are in a battle with one another. We are family and we must not let distractions keep us from hearing the voice of God. We need to love one another.

Now is the time for Southern Baptists to lead. We must lead not only with our size, but also with our influence. Our churches do not serve the structures and agencies of our Convention, but our structures and agencies serve our churches. Our pastors must lead; and our churches must lead.

Now is the time for Southern Baptists to evangelize. We must recapture the vision of reaching our own town and cities for Jesus Christ. We do a lot of talking about the Gospel, but we don't do much about advancing the Gospel. We no longer train our people to evangelize. While theological debate is ascending and is applauded loudly in our Convention, evangelistic fervor and fire is being extinguished and the masses are silent about it. Our Convention celebrates everything but the main thing. And then we wonder what happened with the main thing – evangelism.

Now is the time for Southern Baptists to give. Our giving seems to be increasing. Our 2014 Cooperative Program giving was up 2.6 percent over the previous year; and in the first eight months of this budget year we are up 6.13 percent over the same months of last year. However, we must continue to give.

Now is time for Southern Baptist to pray. If we believe the Bible, we must apply the Bible. Our God can do anything, anytime, anywhere, with anyone; and God can do more in a moment than we can do in a lifetime.
Floyd then urged pastors to lead their churches to have a specific time of prayer for spiritual awakening in America on Sunday, September 11 on the 15th anniversary of the terrorist attack on the World Trade Center and the Pentagon.
Following his address the SBC president introduced Jerry Young, pastor of New Hope Baptist Church in Jackson, MS and president of the National Baptist Convention, USA. Young stated, "The problem in America can be placed at the doorstep of our churches. We are the salt of the earth and light of the world. I believe the Gospel saves and changes people. Somebody needs to pass the salt and turn on the light."
The first session of the Southern Baptist Convention meeting in St. Louis was inspirational and hopefully prepared the messengers for the business sessions to follow.