By Tim Ellsworth
TUSCALOOSA, Alabama (BP) — Alabama running back Josh Jacobs and three other Crimson Tide football players provided a pleasant surprise for a 13-year-old boy while delivering a mattress and bed to a Tuscaloosa home in partnership with Calvary Baptist Church's S.D. Allen Ministry.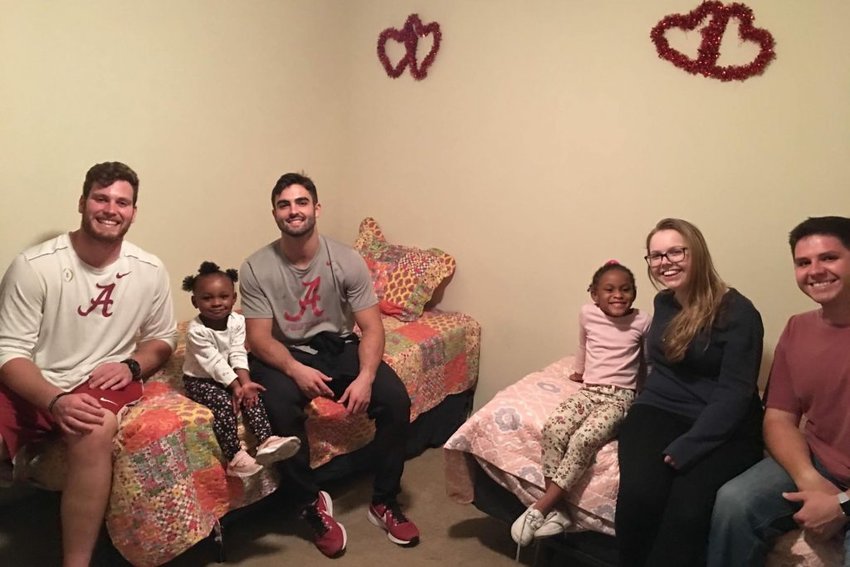 Alabama football players Hale Hentges and Keaton Anderson (left), along with a couple of other S.D. Allen Ministry volunteers, helped deliver beds to families in Tuscaloosa, Ala.
BAPTIST PRESS/Submitted photo
Jacobs walked into the house, and the boy who lived there looked him up and down.
"Are you Josh Jacobs?" the boy asked.
Jeff Hurn, director of the S.D. Allen Ministry, noted it "was such a cool thing that somebody that these kids essentially look up to as role models, it's something special to see them realize that those guys are real people who care as well."
Jacobs, Hale Hentges, Miller Forristall, a member at Cartersville First Bapstist Church, and Keaton Anderson, all from the Alabama football team, helped Hurn last month deliver the 1,000th bed the ministry has provided to Tuscaloosa-area residents who can't afford such luxuries.
On Jan. 7, the four players and the rest of their Crimson Tide teammates will face Clemson for the College Football Playoff National Championship.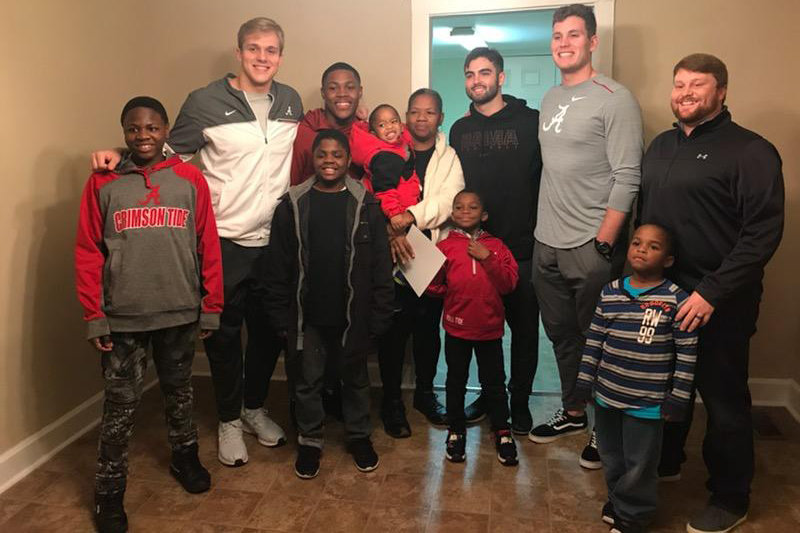 Alabama football players (from left) Miller Forristall, Josh Jacobs, Keaton Anderson and Hale Hentges, along with S.D. Allen Ministry director Jeff Hurn (right), pose with the family that received the 1,000th bed the ministry has provided. BAPTIST PRESS/Submitted photo
Calvary Baptist Church began the S.D. Allen Ministry in the aftermath of a 2011 tornado that caused widespread destruction in Tuscaloosa. The church originally adopted about 25 families from a local housing project who lost everything in the storm -- moving them into new apartments and paying their utilities and rent for three months. That number quickly increased to 130 families.
In the months after the tornado, the church began to realize that while several other sources were available to provide food and clothing to people in need, the city had no agency providing beds and furniture. That led to the establishment of the S.D. Allen Ministry. S.D. Allen was a member of Calvary who left the church funds, after his death, to be used for missions and outreach.
"Pretty quickly we focused in on necessary furniture items, specifically beds and sofas and stuff that could really help low income families and children and homeless veterans," Hurn said. "I've come to find out that there are possibly thousands of people in just the Tuscaloosa area, within a one-hour radius, who are sleeping on the floor because they don't have enough money to purchase a bed to sleep on."
For Hurn, the involvement of Alabama football players is a huge boost to his ministry. Crimson Tide players are local celebrities with huge followings on social media. Anderson and Hentges joined up with the S.D. Allen Ministry when they selected a community organization for a marketing class project. They've helped Hurn with furniture deliveries and with promoting the ministry on social media.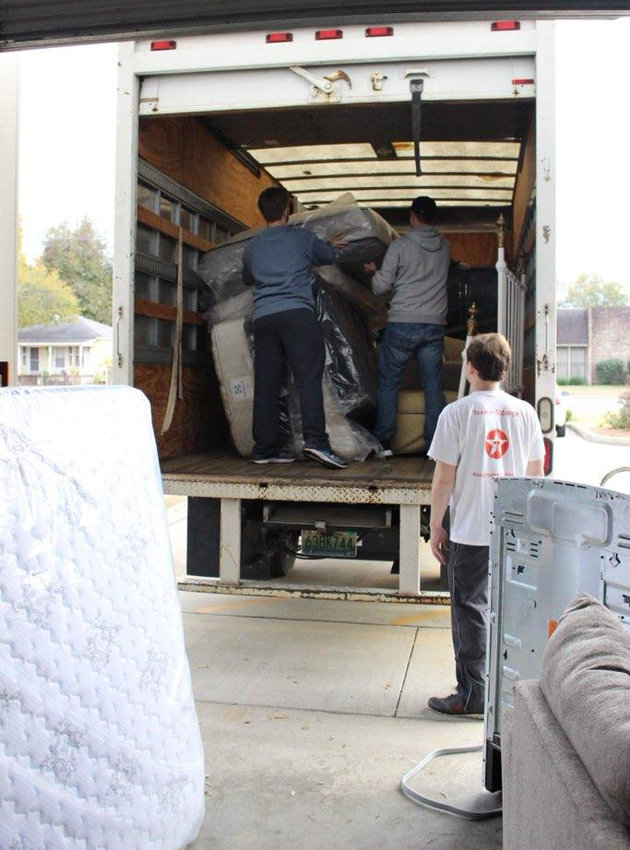 Volunteers from the S.D. Allen Ministry load up mattresses to be delivered to needy families. BAPTIST PRESS/Submitted photo
Through that class, Hurn built a relationship with them that led to Jacobs' and Forristall's involvement as well.
Anytime one of the players posts on social media about S.D. Allen Ministry, Hurn sees an immediate uptick in phone calls and emails from people wanting to volunteer or make donations.
Because the football players are typically so busy with classes and football, they aren't often seen out in the community. That makes it extra special for them to be involved with the S.D. Allen Ministry.
"For a kid or a single mom to have one of those guys knock on their front door, it's almost like a Publisher's Clearinghouse commercial," Hurn said. "Someone knocks on your door, and they're so surprised. It's like they've seen a ghost."
For Hurn, the Crimson Tide component is a bonus that allows him to do a better job of fulfilling his mission of providing not only for people's physical needs, but for their spiritual needs as well.
"This is the easiest way to get the gospel into somebody's life," Hurn said. "They'll open the door for you anytime you want to come bring a bed for their kid to sleep in. So, with each family I pray for them and let them know that God's provided this bed for them just like He's provided salvation through Christ for them as well."
---
Tim Ellsworth is associate vice president for university communications at Union University in Jackson, Tennessee.