BLACKSHEAR– The Christian Index has established a tradition of writing an article on the wife of the Georgia Baptist Convention president at the end of his second term in office. At least that is what generally happens. However, this year our beloved president, Mike Stone, pastor of Emmanuel Baptist Church in Blackshear, announced that he was not going to seek what is generally considered an expected, complimentary second term as president.
How he manages to pastor a dynamic, growing church, lead it into a mammoth building program, preach as many times as he does in a week, serve as chairman of the Southern Baptist Convention Executive Committee and serve on its search team tasked with the responsibility of finding a new president and CEO, care for his family, and do a plethora of other things that one can only imagine is mind boggling! So, no one can blame him for his decision not to seek another term as president of the GBC.
However, his announcement compelled The Index to interview Andrea, our president's wife, for a story a year earlier than expected – and no one was about to leave Andrea out of the picture inasmuch as she is the catalyst, the stimulus, and support that makes Mike Stone the man he is. However, if you read this article you will see that she is so gracious that she gives Mike quite a lot of credit for being a really good guy.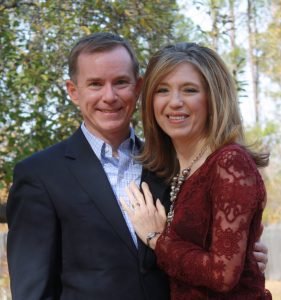 Mike and Andrea Stone give every evidence that their marriage was made in heaven. Photo provided by STONE FAMILY
guy.
[/caption]
The romantic proposal
Andrea was born in Lizella, the daughter two godly parents who faithfully brought her up in the nurture and admonition of the Lord. She accepted Christ at a church camp when she was twelve-years-old.
Andrea and Mike met in 1993 when she was a student at Brewton-Parker and Mike was at Mercer Law School. She recalled, "He began attending my home church, but I did not meet him for several weeks because I was at college. One Sunday when I was in town, I sang a solo in church. The song was 'We Shall See Jesus,' but he often said all he could hear was Percy Sledge singing, 'When a Man Loves a Woman!'
For those who might have questioned whether or not the venerable Pastor Stone is the quintessential romantic, consider the way he proposed to Andrea. It did not take him long to "pop the question." After only four months of dating, he took Andrea to a nice restaurant, then drove her to Coleman Hill where the Mercer Law School overlooks the city of Macon.
"We got out of the car," recalled Andrea, "he rolled down the window and popped in a cassette track of Steve Green's 'Cherish the Treasure.' He began to sing, 'I'll cherish the treasure….the treasure of you….God will enable me to walk with you faithfully…..' As he finished, he reached into his pocket and pulled out a beautiful diamond ring and asked me to be his wife."
The loving couple were married on July 15, 1995 at Second Baptist Church in Macon. Andrea affirms, "We are more in love now than ever. He has been a constant source of encouragement and blessing in my life. I would not be the person that I am today without him by my side."
The mother of four children
Mike and Andrea have been blessed with four children; Michaela (15), Andrew (14), Sarah (11), and Matthew (6). Andrea homeschools three of the children, but Andrew attends a private school.
"Homeschooling is a blessing and a challenge," Andrea declares. "I am thankful that the Lord has given me the opportunity to stay at home and educate them. I worked in the public-school system as a teacher and a counselor for several years, but there is nothing like teaching your own child."
The Stone family on Easter: standing from left to right – Sarah, Andrew, Michaela. Seated are Andrea, Matthew and Mike Stone. Photo provided by STONE FAMILY[/caption]
Andrea continued, "In our home, I have a different school location for each child. Because I teach multiple grade levels, I am teaching kindergarten in one room and overseeing Brewton-Parker dual enrollment classes in another. Literally, I am teaching how to write the alphabet and how to write college essays at the same time."
There are hundreds of pastors' wives who struggle to balance the demands of home, school, work, and church with wisdom and grace. Andrea seems to handle it all with aplomb, because, like her husband, she senses that God has called her to the role she has in life.
She explained, "Being a pastor's wife has indeed been one of the greatest blessings of my life. In my late teens, I began to sense in my heart that the Lord would have me marry someone in the ministry. I can't remember a specific 'call,' but just a strong sense of God's direction in that area."
Being the wife of a pastor
The Stones have served at Emmanuel since 1996. Mike was called to be the minister of music at Emmanuel during the pastorate of Don Hattaway, but after a few years the Hattaways were called to Cartersville. The Emmanuel pastor search team approached Mike and asked him to become the pastor at Emmanuel.
Andrea reminisced, "Although I grew up in church, I didn't have any idea about the stereotypical 'rules' for a minister's wife. The people of Emmanuel have always allowed me to be 'me'. They allow our children to be children and not 'PKs." I am a fellow church member who happens to be married to their pastor."
President Stone is a powerful preacher and those who know him can understand that he is in significant demand as a guest preacher. Andrea explains her viewpoint on his frequent travels to preach, saying, "Mike is away on preaching engagements several times per month. I miss him terribly when he is gone, but I realize that when God calls him to a task, he has also called me.
"It is my calling as a wife to do whatever it takes to make his ministry effective. Technology makes his absence easier. Often during dinner, the kids and I will watch him preach revivals via live stream. Facetime is a wonderful tool at bedtime as well. Mike actually gets to join us for prayer before I tuck the kids in at night.
"I often explain to my children that the sacrifices we make that permit him to be away will reap eternal dividends. We have a part in every life that is touched and changed from his preaching ministry because we allow him to go and be used by God. I use this as a teaching moment to remind them about the truths of God's Word. Psalm 62:12 says, '..You, O Lord, are loving. Surely, You will reward each person according to what he has done."
Contributing to her husband's success
Andrea Stone has great counsel to pastors' wives as she exclaims, "My primary job in the church is to make my husband's job as easy as possible. I am involved in our music and nursery ministries, but other than that, my job is taking care of Mike Stone, his home, and his children.
I pray I have helped him to pastor Emmanuel Baptist Church more effectively and to preach to thousands as he travels the state.
"I am so honored to be Mike Stone's wife. The blessings that this brings me are too many to count. I have lived with this man for 23 years, and he still amazes me every day. I still light up like a school girl when he walks into the room. He loves me as Christ loved the church. I am a better Christian because of him.
As a little girl, I always dreamed of being a wife and mother. My family is a great joy to me, but they also require lots of work! I once told Mike, 'The best part of my day is when those babies come down the stairs in the morning."
"He quickly said, 'And the second-best part of your day is when they go back up the stairs at night.'
"III John 4 says, 'I have no greater joy than to hear that my children are walking in the truth.' Mike and I have prayed for the salvation of our children since before they were born. Our three older children have accepted Christ, and we pray that our six-year-old will be saved soon. It has been our goal to rear doctrinally sound children who can defend their faith with the Word of God. I am overjoyed when I see my children living out biblical truths."
It's not easy for a pastor's wife to find time for herself
Does a busy pastor's wife and the mother of four ever have a moment to relax? Andrea says, "Sometimes 'time to myself' is just going to the grocery store without four kids in tow.
"The Lord sent a senior adult lady into our lives almost sixteen years ago. She promised me that when she retired from her job that she would babysit one full day each week. She has kept her word. Every Tuesday she comes to our home and takes care of our children. Tuesday is my day. I use this time to schedule appointments, buy groceries, or whatever errands needs to be done that week."
Sometimes a pastor's wife and her husband need some time for a diversion or a "date night." Andrea says, "It is very difficult to carve out time for us. We have to be intentional about it or it just does not happen.
I like dressing up and going out for a nice dinner, but I am also happy just climbing on the back of the 4-wheeler and riding with him through the mud. Sometimes we manage to snag a lunch date on Tuesdays when I have our sitter. Because we have four kids, I don't get to go and hear him preach out of town revivals often, but when I can, it is a treat to take a road trip with him."
If you only know Andrea as a lovely, charming, and delightful lady, you may be surprised to learn that she speaks at wild game dinners. She clues us in to another part of her life, saying, "When I speak at wild game dinners I am not what they are expecting. I am dainty with painted nails and curled hair. People have a difficult time picturing me in camo with a gun over my shoulder. I like to say, 'I'm a camo and pearls girl.'
"I have my mother's lady-like qualities with my father's love for the outdoors. Some of my earliest childhood memories are riding my daddy's shoulders through the woods while he pointed our deer tracks and scrapes and occasionally shaking a small tree and watching a squirrel scamper out of its nest. I can't even remember how old I was when I shot my first gun.
"I really don't have time for hobbies, but in the fall, I make it a point to carve out time to deer hunt. I enjoy hunting, but even if I did not, I'd still make time to climb a tree. There isn't a soul around for miles. There isn't anybody calling my name or asking me for anything.
"I have to say, that I've got it made. Mike heads into the woods during the late part of summer. He clears shooting lanes, gets my stand ready, and sets up deer feeders. The morning of the hunt, he already has all of my hunting gear packed and in the truck. All I have to do is layer up in camo, sit in the stand and squeeze the trigger. He comes in and drags out my kill and cleans it for me. I have all the fun and he does all the work.
"A few years ago, I had pictures made for Mike as an anniversary present. I dressed in a black evening gown and sat on a tree stump with my rifle. I call that photo 'Multiple Personalities' because it is both sides of me in one portrait."
Andrea admits that she actually speaks at more lady's events than wild game dinners. She elucidated, "I enjoy meeting women, encouraging them, and teaching them God's Word. My style is much like Mike's because well….that's who I have listened to for all these years. While I am not the orator he is, I aim high. I try to think, 'How would Mike say this? How would he alliterate this? I think he would use a joke or a story right here."
Proverbs 18:22 says, "He who finds a wife finds a good thing, and obtains favor from the Lord." Georgia Baptists love and appreciate the ministry of outgoing President Mike Stone, but it is also generally agreed that in marrying Andrea he obtained great favor from the Lord.