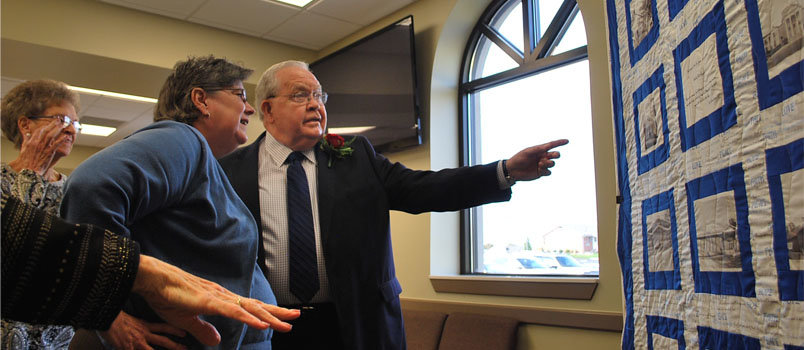 Bob Bagley points to a square on the quilt created by Deborah Tedder, standing to his side. Tedder, a member of Spring Place Baptist Church in Chatsworth, made the quilt depicting churches Bagley had served over the years. KIM KITTLE/Special
DALTON — Friends, family, former and current partners in ministry, and generally all those impacted in some way by Robert "Bob" Bagley gathered Nov. 18 at Salem Baptist Church to honor him and his wife, Evelyn. Bagley is set to retire Dec. 31 after 32 years as associational missionary for the North Georgia and Murray CountyBaptist associations.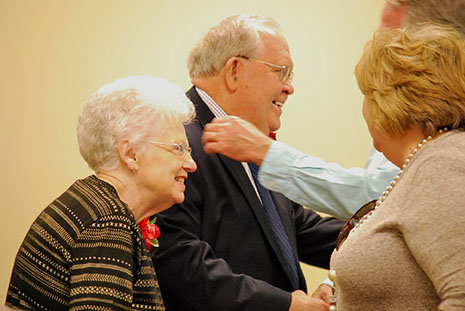 Bob and Evelyn Bagley greet well-wishers Nov. 18 at Salem Baptist Church in Dalton. Bob Bagley will retire at the end of the year after leading North Georgia and Murray County Baptist associations for the last 32 years. KIM KITTLE/Special
A graduate of Shorter College (now Shorter University) and Southwestern Baptist Theological Seminary, Bagley began his associational work with North Georgia and Murray County on Oct. 1, 1986. In addition to that ministry, Bagley also served numerous churches in various roles going back to his days as a student at Shorter. In 2016 he was interim pastor for Dug Gap Baptist Church in Dalton.
"I'm surprised at how quickly the time passed," Bagley told The Index. "It seems like I just started a few days ago."
Early in his ministry Bagley served as music minister at Atco Baptist Church and Old Armuchee Baptist Church. Eastwood Baptist Church in Indianola, Miss., was his first pastorate. Other churches he led as pastor include Pleasant Hope in Rome and Glen Forest in Mableton.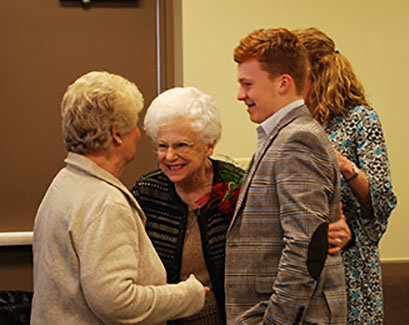 Evelyn Bagley, in glasses, greets friend Barbabra Holloway at the retirement celebration for Bagley's husband, Bob. KIM KITTLE/Special
Establishing Hispanic partnerships, outreach
Under Bagley's leadership, North Georgia Baptist Association grew to 49 churches, which includes adding an Arabic Mission, Vietnamese Baptist Church, and two Hispanic churches. Murray County Baptist Association has increased to 18 churches, including two Hispanic congregations. Between the two associations, there are seven Hispanic "preaching centers" that meet in various locations.
"We wanted to be involved in language missions to reach our Hispanic population," Bagley said. "We've been able to do that over the years as well as be a part of ministries like Disaster Relief and Baptist Builders.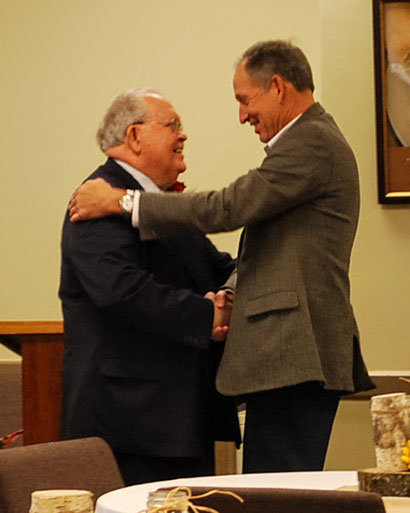 Bob Bagley, left, shakes hands with Whitfield County sheriff Scott Chitwood. KIM KITTLE/Special
"It's been a privilege to work with Georgia Baptists, one of the joys of my life."
Deborah Tedder, a member of Spring Place Baptist Church in Chatsworth, made a quilt for Bagley featuring the churches he pastored in addition to serving as associational missionary.
"That was a total surprise," he admitted.
In 2003, Bagley was named Associational Missionary of the Year. He has also been first vice president of the Georgia Baptist Convention, president of the Associational Missionary Fellowship of Georgia, and chairman of the Public Affairs Committee for the Georgia Baptist Mission Board.
Bagley has taken mission trips to Haiti, Mexico, and various states around the country. As a volunteer he's taken part at Camp Pinnacle (WMU) and served as associational Sunday School/VBS faculty as well as a volunteer for Baptist Builders and Georgia Baptist Disaster Relief. Currently, he's on the Advisory Board for Camp Pinnacle and a trustee and secretary to the Executive Trustee Board for Shorter University.