10-year-old advances SBC ministry day

Zak McCullar presented a motion at the 2018 SBC Annual Meeting in Dallas to add Children's Ministry Day to the SBC calendar of events. MARC IRA HOOKS/BP
NASHVILLE (BP) — At nine years old, Zak McCullar stood among 9,000 messengers and guests at the Southern Baptist Convention 2018 Annual Meeting in Dallas, reading his motion to add a Children's Ministry Day to the SBC official calendar of events.
With his motion referred to the SBC Executive Committee for consideration, McCullar promoted his cause to the EC during its closing plenary session Wednesday (Feb. 19) in Nashville.
"I think children's ministry workers should be thanked by this day," said McCullar, now 10. "And I want children to be recognized for the work we do to share Christ, even though we are young."
He added, "I hope you will pass my motion."
The EC answered McCullar's request, voting to recommend to 2019 SBC messengers in Birmingham, Ala., the addition of Children's Ministry Day to the SBC calendar annually on the third Sunday in July through 2023.
McCullar traveled to Nashville with his parents, pastor Scott and Suzanne McCullar, and siblings Mackenzie and Nik.
Ruling affirmed in Mo. Bapt. Home, university cases
KANSAS CITY (Pathway) — Missouri Baptists are one step closer to restoring The Baptist Home and Missouri Baptist University (MBU) to the "MBC family." On Feb. 19, the state's Appeals Court in Kansas City affirmed a lower-court ruling ordering The Baptist Home and MBU to seat trustees elected by the Missouri Baptist Convention.
Unless the Missouri Supreme Court agrees to hear an appeal and then overturns the ruling, the two organizations would resume operating under convention-approved charters and duly elected Missouri Baptist Convention (MBC) boards for the first time since 2001. The Baptist Home and MBU have until March 6 to file an application for rehearing in the Court of Appeals en banc or for transfer to the Missouri Supreme Court.
The three-judge Appeals Court panel upheld a Sept. 27, 2017 opinion by Special Judge Karl DeMarce in Cole County Circuit Court. In that ruling, DeMarce held that trustees of the Home and University violated Missouri law when they cut off the MBC's rights in 2000 and 2001, respectively. The charters of both institutions require MBC messengers to approve changes.'
Randy Comer, chairman of the MBC's Agency Restoration Group, expressed his thanks to Missouri Baptists for their prayers, patience and steadfast support.
'Who's Your One?' emphasis officially launched
ALPHARETTA (NAMB) — The North American Mission Board (NAMB) officially launched the "Who's Your One?" evangelism initiative Tuesday, Feb. 26 as part of an effort to encourage Southern Baptists to engage people with Gospel conversations throughout the year. This evangelism emphasis asks believers to pray for and focus on one individual in the hope that that person may come to Christ.
Southern Baptist Convention president J.D. Greear has worked in coordination with NAMB to develop a special resource for pastors that will help them personally embrace the effort and also lead their congregations to engage in sharing their faith.
"As part of the emphasis, pastors can order a free kit from NAMB that includes several items to help their church practice evangelism. The package includes an implementation guide, a 30-day prayer guide, a prayer journal, prayer bookmarks and a poster. A USB drive includes digital resources including promotional graphics, slides, sermon outlines and transcripts, sample sermons and a bulletin insert.
NAMB has already shipped kits to thousands of churches and pastors. Churches can order resources at NAMB's online store, nambstore.com, or through whosyourone.com. Pastors can also receive assistance by calling 800-634-2462.
Allan Blume, to retire May 31, honored by editors
CHARLESTON, S.C. (BR) — K. Allan Blume, who will retire May 31 as president-editor of North Carolina's Biblical Recorder, was honored by the Association of State Baptist Publications during their Feb. 11-14 annual meeting in Charleston, S.C.

K. Allan Blume, who will retire May 31 as president-editor of North Carolina's Biblical Recorder, was honored by the Association of State Baptist Publications during their Feb. 11-14 annual meeting in Charleston, S.C. CALEB YARBROUGH/Biblical Recorder
Blume, who received a resolution of appreciation from the editors, is known both in North Carolina and the Southern Baptist Convention not only for having led the paper the last eight years but also as a veteran pastor of churches in Boone and Charlotte. In his denominational involvement, he has led the SBC Committee on Order of Business and the Credentials Committee. In North Carolina, he served three terms as president of the state convention's board of directors.
As phrased by a resolution of appreciation, Blume is "a noted North Carolina Baptist minister, statesman and journalist with a long history of serving Southern Baptist churches."
The resolution noted in part that Blume "led the Biblical Recorder, newsjournal for North Carolina Baptists, to be one of the nation's most respected Southern Baptist news agencies, recognized by the accolades of many church leaders and numerous awards from the Baptist Communicators Association."
Through the Biblical Recorder, the resolution stated, Blume "successfully fulfilled his vision to lead the organization toward an unwavering commitment to the Bible, the Great Commission and God's glory."
Gateway to offer all master's degrees online
ONTARIO, Calif. (BP) — Gateway Seminary will become the first Southern Baptist seminary to offer all its master's degrees completely online in the fall of 2019.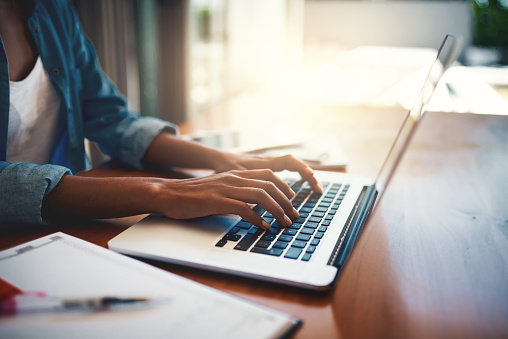 GETTY IMAGES
Approval to offer the final two degree programs online came from the Association of Theological Schools (ATS) on Feb. 15.
"Having all of our master's degrees online means that more than ever before, Gateway students have optimum flexibility to hone their ministry skills as they expand God's Kingdom around the world," said Kristen Ferguson, Gateway's director of online education. "We couldn't be more thrilled to offer this flexibility to them."
Ferguson said professors teaching online adhere to the best practices found in the field of online education, including:
— Weekly interaction between students and professor as they engage the content of the course.
— Timely feedback on assignments so that students grow each week.
— High quality videos intentionally recorded for the online platform and for the online student.
— Contextual assignments integrated in many classes so that students learn on the field and in their own context, then bring that learning experience back to the classroom for guidance and critique.
— Class sizes limited to 24-28 students so that each professor has ample time to invest personally into the lives of each student.