Southern Baptist Convention Executive Committee recommends expanding membership
NASHVILLE (BP) — Four state conventions would gain representation on the Southern Baptist Convention's Executive Committee under a recommendation adopted during the EC's Sept. 19-20 meeting in Nashville for presentation at the SBC annual meeting in June 2017.
The recommendation would amend SBC Bylaw 18 to exempt the Dakotas, Iowa, Minnesota-Wisconsin, and Montana Baptist conventions from Bylaw 30's requirement that territories have 15,000 members in cooperating Baptist churches to qualify for EC representation.
EC President Frank S. Page told the committee he originated the proposed bylaw amendment in an attempt to be "fair and kind."
"I have deep passion for small churches and deep passion for our smaller partners," Page said. Some territories "have been a part of the convention all these years" and yet "have no representation on the Executive Committee."
The EC's September meeting marked the third time the body had considered a proposal to grant representation to geographic areas with fewer than 15,000 church members. In February and again in June, the EC considered proposals but felt more study was needed.
At a Sept. 20 plenary session, 20 minutes of discussion ended with approximately 60 of 82 EC members favoring the recommendation on a show-of-hands vote, according to an estimate by Baptist Press that was corroborated by EC chairman Stephen Rummage, senior pastor of Bell Shoals Baptist Church in Brandon, FL.
Members to speak against the recommendation said they supported the concept of granting representation to all geographic territories but worried the waiver of an objective numerical standard could set an unhelpful precedent.
Kentucky convention to hotels: Fight human trafficking
LOUISVILLE, KY (BP) — The Kentucky Baptist Convention will not do business with hotels that fail to train employees to recognize and report human trafficking, KBC Executive Director Paul Chitwood announced Sept. 21.
Chitwood set forth the convention's position in a letter to potential vendors and listed several resources for free training.
Among the list is the Kentucky attorney general's office, which announced Sept. 20 a partnership that will seek to offer human trafficking training to Kentucky's commercial drivers and truck-stop employees.
The Kentucky convention, the state's largest religious organization encompassing a church membership of 750,000, intends for its internal policy to encourage corporate partners to provide employees with human trafficking awareness education.
Advocacy groups say human trafficking is a $32 billion industry that ensnares about 27 million people worldwide, with 46 percent of traffickers known by– or even relatives of – the victims. Some children as young as 2 months old have been victims of sexual exploitation. Children are twice as likely as adults to be trafficked, with the average girl groomed for prostitution being between 12 and 14 years old.
"That isn't prostitution. It's human trafficking," Chitwood said.
In November, messengers to the KBC annual meeting are slated to vote on a human trafficking resolution.
Missouri Supreme Court returns entity to state convention
JEFFERSON CITY, MO (BP) — The Missouri Baptist Foundation is coming home to the Missouri Baptist Convention.
The Missouri Supreme Court declined Sept. 20 to hear the foundation's appeal of an appeals court decision ordering its return to governance by convention-elected trustees.
By letting a May 24 ruling by the Missouri Court of Appeals-Western District stand, the state Supreme Court ended 14 years of litigation that began in 2002 after the foundation's board broke away from the convention the previous year, changing its charter in violation of a charter clause requiring MBC consent. The amendments declaring its board self-perpetuating also violated MBC governing documents.
After months of seeking private reconciliation and even binding Christian arbitration – all rejected by the foundation's self-perpetuating board – the convention asked a circuit court for a declaratory judgment, seeking a judge's interpretation of the law and corporate documents as the only legal recourse to restore the foundation to the convention. The action was taken in accord with Missouri Baptists' vote in their October 2001 annual meeting to direct the convention to seek a judicial ruling. More than a decade of lower-court proceedings ensued.
In October 2014 the Circuit Court of Cole County ordered the restoration of foundation governance to the MBC-elected board of trustees.
The foundation, with $150 million in assets, appealed the trial decision to the Missouri Court of Appeals, which heard arguments in September 2015 and handed down a decision on May 24 of this year.
That decision, written by Chief Judge Alok Ahuja for a unanimous three-judge panel, restored the foundation's governance to the convention. As a last resort, the foundation appealed to the Missouri Supreme Court, which declined to hear the case Sept. 20, leaving the decision of the appellate court in effect.
New SBC Executive Committee media policy addresses social media
NASHVILLE (BP) — The Executive Committee has voted to update its media policy, prompted by the proliferation and ease of use of social media.
In addition to news media, the policy now encompasses any individuals in attendance at EC meetings, including Executive Committee members themselves.
The new policy received a unanimous vote Sept. 20 during the EC's two-day meeting in Nashville.
While meetings of the full Executive Committee are open to the public and individuals' statements typically are on the record, its standing committees and workgroups have been held on "background rules" for more than 50 years, stipulating ...
No direct quotation of any matter.

No implied or direct attribution to any person.
The updated policy notes: "This applies not only to members of traditional media, but to anyone who uses social media platforms such as Twitter, Instagram, Facebook Live, Periscope, and all other technologies as they emerge."
The policy explains, "It is to be understood that Committee and Workgroup discussions and recommendations are tentative and subject to the action of the full Executive Committee. These meetings are open to the media, however, to provide the necessary background for accurate, complete, and well-balanced reporting of the sessions of the full Executive Committee."
EC President Frank Page, in comments about the media policy, said, "There's a reason why we have these rules so that people can speak freely, openly, and sometimes it's important that they do so without attribution."
The policy retains key elements from prior media guidelines, such as having "the right and responsibility to conduct executive sessions in unusual circumstances, such as the consideration of certain delicate personality and personnel matters which could not be handled wisely in open session without unnecessarily embarrassing individuals or disclosing privileged information."
To read the policy, go here.
Gateway move increased assets, streamlined staff
NASHVILLE (BP) — Thanks to the move of Gateway Seminary of the Southern Baptist Convention's main campus to Southern California, the seminary has more financial assets and an employee structure more focused on theological education.
That's the report Gateway President Jeff Iorg delivered to the SBC Executive Committee Sept. 20 in Nashville.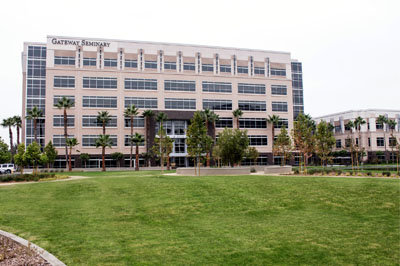 The grassy area in front of Gateway Seminary's new facility in Ontario, CA, has been dubbed "Gateway Park." BP/Special[/caption]
Iorg noted that the new 155,000-square-foot main campus in Ontario, CA, has 20 percent more building space than the former Mill Valley, CA, main campus in the San Francisco Bay Area. But it sits on 100 fewer acres of land, eliminating the need for "tens of millions of dollars in deferred maintenance and also future costs of maintaining a large campus."
The Ontario campus "was not a default choice for us," Iorg said. "This was an intentional choice" to focus Gateway on "the mission that you sent us to accomplish."
Gateway faculty and staff, Iorg said, worked tirelessly to complete the move between June 3, when the Mill Valley campus closed, and July 5, when the Ontario campus opened. Their efforts included packing or disposing of "every single thing" on the old campus as well as setting up everything on the new campus – including a 200,000-item library.
"It's hard to describe how hard people worked," Iorg said. "... Our staff, because we were in move-in process, did it all. They broke down all the boxes, hauled out all the packing material, swept up after themselves, cleaned the toilets, and made the lunch."
During the six-week moving process, the seminary also received final approval from the SBC to change its name from Golden Gate Baptist Theological Seminary.
When all was said and done, the move – including an $85 million sale of the Mill Valley property – left Gateway with more than $100 million total in cash and debt-free real estate assets.
In addition to real estate assets, Gateway has some $32 million left over in what Iorg referred to as its "land sale endowment." Beyond that amount, the seminary absorbed approximately $4 million in relocation expenses.
North Carolina restroom bill doesn't deter SBC annual meeting
CHARLOTTE, NC (BP) — Amid controversy over North Carolina's controversial transgender restroom law, Southern Baptist Convention leaders estimate they're less than a week away from finalizing contracts to hold the 2023 SBC annual meeting in Charlotte.
And they say they're glad to support the state for its moral stand on gender and sexuality.
SBC President Steve Gaines said that "while other organizations such as the NCAA, NBA and NFL are seeking to punish North Carolinians for their state government's bold and appropriate stand on gender and sexuality, Southern Baptists have voted and are resolute about holding our annual meeting there in 2023."
"Because we are staunch advocates of religious liberty for all, we have no intention of changing our minds," Gaines told Baptist Press in written comments. "My prayer is that other businesses and organizations will join us and make North Carolina their preferred choice for conferences, conventions and other similar events.
The SBC's vote to schedule its 2023 annual meeting in Charlotte came at the convention's St. Louis annual meeting this summer, less than three months after North Carolina legislators adopted House Bill 2, an antidiscrimination law which does not include sexual orientation or gender identity among legally protected classes. The law also requires individuals in state buildings to use restrooms that correspond with the sex listed on their birth certificates.
In response to the law, some organizations have cancelled events in North Carolina as an expression of support for so-called homosexual and transgender rights. Among groups to cancel plans in the Tar Heel State are the NCAA, the Atlantic Coast Conference, the NBA, and various businesses and recording artists.
"If more state politicians would follow North Carolina's lead in this," Gaines, pastor of Bellevue Baptist Church in Cordova, TN, said of HB 2, "we could stop the unprecedented bullying and intolerance that is seeking to erode our religious liberties in America. Now is the time for all Bible-believing Christians to lovingly, firmly stand up for righteousness and common sense."