Southern Baptists join coalition urging payday loan limits
WASHINGTON (BP) — American Christians overwhelmingly support government regulation of the predatory lending industry, Southern Baptists and other religious leaders in a Faith for Just Lending Coalition said April 13.
Coalition members, in a telephone news conference, pointed to online survey results by LifeWay Research that 86 percent of self-identified Christians in 30 states believe laws and regulations should bar loans at "excessive interest rates."
Payday lending, as it is commonly known, often draws poor people into a debt trap by charging exorbitant, and often misleading, interest rates. Though an interest rate may be portrayed by a lender as 15 percent, for instance, it actually is only for a two-week period until a person's next payday. The annual interest rate typically is about 400 percent, making it extremely difficult for a borrower to repay the loan.
"[W]e need measures that rein in exorbitant interest rates" and "not half-measures" that are sometimes passed, Southern Baptist public policy specialist Barrett Duke said during the teleconference call. "The biggest challenge ... is getting public decision-makers to enact these particular regulations."
Americans would benefit from the federal government's annual percentage rate (APR) cap of 36 percent for military members, Duke told reporters.
"If it's good enough for the military, that interest rate cap should be good enough for everyone," said Duke, vice president for public policy of the Ethics & Religious Liberty Commission (ERLC). The states that have caps demonstrate that lenders can still make "reasonable profits" without taking advantage of borrowers, he said.
Georgia pastor's wife part of Women's Ministry Advisory Council
ATLANTA (BP) — A diverse group of 18 women is studying the perspectives and strategies women in Southern Baptist churches bring to the God-given task of fulfilling the Great Commission.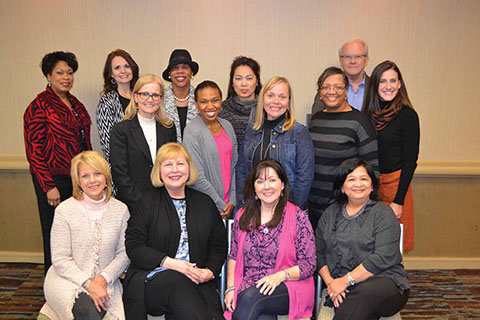 Women's Ministry Advisory Council members in attendance at the inaugural meeting are, seated left to right, Chris Adams, Rhonda Kelley, Rhonda Rhea and Ana Melendez; and standing left to right, Jacqueline "Jacki" Anderson, Brandi Biesiadecki, Lourdes Fernandez, Elizabeth Luter, Trillia Newbell, Davee Ly, Candi Finch, Tabitha Barnette and Ashley Unzicker. They are joined by Frank S. Page. ROGER S. OLDHAM/BP[/caption]
They comprise the Women's Ministry Advisory Council appointed by Frank S. Page, president of the Southern Baptist Convention Executive Committee. The council joins a list of advisory councils Page has appointed to provide insight into the needs, desires and goals of the many groups represented in SBC life.
Advisory council member Chris Adams, senior lead women's ministry specialist with LifeWay Christian Resources and a member of Long Hollow Baptist Church in Hendersonville, Tenn., praised Page's efforts.
"Many women in Southern Baptist churches do not feel valued as leaders though they want to make a Kingdom difference," she noted at the advisory council's first meeting. "The fact that the SBC Executive Committee has asked about women in our churches is huge. Thank you for affirming the value of women and encouraging the use of our spiritual gifts in ministry."
Included on the council is Tabitha Barnette, wife of Pastor Tyrone Barnette of Peace Baptist Church in Decatur.
Rhonda Kelley, an adjunct professor of women's ministry at New Orleans Baptist Theological Seminary where her husband Chuck Kelley is president, chairs the council.
"While the SBC has always valued the worth of women and followed the biblical guidelines for female roles in the church," Rhonda Kelley said of the group, "there is a sincere desire to increase the involvement of Southern Baptist women in biblically appropriate ways at all levels of the convention and to provide the support services to maximize their service."
The full story, including all members, is available at Baptist Press.
Louisiana College, former president part ways
PINEVILLE, LA (BP) — Louisiana College's strained relationship with former President Joe Aguillard has returned to the news.
The college has released a statement that Aguillard no longer has the title of "president emeritus" according to trustee action on April 12. Aguillard was LC's president from 2005 to 2014.
The LC statement also reported that the trustee executive committee approved a recommendation from the college's Faculty Affairs Advisory Committee that Aguillard be removed from his tenured faculty position stemming from what it called "violations of the LC Faculty Handbook."
Aguillard, in an April 13 statement to Baptist Press, said he had not been informed by the college of any actions about his status. Aguillard is now pastor of Kelly Baptist Church in Kelly, LA.
The college, in a four-paragraph, 184-word statement, said the "violations of the LC Faculty Handbook" were considered in a hearing by the Faculty Affairs Advisory Committee but the college did not specify the date, the allegations or the committee's specific recommendation.
'Boot camp' links western Kentucky churches
MADISONVILLE, KY (BP) — A county seat First Baptist Church and the local Baptist association have entered into a partnership to send pastors to "boot camp."
"Revitalization Pastor's Bootcamp" is being hosted by First Baptist in Madisonville, KY and sponsored by the Little Bethel Baptist Association to help equip and encourage pastors to lead their churches into better days of ministry health and effectiveness.
The monthly training event, based loosely on the Old Testament book of Nehemiah, addresses 12 topics relevant to church revitalization, such as discovering current reality; repentance and prayer in the life of the leader; receiving God's vision; and dealing with conflict. Each session offers specific instruction by providing a speaker and related resources.
Cost for the 12-month event is being shared by First Baptist and the 48-church association.
The full story is available by the Western Recorder, news journal of the Kentucky Baptist Convention.
Northwestern Conference adds pastor search resource
VANCOUVER, WA (BP) — The Northwest Baptist Convention has developed a new resource to help churches find a pastor when vacancies occur.
"The biggest difference we can make in helping a church is in working together to ensure it makes good decisions in selecting a new pastor," said Randy Adams, executive director of the convention encompassing 480-plus churches in Oregon, Washington, and northern Idaho.
Clint Ashley, a special consultant for church leadership with the convention, developed the resource with input from Adams and Joe Flegal, NWBC evangelism and church health director.
"There's a lot of good material out there, but some of it is cumbersome and too lengthy to help many search teams. This is a shorter, streamlined version of some of the more helpful items," Adams said of the new resource, titled "Guidance in the Pastor Search Journey."
In the past, the convention has assisted churches seeking resumes of potential candidates. That will continue, Adams said, but additional resources are often necessary. The steps range from developing a spiritual foundation for the process early on to ways for completing thorough background checks.