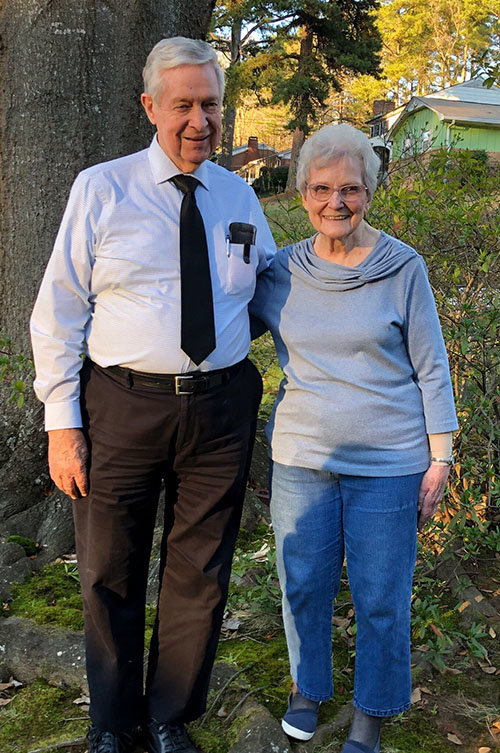 Darwin and those at Jefferson Avenue are quick to credit his wife, Carolyn, with contantly being by his side. "God called us into the ministry in 1968," Darwin states. It was a common practice for Carolyn to even go on visitation calls Darwin would make as far north as Kennesaw from East Point, located inside the Perimeter in southwest Atlanta. DARWIN CALDWELL/Special
EAST POINT — When he was first approached about being a pastor, Darwin Caldwell argued with God about it.
It was late 1996 and Caldwell already had 28 years of ministry under his belt, all of it as a minister of music. It was where he felt called and comfortable. However, Jefferson Avenue Baptist Church was asking him to be their pastor. The previous one had died unexpectedly from a heart attack and they felt Caldwell, who had been serving as minister of music, was to be the next to step behind the pulpit.
"I talked it over with God," he says. "I said I didn't want to do it. God said I would. So, on Jan. 1, 1997 I began as pastor."
That began 22 years of ministry at the Atlanta-area church, from which Caldwell, 81, retired at the end of December. It included thousands of sermons, Bible studies, visits with the homebound and elderly members around the metro area, and more sit-downs for barbecue than you can imagine (more on that later).
Beginning on the railroad
The road to get East Point took a while. After high school Caldwell went to work for the railroad in northwest Georgia, a job that eventually took him to Guntersville, Alabama. There, he oversaw freight shipments but also accepted a part-time position as minister of music at Victory Baptist Church. In August 1966 he moved with his wife, Carolyn, to Graceville, Florida, where he attended Baptist Bible Institute (now The Baptist College of Florida).
Darwin and Carolyn had married on May 5, 1955 – "A very good poker hand," he says in reference to the four 5s when accounting for the month. Seeing his wife as a longtime partner in ministry, Caldwell says "God called us into the ministry in 1968."
While at the Baptist Bible Institute, Caldwell served at First Baptist in Bonifay, Florida. After a few years the couple moved to Jackson, Mississippi, where Caldwell enrolled at Mississippi College. He became minister of music at Byram Baptist Church, south of the city, and stayed there 18 months before moving to nearby Simmons Memorial Baptist in Flora. He remained until completing a bachelor's degree in music education.
From there the Caldwells went to Fort Worth, Texas, where Darwin earned his Master of Church Music degree at Southwestern Baptist Theological Seminary. During that time, he served as minister of music and youth at Meadow Lane Baptist in Arlington. Upon graduation he moved back to his native Georgia as minister of music at Headland Heights Baptist Church in East Point. In 1994 he accepted a call as interim minister of music and senior adults at Jefferson Avenue before becoming pastor.
A 'joy' to study
Caldwell became known as an expository pastor with an easygoing manner. The transition, he says now, wasn't difficult.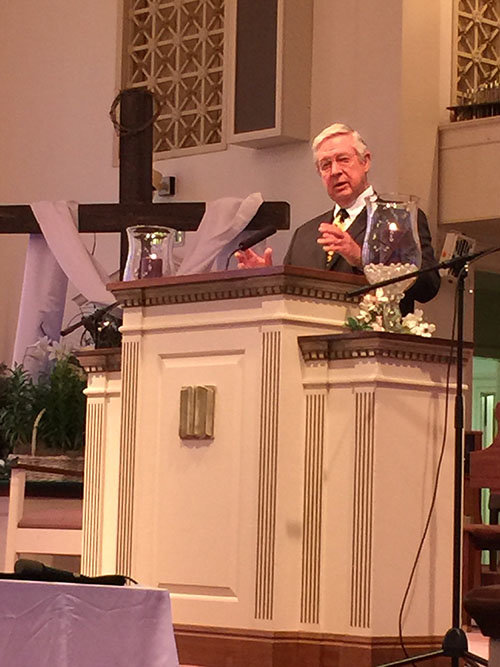 Darwin Caldwell preaches at Jefferson Avenue Baptist Church. Caldwell originally came to the church as interim minister of music, but eventually accepted the call to become pastor. DARWIN CALDWELL/Special
"God had been at work in my life and I'm so thankful," he says. "I'd been teaching a Bible study for senior adults at Headland Heights since 1974, visiting people in hospitals, and witnessing, things like that, so it had been preparing me. I remember being surprised at how I didn't have to worry anymore if the choir was going to be off pitch!"
His love for studying Scripture, he adds, paved the way for sermon preparation.
"I enjoyed getting ready to preach. I didn't know anything about putting a sermon together, but I'd led devotions and such over the years. Studying was – and still is – a joy for me. I love it.
"Presenting what God has shown me is wonderful. I didn't feel like I was 'preaching,' but just explaining what I'd learned."
Slow-roasted devotion
During his time in Georgia, Caldwell, also a longtime member of the Sons of Jubal, became known for his love of barbecue. "I didn't have a lot of it growing up, so I eat as much as I can now," he says.
His favorite at the moment is McGhin's Southern Pit Bar B Que in Griffin. "I like everything there. The pulled pork, ribs, stew, slaw – the blackberry cobbler doesn't hurt, either," he adds.
Robby Jackson has been Jefferson Avenue's minister of education and youth since 1994, so he can attest to Caldwell's affinity for barbecue. "We had many staff meetings at Fox Bros.," he remembers. Harold's Barbecue on McDonough Road was also a favorite, Jackson said, before it shut down in 2012. "He's a barbecue aficionado."
But that's not all Jackson noted about Caldwell. "He's about as easygoing a pastor I've ever worked with. He'd always defer to his staff if people had a question about that area of the church. Darwin would always be out visiting people.
"For instance, he might come in to the church office and say, 'I'm going to do the North Route today.' That meant he was spending the day visiting in Kennesaw and Marietta."
In 1997 Jefferson Avenue's minister of music, Newton Hendrix, gave Caldwell a book, "The Peach State Glove Box Guide to Bar-B-Que." Pardon the pun, but Caldwell ate it up.
"I still refer to it," he says. "I've got it in my car now."
Other places he enjoys include the Old Hickory House in Tucker and one he just discovered, The Oink Joint in Newnan.
A fan one-stop shopping
And as much as Darwin loves barbecue, his wife may love Walmart more. "It has everything I want," she says. One stop does it all, and I just love to walk around in them."
A few years ago the couple took a road trip to visit their daughter's family in Fort Collins, Colorado. Beforehand Carolyn had bought an atlas at a Walmart that, you guessed it, showed the locations of all the Walmarts in America. Their 1,464-mile journey from East Point became one of driving a few hundred miles a day and finding the nearest Walmart to wherever they stayed the night. They got their exercise walking around the store, ate at a restaurant, went to the hotel, then got up the next morning and did it all over again.
Their four daughters are spread out – Fort Collins; Dallas, Texas; Augusta; and Panama City Beach, Florida – so that means a lot of barbecue and Walmarts for future travels. Even more important, all are involved in a local church. "We're going to be worshipping with them this summer when we go visit," beams Darwin.
But on the road, his mind won't be too far from Jefferson Avenue as they search for a new pastor. And he won't be far from theirs either, as Caldwell was named pastor emeritus upon his retirement.
"It was wonderful serving with them," he testifies. "They're such a loving people. They accepted a fella who didn't know what he was doing and helped him learn what should be done. God was in it, but they made it really enjoyable."