BOGART – His passion for ministry is not abated, and his love for his flock has not diminished one iota. Furthermore he has no plans whatsoever to retire.
Pastor Bill Ricketts simply calls it a redirection. However, Nov. 13 was Ricketts' last Sunday as pastor of Prince Avenue Baptist Church, one of Georgia Baptists' most strategic and dynamic churches.
Ricketts is somewhat emotional about his decision to resign as pastor of the church he has faithfully served for more than 43 years. He explained, "It will be difficult to say goodbye as pastor. My wife, Darla, said she would prefer to slip away in the darkness of night rather than have everyone see her tears on that last Sunday.
"However, I am excited about the future and believe God has some significant things He wants us to do in the months and years ahead. I am also excited for the church, because I believe its greatest days are on the horizon."
Depending on God's leadership from the beginning
"Darla and I gave God a blank piece of paper on our honeymoon, read the Bible, and prayed together," Ricketts continued. "We told Him we would surrender to His will and leadership in our lives and He has been faithful to guide us and provide for every need. Now, we have done that same thing again and are, depending upon Him to direct our steps in the months and years ahead."
Parenthetically, Bill and Darla Ricketts were married on New Year's Eve 1964. Bill explained, "Darla is the love of my life. No matter where we are on New Year's Eve people have the most extravagant fireworks displays to celebrate our wedding anniversary. It's amazing!"
After a few weeks of relaxation and spending time to reflect on his ministry at Prince Avenue, Ricketts plans a trip to Romania where both he and Prince Avenue have invested a lot of time and resources.
Prince Avenue under Ricketts' leadership has been assisting a church in Romania for over 13 years. That one church has also extended its ministry to support and strengthen 12 additional churches in the Eastern European country once under the brutal and repressive regime of Communist ruler Nicolae Ceausescu.
Dr. Paul Negrut, president of Emmanuel University and Seminary in Oradea, Romania, is a close friend of Ricketts. The school has named one of their honored chairs the Bill Ricketts Chair of Pastoral Care. The former Prince Avenue pastor is planning to go to Romania and minister there as well as teach in Emmanuel Seminary.
Missions impact not by accident
Because of a relationship with a young missionary in Nicaragua, Ricketts also plans to find time to minister in Central America. In fact, in a recent blog post J.D. Greear, pastor of Summit Church in Durham NC, wrote about the impact "Brother Bill," has had upon his church, even though it is 350 miles from Athens. Greear wrote, "From my last count, at least 27 of our Summit staff or missionaries have sat under the preaching and leadership of Brother Bill.
"It's no accident, either. Bill has lead PABC to be one of the most significant sending churches within the entire Southern Baptist Convention during his 43 years as pastor."
Ricketts was born in Florida, but early on his family moved 20 times in 21 years. He explained, "My dad was called to preach as a young man, but he ran from God's call in his life. Our family was in a downward spiral for years after that.
"My parents were Christians and took me to Sunday School, but it was not until much later that my dad confessed his disobedience and surrendered to God's call to preach. He was ordained at age 69 and called to his church at 70 and brought a dead church back to life. I preached his funeral and was able to say, 'My dad died in the center of God's will.'"
Cow sense
The PABC pastor recounts his conversion as a young boy, but admits that he drifted somewhat as a young teenager. However, as a 17-year-old senior in high school, he was broken and started serving the Lord. He was called to his first church at age 18 and has pastored a total of 53 years.
The Florida native prepared himself for the ministry by preaching, but also earned degrees from Western Kentucky University and New Orleans Seminary.
When Ricketts was young "preacher boy" one of his mentors was the renowned pulpit orator Dr. R.G. Lee. He was transporting Dr. Lee to a preaching assignment on one occasion and asked him, "Do you have any advice for a young preacher going to the seminary?"
Lee replied, "Have the sense of an old cow."
Ricketts tried to interpret Lee's advice, but had no idea what he meant. Just prior to arriving at their destination, he asked, "Dr. Lee, I don't think I understand what you mean."
The famed pastor responded, "A cow won't eat the sticks and stubble." After carefully weighing his counsel Ricketts concluded that Dr. Lee was suggesting he would hear errant theology that was like the sticks and stubble that cows rejected. He should do the same with all theological stubble, or false doctrine.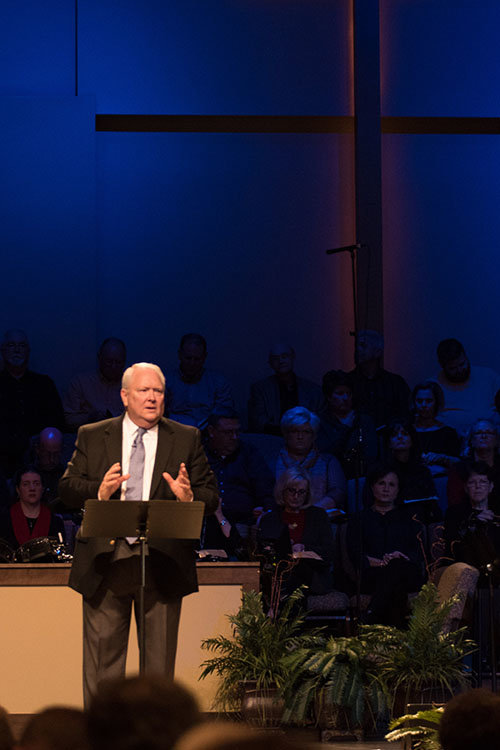 "When I think about the years God has allowed me to serve Him I know it is by God's marvelous grace," Ricketts, here preaching on Nov. 13, said in an earlier interview. PABC/Special[/caption]
Redirection
Ricketts has poured his heart and soul into his pastorates and admits, 'There was nothing else I ever wanted to do." He told Greear in the interview, "I came to PABC to plant my life and invest my life. It was simply one day after another, and then one year after another. And now, the next thing I know, God is redirecting our ministry."
Although Ricketts' greatest ministry has been pastoring his church, he has also made vital contributions to denominational life in both Georgia and across the nation. He has held multiple roles in the Georgia Baptist Convention, including serving as president of the GBC for two years.
In Southern Baptist life he was called upon to serve on the Executive Committee during the Conservative Resurgence. He reported, "I watched the convention change from where we were to being a people of the Book. It was hard, but thankfully we won 'the battle for the Bible.'" Currently, Ricketts is serving as a trustee of the International Mission Board.
One of the most formidable challenges Ricketts faced at Prince Avenue was relocating the church. The church was originally located in downtown Athens. But as the church grew the pastor sensed that limited space and inadequate buildings would stifle the future of the church. He began to pray about a possible relocation and ultimately found a much-desired piece of property on U.S. Highway 78 in Oconee County that he envisioned as a perfect site for a potential relocation.
The move to the new property took place in February 2010. The new facilities of the church and Prince Avenue Christian School constitutes one of the most expansive and impressive campuses in the southeastern part of the nation. Furthermore, the debt on the property and the commodious buildings has been paid.
By the grace of God
Ricketts stated, "When I drive on this campus I see the grace of God. When I realize that I have had the privilege of growing up in America I know it is by the grace of God. When I think about my wife and family I realize it is all the grace of God. When I think about the years God has allowed me to serve Him I know it is by God's marvelous grace.
"This is the purpose for which I was born – to preach and pastor. If I were to die today I could only say that I have had a great life. If I have done anything worthwhile in all these years I can honestly say that God must get the glory, because I have wanted nothing in my life but to honor and magnify His matchless name."
Dr. John McCall, professor emeritus at the University of Georgia, declared, "My wife and I joined PABC about 40 years ago. During the last couple of years of my Ph. D program and the first years as a UGA faculty member, I had directed away from the Lord and even began to question the existence of God. After listening to only two of his sermons, I realized I had to either get right with God or quit listening to his sermons.
"I decided to hear more of what had to say about Christianity. Under the conviction of the Holy Spirit and Brother Bill's boldness and effectiveness in preaching the inerrant Word of God, ... I began to realize it would take more faith for me to be an atheist or agnostic than to accept God as the divine creator and that Jesus Christ did die for my sins.... [My pastor] is truly a man of God."
Evangelist Joe Campbell stated, "It has been a privilege to call Brother Bill Ricketts my pastor for 32 years. During our time as members we have witnessed the sweet presence of Christ, the conviction and calling of the Holy Spirit, and the glory of the Father under his leadership. He has proclaimed the Word faithfully and lived it fully. The result has been a growing, loving, thriving, giving church that the Lord has blessed."
Someone to still watch
Barry Shettel, who served as youth pastor at Prince Avenue at one time, testified, "Bill Ricketts has been my pastor since 1980. I have served with him for 30 years and have grown to know him as my friend and brother. He is also a pastor's pastor. In other words, he is an example of what a pastor should be. I have watched him deal with everything that comes into a pastor's life and ministry (good and bad) and found him to be a walking seminary. If a young pastor wants to know how to do something, my pastor is the man to watch."
Betty Sue Ash, PABC pre-school director, explained, "Brother Bill has been my pastor, friend, and mentor for the 34 years I have served with him on staff as Prince Avenue. He has been a faithful leader in all areas of our church life. Through difficult times in our lives he and Darla have prayed, loved, and cared deeply for his staff and church family. I wish him the best as he and Darla enter into this new phase of life."
So, an amazing journey that began with a trial sermon at Prince Avenue on Sunday, Oct. 28, 1973 came to an end on Sunday, Nov. 13, 2016. The good news is that the Rickettses' have begun another journey and it is certain to be a journey of usefulness and service, because on the horizon there will be mission opportunities and preaching opportunities that will find his experience and giftedness an incredible blessing.