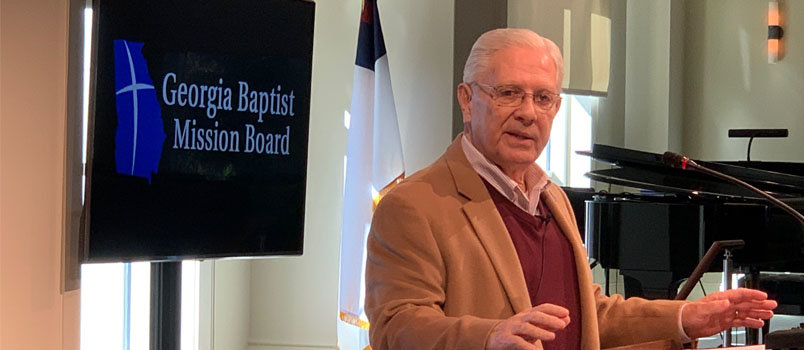 Bobby Boswell opens the January Bible study yesterday (Jan. 9) at the chapel service at the Missions and Ministry Center. JOE WESTBURY/Index
People.
That is the Number 1 thing that comes to mind when Bobby Boswell thinks about what he has enjoyed about his job of the last 35 years.
Fishing. That's one of three things he keeps mentioning that he is looking forward to after retirement. Of course, after spending more time with Mattie, his wife of 52 years, and his two children and four grand-children.
Those are some of the things that dominated the exit interview The Index encountered with Boswell who is stepping down as assistant executive director on March 31.
The soft-spoken Hogansville native came to the Mission Board in 1983 on the invitation of the late Julian Pipkin, who was then serving as director of the Church Services Division which included Sunday School, pastoral ministries, church music, brotherhood, and church training. Boswell had always been a strong supporter of Sunday School and believed that was the way to grow a church.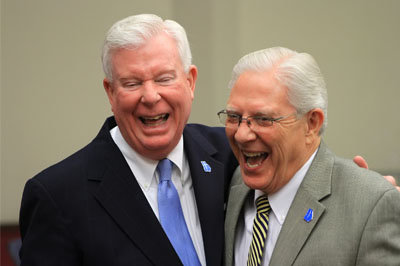 Executive Director J. Robert White, left, and Assistant Executive Director Bobby Boswell will retire within three months of each other. White retired on Dec. 31, 2018 and Boswell will retire on March 31. BRYAN NOWAK/Special
"Dr. Pipkin saw something in me that he felt would be a good match to lead the Sunday School Department. While I was enjoying my pastorate at First Rincon in Savannah Association, I accepted the call to the state office," he says.
It was a surprise calling but one that he has never regretted. While it removed him from the local pastorate, it expanded his ministry statewide as he carried high the banner of the importance of Sunday School as the primary ministry of congregations.
Now more than 3 decades later, he still believes in the importance of Sunday School, even in light of its nationwide decline. That loss, he feels, is due to an increasing number of pastors who place a priority on worship at the expense of Sunday School.
"Sunday School remains the Bible study, ministry, and outreach arm for the local church. I have always had a strong commitment to growing the church through Sunday School and small groups.
"The key to Sunday School is personal involvement on the part of members. It requires work on recruiting teachers and their commitment to preparing the lesson each week; it requires students who study their lessons, catch the vision of reaching their community, and then providing them with outlets to share their faith," he relates.
In addition to the decline in Sunday School through the Southern Baptist Convention, Boswell says he is equally saddened by the decline in missions giving through the Cooperative Program.
"In my early years of pastoring the standard was 10 percent," he remembers.
As recently retired Executive Director J. Robert White said throughout his administration, "You can't reach the world on a nickel" out of every dollar. That refers to the current average 5% giving level of most churches.
Boswell began his ministry at the Convention under Executive Director James Griffith. He had already served two pastorates in Mississippi and four in Georgia.
It was White who reorganized the Convention in 1997 and elevated Boswell to one of two newly created executive level positions.
White looks fondly on the past two decades of working with his assistant executive director.
"I knew very early in my ministry among Georgia Baptists that I wanted to work closely with Bobby Boswell. I asked him to serve as assistant executive director and later as vice president of ministries.
"Bobby has always done his work with perfection and dedication. Through his long tenure he has led in so many significant ways. In particular, his leadership in Sunday School was notable throughout the Southern Baptist Convention as we maintained the highest percentage of annual growth under his leadership."
Bobby shares a mutual appreciation for the state executive who he worked so closely with on a daily basis for the past two decades.
"I would like to say what a privilege it has been to work with a man like Dr. White. When you serve alongside a gentleman like him and observe him in all kinds of situations and under all kind of stress, you appreciate his standards of such high character and integrity," he added.
Boswell said his is excited about the future of Georgia Baptists and the Mission Board under the fresh leadership of Thomas Hammond, who stepped into the role on January 1.
"He has a real vision for reaching Georgia with the Gospel and I look forward to seeing the continued growth of our churches and ministries to reach the lost."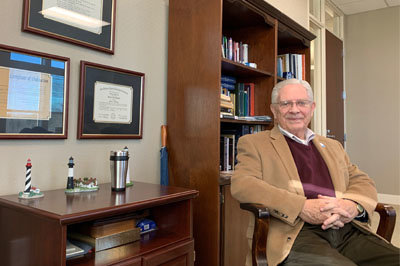 Boswell reflects on his decades in denominational work, the past 35 which included his ministry at the Mission Board. JOE WESTBURY/Index
Looking forward to the next dimension of life, Boswell quickly thanks his wife for undergirding his ministry, both during his days in the pastorate and later at the Convention.
He acknowledges the sacrificial role she played in understanding the rigors of his ministry as a pastor and the stress which he … and the family … endured. Now, with time on his hands, he plans to spend more time with her and their son Rob, daughter Christie, and four grandchildren.
For the time being the couple plan to remain in their Lawrenceville home and keep their membership at First Baptist Church in Winder. But longterm, they plan to move closer to their and his family in Winder and daughter Christie and family in Gainesville. He says he will remain open to ministry opportunities as they present themselves.
"When it's all summed up it's been a real delight. I would never have considered this kind of ministry but I'm grateful for it and all of its blessings. The people … throughout the state in the churches and the employees of the Mission Board … have always been so kind and committed to their work."
But he has not forgotten that other retirement priority that lurks just beneath the surface.
"I miss the crappie fishing and the spring spawning of the bass. I'm going fishing," he adds with a big grin.