Meetings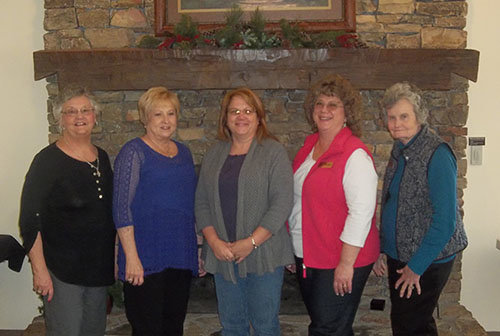 Officers for the Georgia Baptist Association of Ministry Assistants, left to right, include President Nancy Crowe, a member of Bethany Church in Snellville and retired ministry assistant for Gwinnett Metro Baptist Association; First Vice-President Diane Bell, senior administrative assistant with Pastoral Institute in Columbus and member of Bethesda Church in Ellerslie; Second Vice-President Beth Unchurch, ministry assistant and member of New Life Church in Metter; Secretary-Treasurer Kathy Bishop, ministry assistant and member of Midway West Church in Carrollton; and Historian Brenda Sue Davis, retired ministry assistant and member of First Baptist Church in Lawrenceville.[/caption]
The Georgia Baptist Association of Ministry Assistants (GBAMA) held its annual conference recently at Pinnacle Retreat Center in Clayton. GBAMA is a professional support organization open to serving administrative or ministry assistants in Georgia Baptist churches, associations, and agencies. Those who are members of a Georgia Baptist church but also an administrative assistant elsewhere are also welcome to join the group. GBAMA has an annual meeting each spring that provides professional development and personal enrichment for participants.
---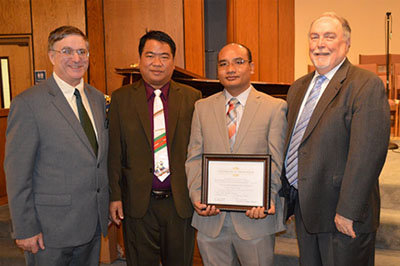 Standing left to right at the Feb. 28 ordination service are Keith Pisani, pastor of Pine Lake Baptist Church,; Pastor Thawng Boi of Myanmar (formerly Burma); Thawng K. Kim, psator of Zomi Baptist Church of Atlanta; and Jerry Baker of Intercultural Church Planting and Missions Ministry of the Georgia Baptist Mission Board.[/caption]
Ordained
Pine Lake Baptist Church of Stone Mountain and Zomi Baptist Church of Atlanta ordained church planter Thang Suan Piang (Thawng K. Kim) into the ministry at Pine Lake Baptist on Feb. 27. The ordination council included Associational Missionary Ray Gentry and Pastor Stan Jordan of the Southside Baptist Network and host Pastor Keith Pisani and Youth Pastor Gary Warren of the Greater Atlanta Baptist Network.
Approximately 250 Burmese Christians attended the Sunday, Feb. 28 ordination service, with presentations given in both English and Zomi. Both Pine Lake Baptist Church and Zomi Baptist Church of Atlanta hosted a post-service dinner in honor of Kim. Burmese beef with vegetables and rice was the main dish.
---
What's Happening
The Worth County Community Revival will take place in the town of Sumner on Saturday, March 12 at 6 p.m. The theme for this year's event, held every two years since 2010, will be "Stand" and features guest speakers Bert Harper, Fred Evers, Emir Caner, and Gerald Harris. Brian Broome will be the worship leader.