CLARKSTON — As back-to-school season began, Clarkston International Bible Church (CIBC) was yet again meeting their community's needs, one backpack at a time.
During the church's annual Back to School Party, in partnership with Send Relief, their Ministry Center distributed 2,100 backpacks filled with 35,000 school supply items, ministering to around 3,500 people who passed through their campus on Aug. 3.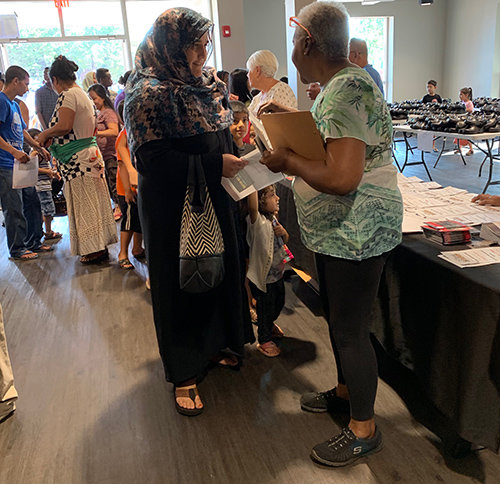 Many organizations and churches worked together to provide other services for attendees, including grocery vouchers. MYRIAH SNYDER/Index
Kids weren't just handed the backpack full of supplies, though. They each got to go through and select supplies, greeted by a smiling face.
Clarkston International Bible Church seeks to serves the Clarkston community, known as the most ethnically diverse square mile in the nation for their large refugee population (nearly 32%, according to Today.com), well in many ways, but especially during this back to school season. They've held this event for over 10 years, two of which have been in partnership with NAMB.
In their community over 60 different countries are represented with more than 100 different languages spoken. "When we do an outreach event like this, the amount of people and cultures we're able to impact for the Gospel is pretty incredible," Trent DeLoach, pastor of CIBC and North American Mission Board Send Relief missionary, said.
The list of required supplies for a student in the DeKalb County School System totals around $90, DeLoach shared. For some of these international families who have multiple children (sometimes six to ten), school supplies become unaffordable. If students show up to school emptyhanded, the responsibility to provide school supplies falls to the schools or the teachers.
"This is a way that we help the teachers, we help the schools, we help the families, and do it all in the name of Jesus. So it's a big win all around," DeLoach said. "This is a very practical, tangible way to bless people."
More than just backpacks
During the Back to School Party, more needs were met than simply backpacks. All the ministries that partnered with the church were able to distribute 540 pairs of shoes, 1,500 Gideon's New Testaments, 91 full-health screenings, 70 prescription reading glasses, vouchers for groceries, and more.
However, the day was also filled with excitement, as kids had the opportunity to play basketball with volunteers and jump in bouncy houses. Families received lunch and nibbled on snow cones.
"We want everybody to walk away knowing Jesus loves you, the church loves you, and if there's anything we can possible do to help you, we're here," DeLoach added.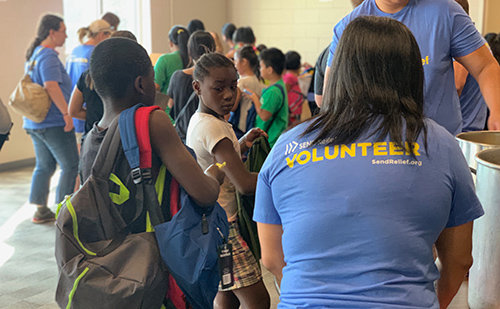 Students received backpacks filled with $90 worth of school supplies. MYRIAH SNYDER/Index
But, an operation of this size wasn't pulled off alone.
As a NAMB ministry hub, volunteers from Send Relief – as well as multiple churches and ministries – gave supplies, services, and donated their time to meet the community's needs. Much of the supplies this year was funded through donations received as CIBC was one of the Woman's Missionary Union's Christmas in August featured missionaries.
Around 15 churches sent nearly 160 volunteers for the day of the event, but nearly 200 churches contributed supplies. Other ministries contributed to the day in various ways, including: Family Heritage Foundation, Gideons, Asia Pacific American Council, Center for Pan Asian Community Services, and the Clarkston Bible Institute.
'For the Kingdom'
Volunteers didn't just come from other churches either. CIBC members rallied around the cause. Nenubari Bakba and Besheri Mvoma spent the day in the hot sun, playing basketball and striking up conversations with kids as they came.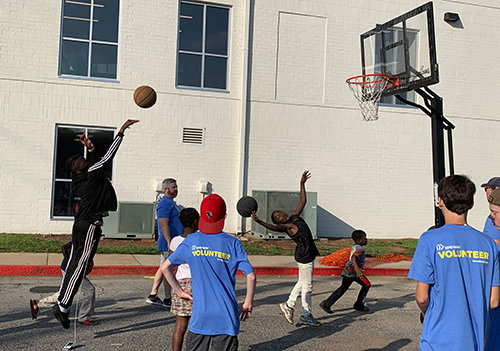 Volunteers play basketball with a group of boys outside CIBC's Ministry Center. MYRIAH SNYDER/Index
Bakba, who has only been a member at CIBC for a few months, told The Index that he was spending his day investing in this ministry, "because it's for the Kingdom. It's for Christ. Jesus Christ. He died on the cross and rose again to give us a new life. That's the only reason I'm out here."
Mvoma, his friend who has been at CIBC for a few years now, echoed his sentiments, saying that he was volunteering so "that God be glorified in all that we do. The kids are happy, and people know why we're doing this."
And in addition to the help of all Southern Baptist churches, DeLoach and CIBC are particularly thankful to their "Georgia Baptist family for making this happen," DeLoach said. "It's just an incredible way to make the love of Jesus tangible in our community."