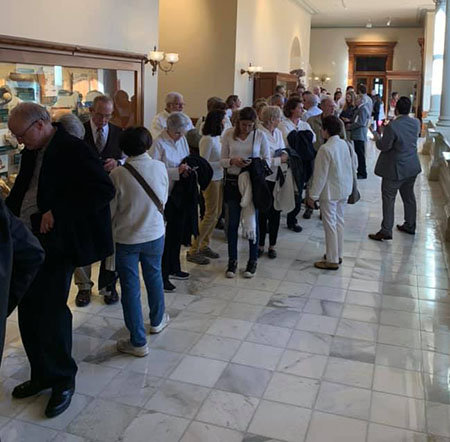 HB 481 supporters line up in the hallway before entering the Senate chambers. MIKE GRIFFIN/Special
ATLANTA — By a vote of 34-18, the Georgia Senate passed House Bill 481, the Living Infants Fairness and Equality (LIFE) Act, today.
The bill goes to the House of Representatives for agreement before making its way to the desk of Governor Brian Kemp, who promised his support for a fetal heartbeat bill on the campaign trail and has reiterated his position since. With his approval, Georgia will join Kentucky and Mississippi in recently approving such legislation. Iowa did so last year. A heartbeat bill in Tennessee has passed the House of Representatives.
Kemp commended the bill's passage.
"I want to thank the Georgia State Senate for their strong support [in] protecting life today. We look forward to passage soon," he stated in a video on Twitter.
"Praise the Lord, we're so thankful for your prayers," Georgia Baptist Public Affairs Representative Mike Griffin said in a Facebook Live video moments after the final vote. "I'm thankful for Sen. Renee Unterman, Lt. Governor, our governor, all those who worked so hard today, Rep. Ed Setzler. ... Every life is a life created in the image of God and every life we save is a life worth saving."
Griffin encouraged supporters to be praying that the bill is agreed-to in the House. "Continue to contact state representatives now and encourage them to vote this legislation through," he noted.
In a phone call with The Index, Griffin expounded on the bill's effect beyond Georgia.
"I'm excited because we have the potential now, with the agreement in the House, to pass the greatest pro-life legislation in our state," he said. "I believe it will have a tremendous impact on our nation."
The LIFE Act, introduced by Rep. Setzler of Acworth, outlaws most abortions after a heartbeat is detected, typically at six weeks' gestation. The vote at approximately 5:50 followed four-and-a-half hours of debate.
Updates and responses to follow.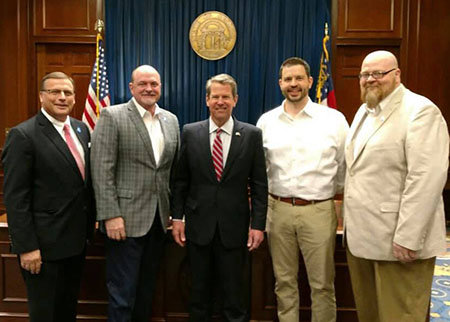 Georgia Baptist state missionaries joined many others supporting passage of HB 481, standing next to Governor Brian Kemp are, left to right, Mike Griffin. Public Affairs representative; Executive Director Thomas Hammond; Ricky Smith, Student Groups and Faith Development; and Jon Graham, Communications. MIKE GRIFFIN/Special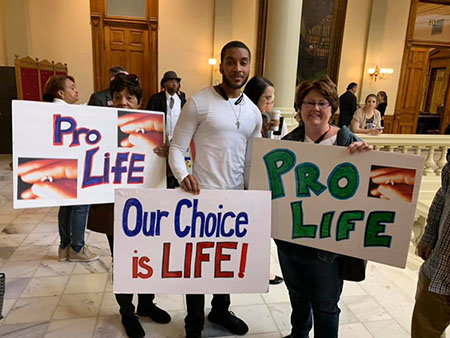 Supporters of HB 481 gather at the Capitol Friday morning. MIKE GRIFFIN/Special