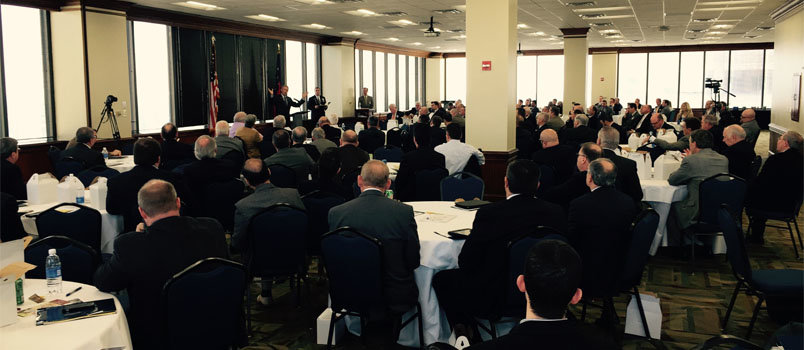 A crowd gathered at the James "Sloppy" Floyd Building in downtown Atlanta Feb. 2 for Pastors' Day. GERALD HARRIS/Index[/caption]
ATLANTA – Two hundred Georgia Baptist pastors, church leaders, and public policy advocates gathered with Georgia legislators on Tuesday, Feb. 2 for the second annual Pastors' Day at the Georgia State Capitol. The gathering featured riveting speakers who provided information and motivation on how citizens could become involved in the political process to influence important legislation.
One of the featured speakers for the occasion was former Atlanta Fire Chief Kelvin Cochran. The fire chief was suspended and then terminated from his position by Atlanta Mayor Kasim Reed for comments in his self-published book Who Told You That You Were Naked? Because of his termination Cochran has become a champion for First Amendment rights in Georgia and across America.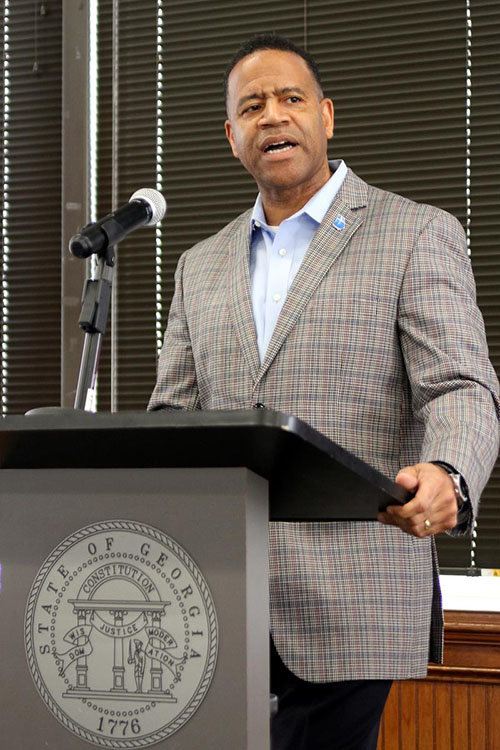 "America has become a part of God's divine plan from the beginning of time," said former Atlanta Fire Chief Kelvin Cochran. Since being fired amid controversy regarding comments over sexuality in a self-published book, Cochran has become an outspoken proponent of religious liberty. BRYAN NOWAK/Special[/caption]
In his address to the Georgia Baptist pastors, Cochran stated, "America has become a part of God's divine plan from the beginning of time. Our historical documents and historical artifacts provide significant evidence of the sovereignty of God over the United States."
Cochran explained that the Bill of Rights, the Preamble of the Constitution, and the Pledge of Allegiance emphasize that "the Christian perspective on history places all categories of history in the proper context because every story which depicts events and people from the beginning of time is His story."
The fire chief continued, "Roots by Alex Haley is one of the most impactful movie mini-series in American history. It breaks my heart every time I see it. It informed us all of the horrors of that dark period in American history. I always swell up with tears and cry when I see how our ancestors were treated during those horrific times. I used to get angry when I watched, but not anymore.
"I came to realize that God is sovereign. He can do whatever he wants to do. He always has a reason for the things he allows. Slavery in America did not catch God by surprise. It was his predestined plan for Africans to be brought to America as slaves.
"Africa was on the eve of social, spiritual, and economic famine. Islamic religion was widespread and on the increase. Allah and Mohammad were getting more glory than the Most High God and Jesus Christ among Africans. Many Africans were being killed during the African Islamic movement. Christianity was being suppressed and depressed during this period and for decades following.
"God was about to pronounce a great famine and judgment on West Africa, so he brought six million Africans to America as slaves.
"Just as it was God's divine plan to enslave the nation of Israel (in Egypt), it was also his divine plan for Africans to be brought to America in bondage. So, the African slaves were brought to America under the sovereign watch of God and planted in the religious Christian south.
"The slave owners were avid about their Christian religious practices and traditions.  ... The slaves would gather around the church houses to eavesdrop on the worship services and hear the sermons preached. Faith was being conceived and slaves who would have been Muslims or killed were confessing Christ by the thousands. We should be thankful to God for our past.
Shifting to his own personal circumstances, Cochran explained, "My experience with the fiery trial of my termination from employment from the City of Atlanta after 34 years of faithful service in the fire and emergency services industry; seven served as fire chief of the City of Atlanta under the leadership of the honorable Mayor Kasim Reed, has been highly publicized.
"As I have reflected over the past several months of this journey of faith I have come to realize that the Christian way of life is comprised of mountain climbs, level plains, and valleys; and that suffering is an inherent and necessary component of fulfilling God's purpose for our lives.
"Sufferings: afflictions, trials, tribulations, tests, persecutions, trouble, temptation, and chastisements are all types of suffering. There are two categories: self-inflicted sufferings and God-allowed sufferings. There are several lessons learned from Scripture and from my personal experience about sufferings:
God always prepares us for suffering

There are worldly consequences for standing for God and for biblical truths

There are also Kingdom consequences for standing for God and for biblical truths that are always greater than the worldly consequences

Sufferings are always for the greater glory of God

There are always greater levels of blessings for the child of God who endures suffering.
"There is a significant need for the body of Christ to rise to unprecedented levels of unity and solidarity regarding religious liberty. Divisions by religious and secular standards have diluted the power and influence of our collective voice as believers.
"Aligning ourselves on one side or another may be the way of democracy, but when it adversely affects the Kingdom agenda, as Christian leaders we have a responsibility to reset our divisive priorities, set our differences aside and embrace a unified movement to fight for religious freedom for the greater glory of God.
"Some pastors and preachers seem to have a pact with politicians that, even if the elected official is biblically flawed in public policy, they will still support their political agenda. It seems that their allegiance to their political party and even their race is greater than their allegiance to the Word of God. I am proud to be the descendant of African slaves and our history and heritage in America, but I will not follow black leaders who are more beholden to ideological political allegiances than allegiance to God.
"We are living in an era where some preachers are fearful of the influence of politicians. Political leaders with high approval ratings and national prominence within their party affiliation are influencing the people of God on matters that are not aligned with the Word of God. It seems today, that some pastors are afraid to tell politicians, "Thus saith the Lord." Instead, they are tickling their itching ears rather than speaking the truth.
I am proud to be the descendant of African slaves and our history and heritage in America, but I will not follow black leaders who are more beholden to ideological political allegiances than allegiance to God.
"In I Kings 18 an interesting scenario unfolds between King Ahab, the political leader of Israel; Obadiah, King Ahab's chief of staff; and Elijah, the prophet, the pastor of the congregation of Israel.
"Politics transformed the culture of worship in the Northern Kingdom under King Jeroboam, decades prior. King Ahab was declared worse than King Jeroboam because of the political alliances he had made which turned Israel away from God. Three years prior, Elijah by the word of the Lord proclaimed a drought over the land.
"Ahab and Obadiah set out to find water and grass, each going in separate directions. At the same time God spoke to Elijah to deliver the word to Ahab that rain was coming.
"Obadiah, the chief of staff, was a man who feared the Lord greatly. He demonstrated his loyalty by taking and hiding one hundred prophets in caves, and providing them meat and bread. He feared the Lord greatly, but he feared the worldly consequences of standing on God's behalf even greater.
"When Elijah asked Obadiah to deliver the message to King Ahab that he would meet him, Obadiah refused to do so. His retort was, 'I have already risked enough by hiding the prophets and feeding them. If I do this too, I will surely be put to death.' Obadiah did not want to give the impression to Ahab of being more faithful to God than to the king. In his mind it would be political suicide. He wanted to remain politically correct.
"Too many pastors today are afraid to deliver a message to a council member, senator, representative, mayor, governor, or the president because they don't want to give the impression that they are against their public policy. They fear it would be political suicide and want to remain on the good side of, and in the good graces of the political leader rather than on the good side of God and in the graces of God."
Finally, Cochran directed his remarks to pastors hesitant to take a stand. He declared, "Obadiah was bragging as though he had done something great in hiding and feeding the one hundred prophets. He had no reason to brag! He simply empowered their cowardly dysfunction. One hundred preachers are of no value to God when they are hiding in caves and their voices silenced by fear of political consequences."
It is time for preachers to emerge from their caves of seclusion, stand up and speak with the clarion call of a trumpet.