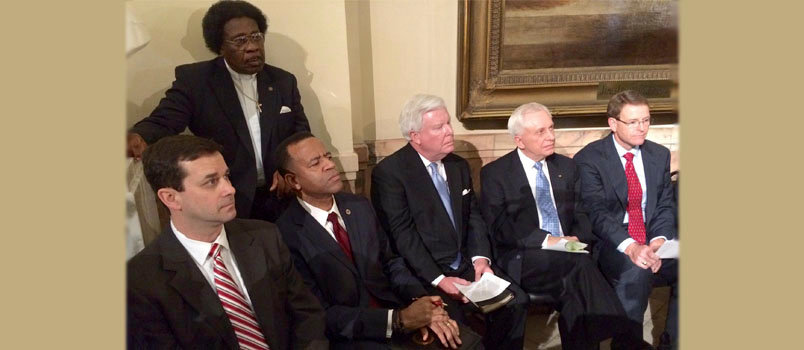 Former Atlanta Fire Chief Kelvin Cochran, second from left, sits with supporters including, beginning to the right of Cochran, J. Robert White; Richard Lee, former pastor of Redeemer Church in Cumming; and Tony Perkins, president of the Research Family Council.[/caption]
ATLANTA — There was a court hearing this morning, Friday, Nov. 17, at the U.S. District Court for the Northern District of Georgia on cross-motions for a summary judgment in the Kelvin Cochran v. City of Atlanta case.
In December 2014 Atlanta Fire Chief Kelvin Cochran, a Georgia Baptist, was suspended by Atlanta Mayor Kasim Reed without pay for one month because he authored a Christian book in which he described homosexuality as a "perversion." At that time The Atlanta Journal-Constitution reported, "Mayor Kasim Reed's spokeswoman Anne Torres said the administration didn't know about [Cochran's book] Who Told You That You Are Naked? until employees came forward with complaints. In addition to suspending Cochran, Reed's office has opened an investigation to determine whether the chief discriminated against employees."
As a result of the investigation Cochran was fired from his job because of his religious beliefs.
Kelvin and his wife, Carolyn, were members of Elizabeth Baptist Church in Atlanta at the time of the termination. Since he lost his job with the city of Atlanta, Kelvin has been employed as a part off the ministerial staff at Elizabeth Baptist church.
The fire chief, prior to losing his job with the city, was leading the men of his church in a study called "A Quest for Authentic Manhood" and when some of the men began to mention their struggles with condemnation Cochran wondered how "saved" men could live under the dark cloud of guilt and condemnation. The question, "Who told you that you were naked?" gripped his heart and mind.
He began to study the word "naked" from a biblical perspective and concluded that the "naked" were spiritually dead. He thought, "The instigator of spiritual death is Satan. The progenitor of spiritual death is Adam. And when Adam and Eve succumbed to Satan's provocative temptation they realized that they were naked."
Cochran also studied the word "clothed" and realized it was a reference to redemption. He surmised, "When a man is adequately covered, he is confident and accountable – that a redeemed man is no longer 'the naked', but with Christ he is 'the clothed.'"
The fire chief sensed that through his study the Lord was leading him to write a book he chose to call Who Told You That You Were Naked? Cochran never tried to market his self-published book, but shared the book with his church and gave books to his colleagues at work.
After work on Mondays the chief hosted a Bible study for those who were interested. Other colleagues frequently sought him out for spiritual counseling. He consistently provided counsel by sharing truths from the Word of God. Even when he gave his books to colleagues he never signed the books as the fire chief because he did not want to appear to use his position in an untoward way.
However on page 82 of Cochran's book he wrote that uncleanness "is opposite of purity; including sodomy, homosexuality, lesbianism, pederasty, bestiality, and all other forms of sexual perversion." Those words, which are consistent with the teaching of the Bible, are the words that prompted Cochran's suspension and eventual termination.
At the hearing, State Director for Concerned Women for America Tanya Ditty stated that U.S. District Judge Leigh Martin May presided over the hearing and was well prepared to assess the arguments for both sides of the case.
Ditty explained, "The attorney for the city of Atlanta appeared to flounder in his statements and his argument seemed to be disjointed. He couldn't fully answer the questions. In fact, I thought it was embarrassing for the City of Atlanta attorney."
Ditty added, "At one point the Atlanta attorney stated, 'The only reason Chief Cochran had good public support was because Georgia Baptists ran such a well orchestrated public relations campaign for him.'"
In January 2015 hundreds attended a rally in support of the former fire chief. J. Robert White, executive director of the Georgia Baptist Mission Board spoke at the rally along with Tony Perkins, president of the Family Research Council of Washington, D.C. and Ken Barun, chief of staff of the Billy Graham Evangelistic Association.
Tens of thousands signed petitions calling for Cochran to be reinstated. White and an entourage of Georgia Baptists marched to the mayor's office a block away from the state Capitol in a downpour of rain and delivered 10,000 petitions signed by Georgia Baptists.
Ditty concluded, "While the City of Atlanta attorney seemed to struggle in offering his argument, Chief Cochran's attorney, Alliance Defending Freedom Senior Counsel Kevin Theriot, was flawless in his presentation and in his answers to questions directed to him."
There are several possible outcomes to the hearing. Judge May could render a verdict or a partial verdict. It is also possible that the case could go to a jury trial in the spring. The Alliance Defending Freedom attorney would like to see Cochran be compensated for his back pay.
Theriot concluded his remarks by stating, "The City of Atlanta wants to be an inclusive city except when it comes to people of faith."
Although we affirm the former fire chief, we can be assured this issue is bigger than the impact it has had on Kelvin Cochran. It impacts every Baptist and every person of faith in Georgia and in this nation.