The following story originally appeared in the Nov. 22, 2007 edition of The Index.

Georgia Gov. Sonny Perdue, a Georgia Baptist, leads a prayer service seeking divine intervention from the state's dry spell. The service was held on the steps of the State Capitol on Nov. 13 and attracted a crowd of 250 – as well as national media attention. JOE WESTBURY/Index[/caption]
ATLANTA — Barely a week before Georgians began their Thanksgiving holidays more than 250 gathered on the steps of the state's Capitol to reflect on a blessing which many had taken for granted – cool, clean, drinking water that has become an increasingly scarce commodity during the past several months.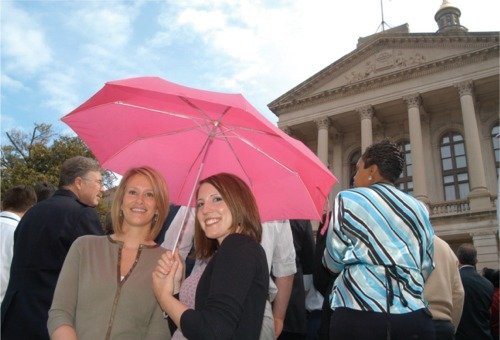 Amanda Bibby, left, and Christi Pichon pray for rain under an umbrella at the Georgia capitol Nov. 13. Bibby is a member of Bethany Baptist Church in McDonough and Pichon is a member of Tyus Baptist Church in Carrollton. Bibby and Pichon said they brought the umbrella in a show of faith that it would rain again – on God's timetable. JOE WESTBURY/Index[/caption]
Gov. Sonny Perdue, himself a Georgia Baptist, led residents on a lunch-hour prayer service on Nov. 13 to ask God to restore the rain which has resulted in record lows in the state's major reservoir and has prompted a water fight between Georgia, Florida, and Alabama. Lake Lanier, located north of Atlanta, dropped to its lowest level in 21 years earlier this month and all outside water use has been banned.
As water restrictions are being tightened, fines up to $1,000 are being levied against first-time offenders with repeat offenders having their water cut off. Pike's Nursery, the state's largest nursery, declared bankruptcy on Nov. 14 citing a drop-off in business since plants and yards can no longer be watered.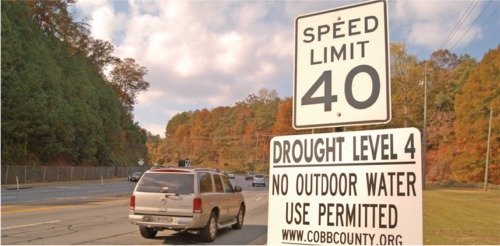 Metropolitan Atlanta is under a level 4 drought response which prohibits all outdoor water use – from washing cars to watering lawns or landscaping. Churches such as Johnson Ferry Baptist Church in Cobb County, not far from this sign, have scaled back their use of water. The state's main reservoir may run dry in 90 days if there is no significant rainfall. JOE WESTBURY/Index[/caption]
If rains continue to hold off, Lake Lanier is expected to drop by Dec. 7 to its lowest point since it was built in the 1950s. Georgia's last serious dry spell occurred in 1986 but explosive growth has pushed its water resources to the limits.
Standing before the crowd in downtown Atlanta and flanked by lawmakers and ministers from across the religious and political spectrum, Perdue sought divine intervention as he prayed, "We come here very reverently and respectfully to pray up a storm."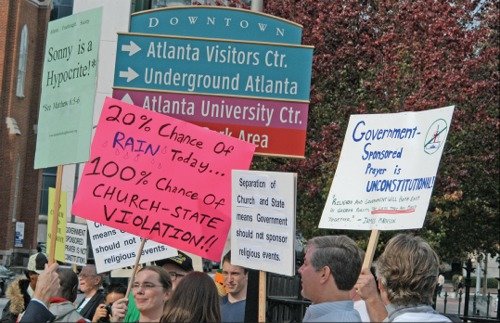 About 20 protestors, cordoned off a block from the Capitol, gathered to express their displeasure with the prayer service. However, not all were protesting the separation of church and state; some were questioning the need to seek divine intervention to solve a problem that was partially caused by a lack of a water management program. JOE WESTBURY/Index[/caption]
When asked at the conclusion of the ceremony if he felt a miracle was on the way, he told reporters "God can make it rain tomorrow, He can make it rain next week or next month."
While those crowded on the steps were in full sympathy with the prayer service, about 20 protesters, mostly from the Atlanta Freethought Society and cordoned off a block away, were less than thrilled. They hoisted signs reading "20% chance of rain today, 100% chance of church-state violation," "Government-sponsored prayer is unconstitutional," "Nothing fails like prayer," and "Pray on the church steps, not the capitol steps."
But at least some of the protestors, from the Geologists for Sane Government, took more of an issue with poor government planning than theological differences. Those individuals argued that the metro area's problems are due to lack of good stewardship of the state's natural resources than a temporary dry spell.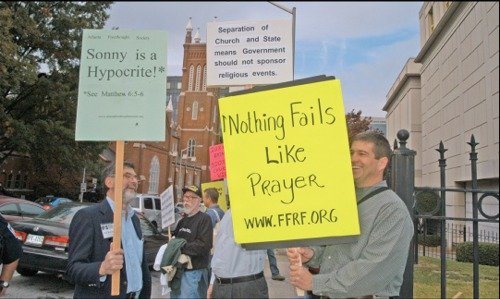 Protestors from the Freedom from Religion Foundation, a self-avowed group of "atheists, agnostics, and skeptics of any pedigree" according to their website, were among those countering the prayer service. JOE WESTBURY/Index[/caption]
Perdue seemed to agree at the end of the service when asked if the water crisis could have been avoided with better long-rang planning.
He told reporters that Georgians have not done "all we could do in conservation" and that the drought was an attempt by God to "get our attention. Hopefully we will be better conservators of the blessings God has given us as he gives us more rain."
Unmanaged growth is a large part of the crisis, the geologists maintained, and the state's underground aquifer is being slowly depleted by more residents than it can support. Atlanta is already recognized as having the nation's longest commute as urban sprawl pushed the 28-county metro area's population up nearly 40 percent in one decade, from 2.9 million to 4.1 million, between 1990 and 2000.
Earlier this year the Census bureau estimated metro Atlanta's population at 5 million for the first time, which placed it as the nation's ninth largest metropolitan area. The report also noted that 12 of the nation's 100 fastest growing counties since 2000 are located in the immediate Atlanta environs.
The Georgia Baptist Convention called its churches together on Nov. 4 to observe a statewide day of prayer for rain. Mark Sterling, GBC consultant for prayer and spiritual awakening, noted that the Georgia Environmental Protection Division had implemented a level four drought response across the northern third of the state and that the state "is in a desperate need of rain."
The state convention distributed prayer guides and bulletin inserts to churches to raise visibility for the need of divine intervention. If the rains do not come, Sterling said by citing news reports, the area's main source of drinking water could be depleted within 90 days.
State geologists agree with that prediction, going further to say it will take three years for the state's reservoirs to return to their pre-drought levels once the rains return.
Churches such as Johnson Ferry Baptist Church in Marietta have already taken steps to conserve water.
"We are not delaying baptisms or anything like that, but we have shut off our irrigation system, turned off our waterfall, and are placing half-gallon jugs and bricks in our toilet water tanks to conserve as much water as possible," said business administrator Jerry Maxfield. "As we update our bathroom fixtures we are also installing more efficient high-pressure flush toilets like you see in the newer hotels and public restrooms."
Alvin Hobgood, executive minister at North Metro First Baptist Church in Lawrenceville, said the Gwinnett County church has taken similar measures and the church responded well to its participation in the GBC's call to prayer.
"At the conclusion of our Nov. 4 evening worship service our 700 participants were divided into groups of five or six and prayed for God to send us rain.
"Prayer is a privilege that He gives to His children and we are urged to pray for each other and to ask for any needs that we have. God wants us to pray and he wants to hear our prayers," he explained.
"One of the last things the disciples asked Christ was for Him to teach them how to pray. If it was important to His disciples back then, it should be important to us today.
"I've lived in Georgia for most of my 58 years and I can't remember a dry spell like this one, but I can tell you one thing: It hasn't taken God by surprise."