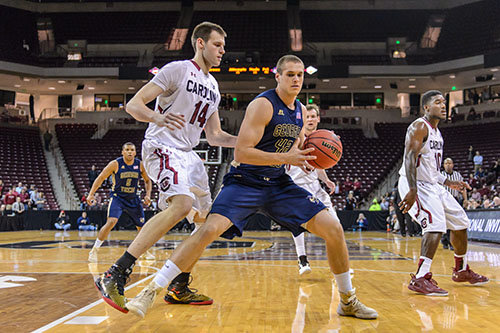 Rand Rowland's basketball career at Georgia Tech began as a freshman walk-on – sharing a locker with another walk-on – before finishing on an athletic scholarship in his final season. DANNY KARNIK/GT Athletic Association[/caption]
ATLANTA — As a freshman, Rand Rowland began collecting the notecards left behind by Georgia Tech basketball coaches after team meetings. Generally containing plays and observations about opposing teams and players, the cards held an extended value for Rowland, a member of the team.
His curiosity went beyond the notes' content, and toward the future goal of being a coach himself. Rowland didn't want to just hear the coaches' instruction, but understand the ideas behind it.
"I picked up some leadership techniques through the cards," explains Rowland, now a senior finishing out his final season with the Yellow Jackets. Though much of his view has come from the bench, the 6'7" forward from Cleveland found ways to contribute.
"I wanted to understand the playbook and be ready to remind guys of something the coaches said when we're in a game," Rowland points out.
A member of Tech's Baptist Collegiate Ministries, those leadership principles helped Rowland in heading up the BCM's evangelism efforts. And as with basketball, his start included a small group working together.
"This was my first year in leadership, but before that I was involved in Bible studies and an accountability group. Those really shaped me," says Rowland, who attends 1027 Church in Atlanta, a Georgia Baptist Mission Board-affiliated church. "Being able to go to services at BCM on Tuesday and Thursday nights has provided me fellowship with other believers."
Community service recognized
Rowland scored the first points of his collegiate career Feb. 7, contributing a basket during a 96-58 win over Division II Tusculum. That wasn't his only highlight of the day, though.
Due to his exemplary character and numerous contributions in the Tech community, Rowland was also named to the 2017 Allstate NABC Good Works Team™. The honor, presented by the Allstate Insurance Company and National Association of Basketball Coaches, is given to ten collegiate student-athletes from around the country. Rowland was one of 181 possible recipients.
With his addition, Georgia Tech became the only Division I school to include both a football and basketball player to the distinction, with defensive lineman KeShun Freeman receiving the honor last fall.
Student leadership has been a part of Rowland's presence at Tech. By his sophomore year he had joined the student-athlete advisory board (SAAB) and later co-founded and served as chair of the group's Peer-to-Peer Mentor program. Through that, incoming freshman received transitional help from upperclassmen, who in turn learned leadership skills.
Due in part to Rowland's leadership, Tech has become involved in programs to raise awareness about relationship violence, especially among college athletes. Another effort, the Project Live Movement, works to increase the pool of potential bone marrow and tissue donors. In addition, Rowland has taken part in toy drives and served dinner to families staying at the Ronald McDonald House while their children receive treatment nearby at Children's Healthcare of Atlanta hospital.
Significant influence
Rowland had been involved in an accountability group at Baptist Collegiate Ministries before this school year. But last spring, campus minister Warren Skinner encouraged him to take on a leadership position.
"Due to his schedule, Rand isn't able to be one of those guys who hangs around a lot," says Skinner. "But when he's here he provides a lot of leadership. He prayed about it and decided he wanted to be more involved in BCM this year. His influence has been significant.
"Rand is someone people recognize. He's faithful, dependable, and honest. He is who he says he is."
And though Rowland gives a nice-guy vibe, Skinner points to an easily-overlooked toughness molded through four years of setting screens and diving after loose balls in practice with little court time as a payoff.
"Rand has never hinted at quitting because it's all about the team for him," says Skinner.
Hard work
Former Tech head coach Brian Gregory first gave Rowland a shot at working with the team, which led to a walk-on offer.
"I knew I didn't have a chance [to make the team] if I didn't work my tail off," remembers Rowland. "I learned about hard work from my mom and dad and watching Coach Gregory."
Rowland also credits current head coach Josh Pastner, who replaced Gregory after last season.
"He didn't have any obligation to keep me on the team," Rowland acknowledges. "I've learned a tremendous amount from him and his staff. This experience has cemented my desire to be a college coach, something God's given me a passion for."
But for all his hard work, there was a chance Rowland wouldn't finish out his senior season. Having earned his degree in December, Rowland wanted to take a few more classes to keep his student status and complete his college playing career. But various problems ensued in attempting to secure financial aid.
His prayer was answered in the Yellow Jacket locker room before a Jan. 7 home game against Louisville. Then, Pastner informed Rowland in front of his teammates that a scholarship, indeed, would be extended to the senior.
"It was overwhelming, but I didn't want to lose it in front of the team," says Rowland. "Inside, I was losing my mind. A lot of the time you don't know if you're making an impact or not, but my teammates were excited for me and coaches were saying to me, 'You earned this.'
"After the game I told my parents and that's probably when I got the most excited. I realized I was going to get to keep on playing."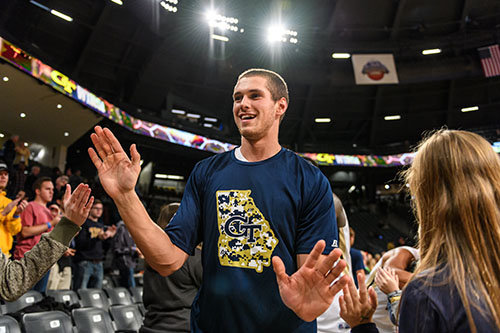 "This experience has cemented my desire to be a college coach, something God's given me a passion for," says Rowland, who was named to the 2017 Allstate NABC Good Works Team™. The White County native was one of ten student-athletes out of 181 nominees to receive the honor. DANNY KARNIK/GT Athletic Association[/caption]
Accountability on a team
Over the last four years Rowland estimates he's collected around 120 notecards from his coaches. They outgrew a black binder he first used to hold them, and now keeps the others in a drawstring shoulder bag.
There's a connection, he attests, to those cards, how he views Scripture in his life, and the lessons from his accountability group as well as growing up at Helen First Baptist Church, where his family still attends.
"If you look at the writings of Paul, he's encouraging churches and pointing out healthy behaviors as well as the ones that aren't. On a basketball team, we have to support each other.
"Coaches always talk about teamwork, and sometimes I don't think we do a good job of modeling that in the church. Having that team – that accountability group – helped me through some tricky situations."
And even if the Yellow Jackets don't make the trip to the Final Four in Phoenix, Rowland will. As a member of the Allstate NABC Good Works Team™, he'll be on hand for various appearances and community service projects. What he's most looking forward to, though, is the National Association of Basketball Coaches Convention. Held every year during the Final Four, it is the opportunity for those wanting to enter the coaching profession to hand off resumes and make impressions.
"Coaching brings a tremendous opportunity to impact young men," he says. "Our campus minister, Wally (students' nickname for Skinner) says he loves working with influencers. I see that same opportunity as a coach."