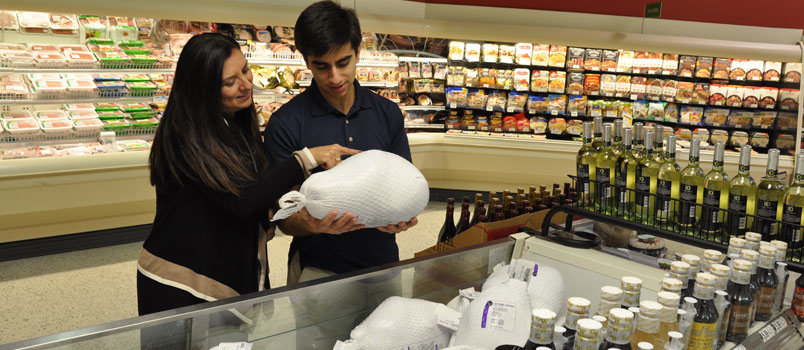 Ozden Mansoori, left, picks out a Thanksgiving turkey with her son, Ashkan David, earlier this week. Mansoori is a native of Turkey and is married to Kevin Mansoori, pastor of Georgia Baptist's first Iranian congregation meeting at First Baptist Church of Alpharetta. While Ashkan David was born at Northside Hospital to parents of two nationalities, he identifies himself simply … and proudly … as "I'm American." JOE WESTBURY/Index[/caption]
ALPHARETTA — A handful of days before Thanksgiving, Ozden Mansoori walks through the grocery store filling her shopping cart with seasonal items.
Turkey, check.
Cranberries, check.
Raw vegetable tray, check.
Multiple ingredients for Persian salad, check
The Turkish-born citizen works her way through her list as she builds on the ingredients for this year's feast for her family and a few close friends. About 40 close friends, to be exact.
"I love Thanksgiving in this country, there is nothing like it where I come from. It's a time for giving thanks to God for His blessings and showing our gratitude for His love and grace," she says.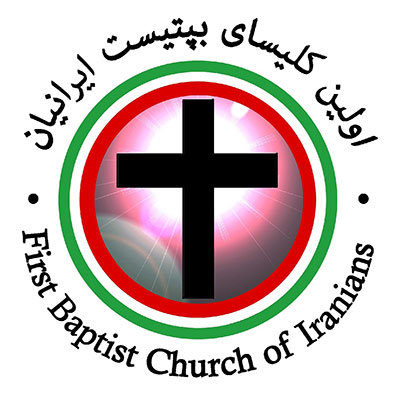 Mansoori, whose Tehran-born husband Kevin is pastor of Georgia Baptist's first Iranian congregation, is Command Center for the small congregation's annual feast at their home. Church members, non-believers, friends, and friends of friends are all invited to their residence in Suwanee.
It's an extravaganza that begins with appetizers around 4 p.m., dinner at 5 or 6, and ends when guests decide to leave … which can easily be midnight.
Does she miss her homeland? You betcha.
"America is now my home"
But as she proudly says, "America is now my home."
The congregation meets at First Baptist Church of Alpharetta, where newly-elected GBC President Thomas Hammond serves as pastor. Its sponsoring church is First Cumming, just up the road a bit. But it has a proud history that traces its birth and growth through Kevin and Ozden's  conversion at Holt Road Baptist Church in Marietta in 2001, their later involvement with Woodstock Baptist Church, then starting the congregation in their home in 2013.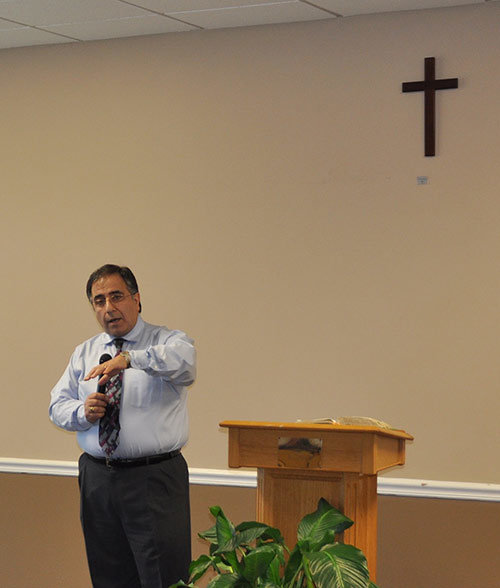 Kevin Mansoori serves as pastor of Georgia Baptists' first Iranian congregation. It averages between 10 and 20 in Sunday morning worship. JOE WESTBURY/Index[/caption]
Both the Georgia Baptist Convention and North American Mission Board provide support as church planters. While First Cumming in Lanier Association is the sponsoring congregation, the small church meets in the Azalea Room at First Alpharetta due to the larger concentration of Iranians in the area.
On the Sunday before Thanksgiving members paused to give thanks to their American experience and to God who has blessed their lives in ways unimaginable.
It's an American Thanksgiving with a Persian accent.
Many of the congregation are new to America, still being assimilated. A visitor who had been in the country for only two weeks on a six-month vacation was receiving answers to his questions about the Christian faith. He is being mentored by the soft-spoken pastor during the holidays.
Mansoori works hard to meet each at their point of need, speaking in his native Farsi to many who are still more comfortable with their native tongue than English. But the members who agreed to interviews were quick to express appreciation to God for their newfound life in Christ … and America.
Mansoori's wife, Ozden, was born in Izmir, Turkey, the biblical town of Smyrna just 90-minutes from Ephesus. She met Kevin, was eventually married, and later had a son at Northside Hospital whom they named Ashkan David, now 18.
"To me, Thanksgiving is every day. I am always thankful to God for his blessings," she says with a cheerful demeanor.
Pizza and spaghetti
Twelve-year-old Iranian native Anahita, from Shiraz, loves pizza and spaghetti … "my favorite American foods," she says … and is excited about turkey and dressing on Thursday. She says she is thankful for her family and American friends.
"My church teaches me about God and I want to learn more about Him," she says, and thinks she may one day accept Christ as Savior … after she learns more.
"I am thankful for my dad and brother, and my mother who is now in heaven," she adds.
"Thanksgiving in America is a wonderful time because everyone is happy and people have smiles on their faces."
Armin Milani, another native of Tehran, capital city of Iran, has been in the U.S. for four years and is not a citizen.
"God brought me to America so Americans could introduce me to Him," he says matter-of-factly. "Now that I am a Christian I cannot return because it is too dangerous. My family, many of whom are here in Georgia, are still Muslim."
Armin then talks about his sister and the changes she noticed in his life after his embracing Christ.
"She wanted to know more. Now she is a believer, and that is why I am thankful for this Thanksgiving. She saw that I was totally changed and only God could do that.
"To me, the best thing about Thanksgiving is how Americans are thankful to God for the blesses He has given to them. They get together and even with friends and family they do not forget to give thanks to Him."
He will be sharing in that spirit when he joins the Mansoori family around their Thanksgiving table.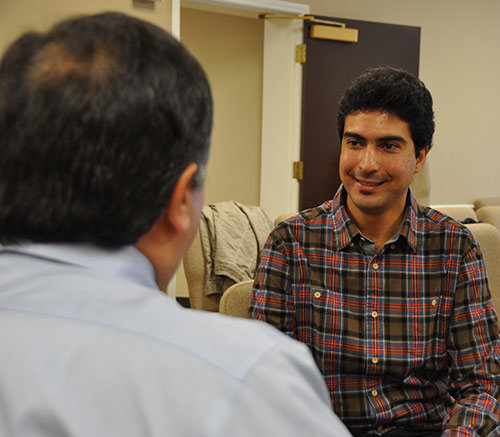 "God brought me to America so the people here could tell me about Christ," says believer Armin Milani. But that conversion makes it too dangerous for him to return home to Iran. A sister in Georgia accepted Christ when she noticed the change in his life. JOE WESTBURY/Index[/caption]
"It is so difficult to learn about Christianity back home in Iran. The government blocks websites and we are told that Americans are bad people. But I see different now that I live among them. Americans are very nice, very loving."
"I thank God during Thanksgiving for His coming into my life."
Faranak (her last name is not disclosed due to security concerns) has been in Atlanta for 6 months and is engaged to be married to Armin, who she knew for years back in Tehran.
"We are all equal" in America
"The most important thing about America, for me, is that we are all equal. When I go shopping I don't feel like I am a foreigner, people just accept me for who I am. That is truly amazing to be accepted like that without judgment," she explains.
For her first Thanksgiving she says she is grateful for her new life, both with her fiancé and their new life in America.
Amir Setoudeh, another native Iranian, has a similar testimony.
He tried for a dozen years to come to the U.S. before it was granted four years ago.
"I searched and searched the internet about Jesus but it was impossible because of the filters placed by the government. But the more I was able to learn about Jesus and His purity, His holiness, His love … it was just too powerful to resist."
Setoudeh, during his early days in the U.S., visited a church to attend English as a Second Language. He eventually developed a friendship with Mansoori and asked for a personal Bible study. That's when he came to faith in Christ.
"I wish Thanksgiving was every day. No one is hungry, even the homeless are fed. It's a time of sharing kindness, of sharing wealth, of sharing food. It's what makes America great."
A brother jailed for his faith
Mehrdad, another native Iranian who prefers not to share his last name, is thankful for the religious freedom he experiences in America. His jailed brother, persecuted for accepting Christ, is not as fortunate.
Mehrdad and his family are on a six-month vacation in the U.S., which began in California and continues in Georgia. He is using this opportunity to explore Christianity first-hand from believers who are not afraid to openly share their faith.
"I have eight brothers and I watched one of them when he became a believer. I was amazed as his new attitude, his love for Christ and his love for others. He was a new person and stood out from all the others. That's when I knew that I wanted what he had."
Unfortunately, that led to recurring jail terms for his brother for not denying his faith.
"In Iran we are told that Americans are evil but when you come here you see that is not true. It is a lie of the government. I feel safe here with my family and am thankful for my Christian friends during this, our first Thanksgiving season."
And his favorite American foods?
"I'm thankful for Chipotle and Golden Corral," he says with an eager smile.
In other words, God Bless America during this Thanksgiving season.