DALLAS, TX --- Newly-elected Southern Baptist Convention President J.D. Greear addressed a wide range of topics with reporters in a press conference roughly 30 minutes after messengers voted him in over Ken Hemphill.
Out of 7,884 ballots cast, 5,410 (68.62%) went to Greear, pastor of The Summit Church in the Raleigh-Durham area of North Carolina. Meanwhile, 2,459 messengers (31.19%) voted for Hemphill. There were .19% of votes disallowed. A total of 9,631 registered messengers went to the SBC this year, making it one of the better-attended meetings in years.
Fielding questions from both Baptist and secular journalists – and even one from a Methodist publication – Greear wound his way through subjects including the role and future of Baptist state conventions and associations, the ongoing discussion over sexual abuse in churches, women's leadership, and whether his election reflected a cultural change in the SBC.
Before taking questions, though, he listed six areas of focus he'd like to see as president.
The gospel above all. "The Southern Baptist Convention is a network of churches not necessarily identical in everything – style, age, cultural background, or even political alliance. But, we come together united by a common gospel confession and common gospel mission.
"For as long as you've had the convention, you've had things threaten to challenge that unity in the gospel. We want the gospel to become something we unify around, and not be distracted by secondary and tertiary issues."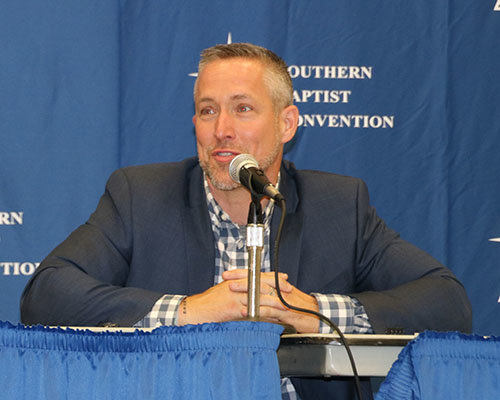 "We want the gospel to become something we unify around, and not be distracted by secondary and tertiary issues." [/caption]
Elevation of culture and diversity in leadership. "By God's grace there are a number of people of color who are part of the SBC. Our leadership doesn't really reflect that yet. That's something we desperately need in the days to come.
"The U.S. is changing. In order for us to meet the questions and challenges from society, we need perspectives those of color can bring to us."
Focus on evangelism. "President Gaines championed this for two years. It is our core responsibility to declare the gospel to all peoples of the world. It's the essence of making disciples.
"This isn't something leaders do; it's what individual church members do. They're the ones who are bringing people to Christ."
Church planting. "Our church has taken on the mission of planting 1,000 churches in our generation. The question is no longer if you're called on a mission to God, it's only where and how.
"To be a follower of Jesus means that whatever God made you good at, you do it well for the glory of God and reaching others for the mission of God."
Mobilization of the college generation. 'We're in the Raleigh-Durham area and Summit has a lot of college students. We try to mobilize them and say 'God made you good at something.' I'd love to see a generation of Southern Baptist students who think of the kingdom of God first in where they choose to live their lives and pursue their careers."
Engage the next generation in cooperative giving and cooperative mission. "The SBC is a mission and gospel organization for all peoples of the United States and not just for a certain cultural or political kind. If this represents saying they want to engage and be responsible for the institutions that helped lead the way out in mission, then we want to be a part of it.
"That's brought me to this moment. Ken Hemphill has been a friend for a long time. He's a godly man. As long as I've known him he's invested in younger leaders and would've been a fine leader for the Southern Baptist Convention."
Did this election signify a generational shift in the SBC?
"Obviously, there's a reason people think that," Greear responded. "I'm one of the younger presidents elected and our church reflects that However, I don't think it's accurate to say this reflects some kind of 'passing of the baton' where the older generation fades into the sunset. We all move forward together."
Looking back to the memorable election two years ago with his predecessor, Steve Gaines, Greear added, "I didn't think we'd 'lost.' We were happy to follow a guy like Steve and felt like he represented us, not 'the other side.'
"I hope those who voted for Ken – if they trended in the older direction – would see that I'm a president who goes forward with them. They're a necessary part of the Body of Christ."
I don't think it's accurate to say this reflects some kind of 'passing of the baton' where the older generation fades into the sunset.
Greear reflected on the formation of The Summit Church, previously named Homestead Heights Baptist Church. In the first month as pastor, he told members how God was leading him to grow the church. A group of 300 members consisting of young and old walked with him through those early changes and tremendous growth. On the ten-year anniversary of Summit's launch, he gave those members a ring with "300" on it.
"I told them God gave Gideon his 300, and they were mine. Our church has a lot of younger but also older people, and I hope that's the way it'll be for a long time. I hope that's the way the Southern Baptist Convention feels.
"It is our responsibility to walk forward together – black, white, Hispanic, young, old – that's where diversity starts."
Are state conventions equal partners in the SBC?
"Yes, absolutely," came Greear's quick answer. "State conventions are a very valuable partner." He further noted The Summit Church's growing involvement in its state convention before saying, "State conventions are one of the first lines in cooperation."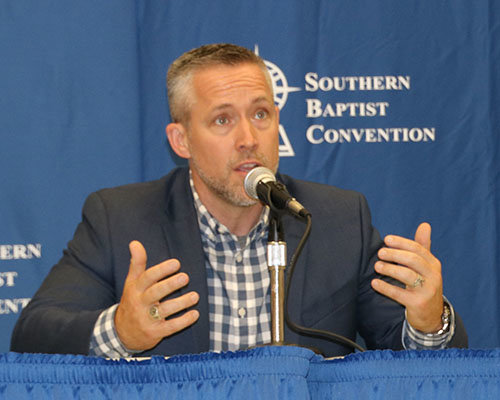 "State conventions are a very valuable partner." [/caption]
Greear pointed out, however, the need for all organizations to constantly check its effectiveness and viability. "I think that every few years we have to ask about the best ways to cooperate. We ask if a state convention is doing what it needs to be doing [to be effective].
He further noted that the position of president doesn't dictate what state conventions can or should do in reassessment. But, "I do want to be a part of," he added.
Greear wanted to be clear on any misinterpretation of those thoughts.
"That shouldn't be considered hostile to any state convention or association. I ask the same thing of our church. We review. Are we spending our money as effectively as we can?
"The reality is younger Southern Baptists and those coming in are asking the question 'Where should I be involved and why?' ... That's not so much a prescription as a description of what's happening. It's a good opportunity for state conventions to step in and say, 'Here's what we're doing.'"
How can we help women feel heard, valued, and safe in churches?
Regarding reports of sexual abuse in churches, Greear said, "We have to be clear. There are some things not only immoral, but illegal. We need to have places for women to report abuse and be very quick in reporting the proper things to the authorities."
Southern Baptists can no longer claim ignorance on how to handle such matters, he stressed.
"These things cannot be handled internally. For us to minimize it or, God forbid, shield the abuser, makes us complicit."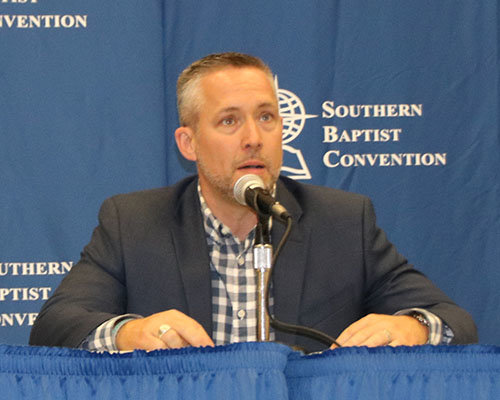 "These things cannot be handled internally. For us to minimize it or, God forbid, shield the abuser, makes us complicit."[/caption]
Regarding women in leadership, Greear held to a complementarian view while advocating for greater roles.
"There are perspectives women have that men can't. We're equal, but not necessarily the same. That doesn't mean women don't have leadership abilities, wisdom, and a lot of things crucial to the body of Christ. For us to not bring them to the table to exercise influence and wisdom is to deprive ourselves.
On that topic, one reporter asked Greear about Summit Church's listing of women as "ministers" and whether his views of pastors and elders went beyond the Baptist Faith and Message.
Greear regarded it as a matter of interpretation regarding the offices of pastor and elder.
"I do equate pastor and elder," he said. "We have a theological document that says we see the two offices as similar. I'd say the vast majority of evangelical commentators of the Bible see the same thing because the words are used interchangeably. I'm not trying to add to the Baptist Faith and Message.
"We do have women on our staff who bear the title of 'minister' because they are ministers. That doesn't carry the same pastor/elder authority at our church."
How do we reverse the trend of decreasing baptisms?
A journalist from a Methodist publication asked Greear about the decline in baptisms and whether that trend could be changed.
"A lot of factors go into that – how baptisms are counted, the shift away from cultural Christianity, the growing number of people who claim no religion," Greear listed. "But to fix it, you have to start at the church level. Our preaching of the Bible needs to be about the gospel and not encumber people with other topics."
Greear urged that preaching to be done in the manner of Jesus.
"Shift the emphasis of evangelism away from an event or pastor and to the individual," he said. "That is as old as the Bible itself. The more we reflect Jesus and organize our churches like Jesus, we'll baptize like Jesus.
"At the end of the day, we're a collection of churches. The fact these numbers are going in the wrong direction shows we have a lot of unhealthy and sick churches. That can't be fixed by [an SBC] president. We're praying for the spirit of God to move individuals to be the church we need to be in our generation."
Greear closed his remarks with a pointed emphasis on communicating the gospel.
"Truth without grace leads to Pharisaism and fundamentalism. It's repulsive. Those are the people who led to Jesus' crucifixion. Grace without truth leads to a very vacuous sentimentality, or liberalism. But, truth and grace is how Jesus led.
"I hope we're seeing a new day of truth and grace in our witness and presentation of the glorious gospel of Jesus Christ in the world."