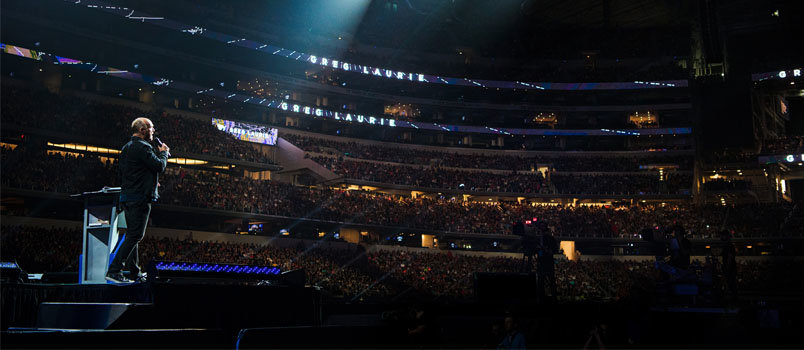 Greg Laurie speaks at AT&T Stadium in Dallas, TX in March. In addition to the 82,000 people attending the event in person, more than 180,000 participated via remote venues in all 50 states and 123 countries. The Georgia Harvest Crusade with Laurie will take place Sept. 23-25 at Infinite Energy Center in Duluth. TREVER HOEHNE/Harvest Ministries[/caption]
DULUTH — A wave of excitement and anticipation is beginning to sweep across the Atlanta metro area and north Georgia as the Greg Laurie Harvest Crusade draws near.
The date for the crusade is Sept. 23-25 and churches across the state are urged to gather at the Infinite Energy Arena in Duluth with hundreds of other churches to hear great Christian music and a Gospel message from Greg Laurie.
Not since Billy Graham's massive evangelistic crusades has anyone been able to gather people together in stadiums and arenas for dynamic presentations of the Gospel like Greg Laurie.
Promotional information states that Harvest Georgia is an outreach event that will feature Christian artists: Chris Tomlin, Lecrae, Third Day, and Phil Wickham. This event will provide Christians with the perfect opportunity to invite family members, coworkers, friends, and acquaintances to hear the life-changing message of the Gospel in an environment that is entertaining and nonthreatening.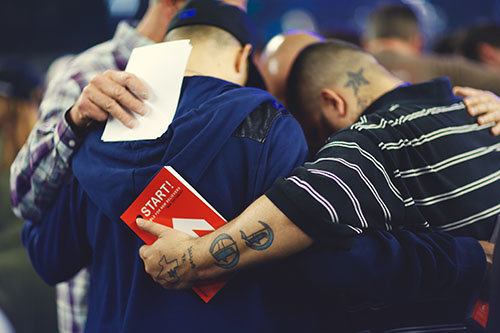 Men pray together after making professions of faith in Christ at the Harvest Crusade in Dallas, TX. While 6,500 made a faith commitment at AT&T Stadium, 18,000 more responded likewise at sattelite locations. TREVER HOEHNE/Harvest Ministries[/caption]
Time for a revolution
In this day when the world seems bent on pursuing the temporal and the church seems mired in complacency we need a revolution that will turn this nation back to Jesus Christ. A true revival is nothing less than a revolution. It is a radical awakening among God's people that results in a turning away from sin and seeking His face with renewed passion.
James Merritt, lead pastor of Cross Pointe Church in Duluth, states, "God has raised up my friend Greg Laurie to be perhaps the greatest evangelistic voice for the Gospel in America today. I believe he now wear the mantel that was on D.L. Moody and Billy Graham."
Merritt continued, "I am convinced more than ever that the only hope for America and the world is the Gospel of Jesus Christ. Nowhere is that need greater than in Atlanta. I am believing God for thousands to come to Christ in the Harvest Crusade this month."
Frank Cox, pastor of North Metro Baptist Church in Lawrenceville, declared, "Greg Laurie has been raised up and empowered in our generation to share the Gospel in Crusade meetings where multitudes are receiving Christ. What better event to invite those you care about to attend with you? Invite and pray they will hear, receive, and be transformed by Jesus."
Jeff Gongwer, pastor of Mount Zion Baptist Church in Snellville, commented, "The upcoming Harvest Crusade with Greg Laurie will be a great opportunity for churches to reach their communities with the Gospel.
"We are encouraging our people to pray for lost friends and invite them to the crusade. We are looking forward to reaching out to those who made decisions to enfold them into our church body and help them to grow spiritually. We need revival! Nothing revives the church like people coming to faith in Christ."
Time for revival
Hugh Townsend, associational missionary for the Gwinnett Metro Association, exclaimed, "The Gwinnett Metro Baptist Association has seen its baptisms decline for several years and this has become a significant concern.
"The Greg Laurie Harvest Crusade provides an excellent opportunity for our churches to re-engage in evangelism and make it an intentional priority. At present many of the GMBA churches have committed to participate in the crusade and have attended the training sessions.
Townsend continued, "As director of missions, I desire all of our churches participate and see hearts and lives transformed. But more important than the crusade, I am praying that the crusade will serve as a springboard for our churches to re-establish evangelism as a priority for their congregations.
"As a result of the need for increased evangelism and the opportunity of the crusade, the GMBA is making evangelism its focus for next year. I want to encourage our pastors to lead their churches to aggressively engage the community and cultures around them with the Good News of the Gospel."
Scott Smith, Georgia Baptist missionary in revitalization and evangelism, endorsed the Crusade by saying, "We've never been more excited about an evangelistic event. A Gospel proclamation event on this scale is something Georgia hasn't seen for a very long time.
"This has been a great opportunity for our Georgia Baptist churches to work together to bring a trustworthy, biblical preaching ministry to our state and see large-scale results. The churches that have gotten involved so far are going to be rewarded with the sweet taste of Gospel harvest. They are going to see the fruit of their labors in many souls won to Christ in a very short period of time. It's exciting."
Pray, invite, serve
"It is still not too late to do those three crucial things we have been beating the drum about: pray, invite, and serve," Smith said. "Georgia Baptists rise to the occasion when the call comes so I expect this time will be no different. Of all denominations who will be involved, Georgia Baptists will represent the largest group.
"I believe this event will remind us all of what can happen when we pray and labor together in a solid evangelistic Gospel effort. There's going to be an amazing harvest and a real blessing for everyone involved."
Churches as far away from Duluth as Toccoa are committed to support the crusade with their prayers and financial gifts. Andy Childs, pastor of Ebenezer Baptist Church in Toccoa, explained, "Harvest Georgia is a unique Kingdom moment for local churches in Metro Atlanta and across Georgia to lean in together toward one glory-filled, Gospel-saturated, God-honoring moment that will change lives and shake eternity!
"Ebenezer is committed to doing everything possible to reach the most people possible with the Gospel. Though the crusade venue is just beyond our reach, we determined to still be in on this unprecedented opportunity not only through prayer, but through financial investment and via live stream on Sunday night!"
Large-scale gospel presentations since 1990
Mark Mirza, the CEO of Common Thread Ministries, remarked, "The two things that come to my mind when I pray for this event:(1) That men and women would come to Christ and get plugged into orthodox, Bible-believing churches, and (2) that church folk would recognize that we can work together to accomplish God's purpose. My prayer partner and I have been praying for this event every for weeks."
Since 1990, Harvest with Greg Laurie events have drawn more than 5.7 million people to stadiums and arenas around the world, with another 1.8 million people attending virtually via the Internet.
With a trademark ability to present a clear gospel message in a culturally relevant format, drawing on current events, contemporary Christian music, and technology, Billy Graham has called Greg Laurie the "evangelist of the future." Laurie's talks encompass topics that appeal to people of any age and answer questions like: Why am I here? Is God real? What happens when I die?
These are vital questions for all of us. The crusade will provide the answers.