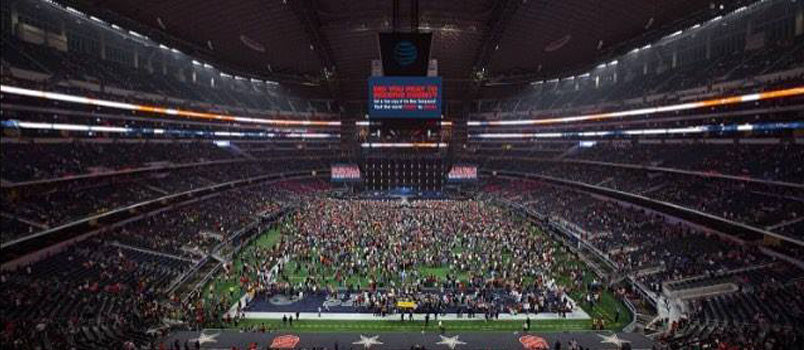 On March 6 more than 82,000 people gathered at AT&T Stadium, home of the Dallas Cowboys, to hear the Gospel brought by evangelist Greg Laurie. FACEBOOK/Greg Laurie[/caption]
IRVING, TX — Greg Laurie has drawn more than 5,347,000 people to stadiums and arenas around the world for his Harvest Crusades, and he has been conducting these giant gatherings for almost a quarter of a century. Billy Graham once referred to Laurie, pastor and evangelist from Harvest Christian Fellowship with campuses in Riverside and Irving, CA, as the "evangelist of the future."
Laurie began his pastoral ministry at the age of 19 by leading a Bible study of 30 people. Since then, God has transformed that small group into a church of some 15,000 people. Today, Harvest is one of the largest churches in America.
On Sunday, March 7, AT&T Stadium, the home of the Dallas Cowboy's National Football League team, was filled with 82,000 individuals to hear the message of hope presented by Laurie. Hundreds of thousands more across the nation tuned into the Crusade via radio, television, Internet streaming, or remote broadcast at over 7,200 host locations in 123 counties. More than 750 local churches cooperated to bring Harvest America to Texas.
More than 6,000 of those gathered responded to the evangelist's appeal to make a faith commitment to Christ. Many of the organizers hope this will be the spark that will ignite the fires of revival in America.
The huge gathering was blessed by the music of a 2,500-voice choir composed of local church members. Special Christian music artists included Chris Tomlin and MercyMe.
The crusade took 3,400 volunteer counselors, 1,500 ushers, and 350 individuals manning the prayer room. Laurie's crusades, which started in 1993, have registered over 450,600 people making faith decisions.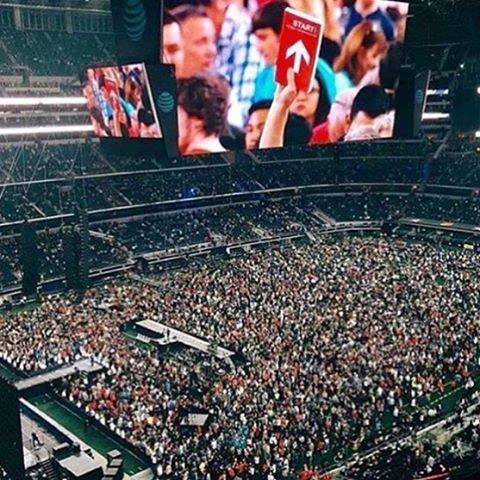 "This is what 6000 plus people coming to Christ looks like," Laurie posted to his Facebook page after the crusade at AT&T Stadium. FACEBOOK/Greg Laurie[/caption]
Local Baptist pastors provided leadership for the effort including Jack Graham of Prestonwood Baptist Church, Robert Jeffress of First Baptist Dallas, Tony Evans of Fellowship Bible Church, and Matt Chandler of The Village.
Graham stated, "I am hoping this is a catalyst – not just in the DFW Metroplex, but for churches across the country to rally in a renewed commitment to evangelism."
Jeffress remarked, "It was a tremendous outpouring of the Holy Spirit of God; I believe every Christian and church will be re-energized in sharing the Gospel of Christ with as many people as possible."
To find out about the doctrinal position of Laurie and Harvest Christian Fellowship look at their website.
In order to enhance the evangelistic impact of the Crossover events associated with the annual session of the Southern Baptist Convention in Phoenix in 2017, Laurie will be having one of his Harvest Crusades in Arizona's capital city.
Additionally, Laurie and Harvest Crusades have been invited to the Greater Atlanta area to hold a community-wide outreach called Harvest Georgia. The Infinite Energy Center (formerly the Gwinnett Arena) will be the venue and September 24-25 are the dates.