By Mandy Corbin
Brewton-Parker College
MOUNT VERNON — "Do not stop being a learner," Georgia Baptist Convention President Thomas Hammond told Brewton-Parker's 67 graduates in their commencement ceremony on May. 7.
The concluding chapel service for the Class of 2016 was held in Saliba Chapel and formally dispatched the students to the work place beyond the boundaries of the campus.
Preparation for the future
Hammond, who also serves as pastor of Alpharetta First Baptist Church, told students their achievement had given the preparation for the future. He quoted Proverbs 3:5 and told the graduates, "Trusting in the Lord is an act of humility, surrender, and understanding of a supreme God." He added that trusting in the Lord was also a choice.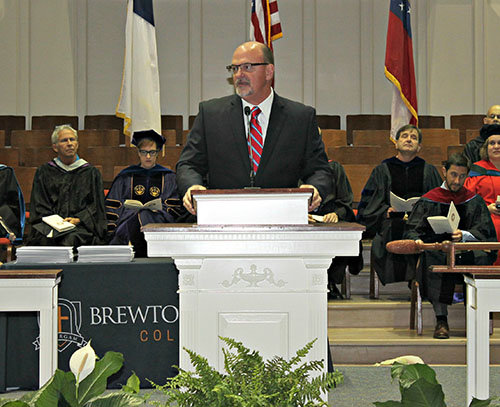 Thomas Hammond, president of the Georgia Baptist Convention and lead pastor of Alpharetta First Baptist Church, addresses Brewton-Parker College's Class of 2016 on May 7. SARAH BULLARD/Special[/caption]
"You're here today because of your choice. Right choices lead into the pathway of righteousness."
Following a processional of faculty and degree candidates led by Faculty Grant Marshall Cory Williams, Billy Puckett – associate professor of theology and ethics – gave the invocation.
Graduate Ronak Chauhaun received special recognition as recipient of the Conrad-Shelby Achievement Award. Students Paige Norton and Allie French sang a duet entitled "Let Not Your Heart Be Anxious."
David Wilson, assistant professor of church music, led the ceremony attendees in the college's alma mater, and Lynn Addison, assistant professor of business, gave the benediction.
The college also presented a diploma to the family of Timothy Caleb Crews who passed away earlier this semester. He was scheduled to graduate on Saturday.
---
Many Corbin serves as Brewton-Parker College's director of marketing.