CALHOUN – Brent Davis, pastor of Heritage Baptist Church in Calhoun, passed away on July 26 of a heart attack. He was 51.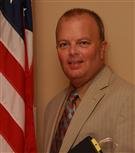 Brent Davis
Davis, a native of Dalton, pastored Heritage Baptist since 2009. Before that, he served as the minister of education at New Town Baptist Church, also in Calhoun, after being called into ministry in 2005.
At the time of his death, Heritage Baptist Church was growing and reaching the community, as detailed in a Facebook post by Tim Lee, who preached a revival for Davis in March. Lee recounts that from January to March of this year, 75 made a profession of faith at Heritage Baptist.
Davis attended Shorter College ( now Shorter University) and held a bachelor's degree from Berry College and doctorates from Anderson Theological Seminary. Before his time in ministry, Davis was a golf pro at various golf course throughout Florida and Georgia.
His funeral was held on July 30 at his church, Heritage Baptist.
He leaves behind his wife, Jennifer Stamey Davis, and daughters: Taya, Cana, and Savanna, as well as many other family members.
The Davis family suggests that memorials be made to Heritage Baptist Church, 345 Curtis Parkway, Calhoun, Georgia 30701.