ATLANTA — Every winter the vocational evangelists of the Georgia Baptist Convention meet for the purpose of fellowship and inspiration. This year they departed from their typical weekend retreat and met Feb. 2 at the Mary Mac Tea Room in Atlanta for a banquet with J. Robert White, executive director of the Georgia Baptist Mission Board, as the inspirational speaker.
Bart Ponders, president of Georgia Baptist Evangelists (GBE), gave a moving testimony of how God had taken him from the brink of despair into a ministry whereby he is privileged to preach to thousands of people, including many youth who are in at-risk situations similar to where he was years ago.
Joe and Kim Stanley, who have been music evangelists for more than 25 years, led the music for the banquet. Kim sang "Be Thou My Vision" and Joe sang "You Raise Me Up," both blessing those present with their winsome spirit and obvious talent.
The Georgia Baptist Mission Board executive director started his message by relating an experience from preaching a revival for Wayne Hamrick at Atco Baptist Church in Cartersville years ago. Back then, God blessed the church with 57 people making professions of faith. He stated, "Unfortunately, it has been a long time since I have seen an outpouring of God's spirit like that, but God's power is as great as ever and we need to pray for revival and for a fresh anointing of His Spirit."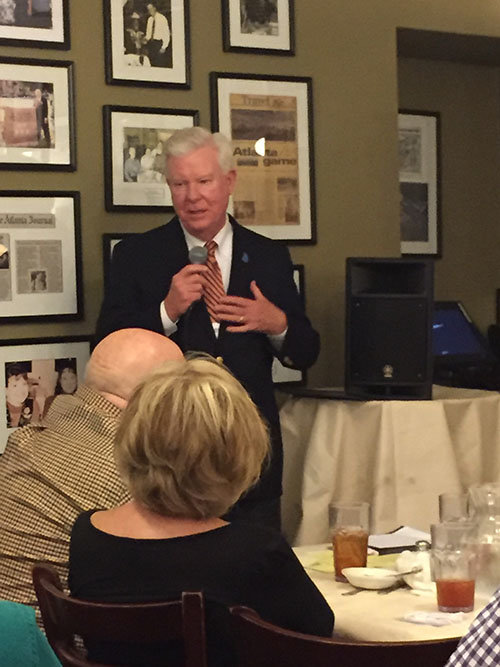 "In my opinion, you folks are the best in the Southern Baptist Convention at training and equipping
White introduces new evangelism initiative
White then related a story Chuck Kelley, president of New Orleans Seminary, shared at the SBC Executive Committee meeting last year. The story underlined the truth that personal soul winning still works. White stated, "The problem is not that evangelism doesn't work, but that we don't work at evangelizing."
In speaking to the evangelists, White introduced a new initiative, U-2019, that emerged from a recent Georgia Baptist Mission Board executive leadership team retreat. He explained, "My heart has been troubled for some time now over the shrinking number of baptisms in Southern Baptist churches. You understand, of course, that we don't baptize anyone here at the Georgia Baptist Mission Board. Our responsibility is to train and equip Georgia Baptists for ministry and evangelism.
"In my opinion, you folks are the best in the Southern Baptist Convention at training and equipping. I do not believe anyone exceeds your abilities in this area. However, we should all be bothered by the fact that in spite of increased numbers of SBC churches ... our Southern Baptists' decisions for Christ are in decline, and things do not seem to be improving."
White specifically addressed the alarming decline in the baptisms of children and youth. He explained, "Last year, the average number of youth baptisms was two. The median number was zero! That means that half of our Georgia Baptist churches baptized zero young people. Honestly, I would have thought that to be impossible."
Emphasis on reaching children and youth
In order to reduce lostness in Georgia, the executive director stated, "(1) We must establish a ministry that compels the next generation to be engaged. (2) We must create a ministry that puts more resources into connecting with children and teens; and (3) we must insist on a ministry that results in more Gospel proclamation and salvations."
White began to recall the various ways the Gospel was instilled in his heart as a child and youth. He recalled his experience as a child in the Sunbeams, his involvement in the Royal Ambassadors, his participation in the children and youth choirs, Sunday School, Training Union, Vacation Bible School, and youth camps.
"We have lost so much of what I grew up with," White exclaimed, "and yet there are many quality ministry opportunities with students that I never experienced. I believe we will gain ground if we begin to heavily emphasize this among our churches."
White explained that 2017 is the year of preparing Georgia Baptist churches for the U-2019 emphasis and that 2018 and 2019 will be years to specifically focus on winning children and youth to faith in Christ.
He declared, "I want us to encourage our pastors to preach for souls. Spurgeon (the great London preacher) said, "For the most part, the work of preaching is intended to save the hearer."
'Call be the biggest heretic'
Then the Georgia Baptist Mission Board executive director shared Spurgeon's eight point characteristics that reveal the heart of a soul-winner. They are:
We must be careful to depend entirely upon the Spirit of God. This dependence should foster more study and more prayer.

We should focus more on the following truths that lead to conversion:
The person and work of Christ, especially the cross

The sinfulness of sin and the failure of the Law

Human depravity; the certainty of judgment; the soon-coming of Christ

The substitutionary atonement of Christ; justification by faith alone

Both the love and justice of God
We are to present these truths to them understandably, appealing to their intellect; earnestly, pleading to their emotions; and even threateningly, warning of judgment to come.

Don't always save the evangelistic appeal for the last of the sermon when the lost are least likely to hear and respond.

Preach believing; expect and prepare for people to respond. Love the lost to Christ.

Be available to talk to inquirers often.

Enlist the help of the people. Train them to be soul-winners.

Call in outside speakers periodically who have a gift for evangelism.
White concluded his remarks by saying, "In Spurgeon's nearly forty years in London, well over 14,000 people were converted and baptized in his church. To the hyper-Calvinists of his day, Spurgeon was a heretic for pleading with the lost to be saved. From his heart for souls came these words: "We must see souls born unto God. If we do not, our cry should be that of Rachel – 'Give me children or I die.'
"If that's what it is to be a heretic, dear God, make me the biggest heretic in Georgia. I long for the lost to be saved, and my heart begins there with our children and our young people."