FAYETTEVILLE — Flat Creek Baptist Church got a Christmas present last year. Josh Saefkow, the church's new pastor, started his ministry at the church on the last Sunday in December, which just happened to be Christmas Day. From all reports Saefkow, 33, has been a godsend to the church and the Lord is smiling with favor upon his ministry.
A recent lunch at Saefkow's favorite barbeque restaurant, the Speedi-Pig, convinced this writer that the Flat Creek pastor is a gracious, kind, intelligent, visionary, and passionate Christian gentleman with lots of energy and ability.
Charles Drummond, one of Georgia Baptists' regional state missionaries, confirmed that appraisal. He added, "Josh Saefkow is a smart, well mannered, gracious pastor who is a splendid preacher and a capable leader. We are going to hear great things about him as he invests his life in Flat Creek Baptist Church."
Mark Ward, Flat Creek's associate pastor of Education/Outreach, commented, "It has been a great joy working with Brother Josh since his coming here is December.
"His excitement about personal evangelism, his commitment to strong biblical preaching and his vision for quality in everything we do has been refreshing. I believe these qualities along with his love for the Lord and people will be used by God here to see our church reach into our community."
'A missionary in my own home'
The new Flat Creek pastor was born in Wooster, OH, and grew up in nearby Creston, a town southwest of Cleveland. His dad was an atheist and his mother apathetic in regards to spiritual things. Josh said, "Mom would have palm readers come to our house to tell us our future."
In middle school and high school Saefkow was involved in athletics and lettered in football, basketball, and baseball. He was a quarterback on his football team and one of his receivers was the son of the pastor of West Hill Baptist Church in Wooster; and Josh came to know the Lord through the witness of that teammate while in middle school.
"I became a missionary in my own home," explained Saefkow, "In 2006, my dad left two atheist organizations, trusted Christ, and is now active in evangelism at West Hill. My mom also made her profession of faith in Christ and on July 15, 2006 my parents renewed their wedding vows as Christians."
Josh has three degrees from Liberty University in Lynchburg, VA and will soon have his D.Min. from Gateway Baptist Theological Seminary in Ontario, CA. While at Liberty he was voted "Preacher of the Year." He is currently working on his dissertation to complete the requirements for his D.Min. at Gateway. This doctoral project is all about attaining and retaining Millennials in the church. He is also a contributor to A Preachers Resource Book by Thomas Nelson.
A clear vision
Prior to accepting the pastorate at Flat Creek, Saefkow served as a teaching pastor at West Hill in Wooster and as associate pastor at Abilene Baptist Church in Augusta.
Bill Harrell, pastor emeritus at Abilene, testified, "Josh Saefkow is one of the very finest young preachers I have ever met. When I first heard him preach I saw it was obvious the Spirit of the Lord was upon him. He possessed the God-given gift of preaching expository sermons with an evangelistic zeal.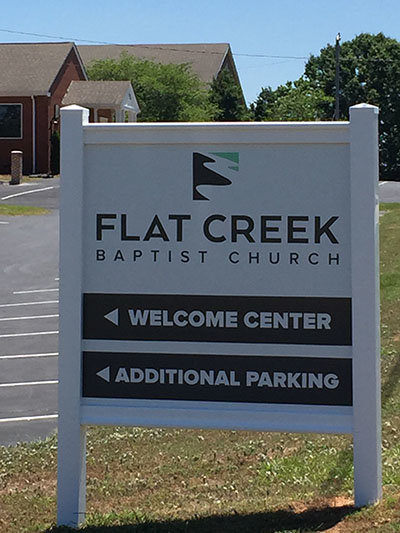 "Josh is also extremely dedicated to seeking and accomplishing God's will for his life and ministry. I am excited about the fact that he is the new pastor at Flat Creek Baptist in Fayetteville. I am confident that he will serve that church exceedingly well."
Saefkow's vision for his church is clear. He recently stated, "I would like to have ten percent of the community in our church. The population of Fayetteville is 16,000 and I would like to have 1,600 of those people actively involved in our church."
Flat Creek has already begun to experience numerical growth. Mark Ward reported that the Sunday School average attendance has already started showing definite signs of growth and the worship attendance has grown from an average of 390 to 525 since the new pastor arrived.
Saefkow's stated, "When we arrived in Fayetteville, my wife, Kelsie, and I went to Sunday School classes and in those people blessed us by praying over us. I want to build on that and develop a prayer culture in the church.
"Jesus said, 'My house shall be called a house of prayer.' In Matthew 6 when Jesus taught his disciples to pray you will notice that it suggests corporate prayer, because the nouns and pronouns are all plural. A.W. Tozer said, 'Don't expect a crowd where God is the only attraction.' I want to be able to prove him wrong."
A focus on prayer
"I love the ministry of 'The 6:4 Fellowship' and their emphasis on prayer," Saefkow continued. "The whole idea of their ministry is based on Acts 6:4: 'But we will give ourselves continually to prayer, and to the ministry of the Word.' The emphasis of 'the fellowship' is prayer and ministry. Those were the two priorities that defined the New Testament church and those are the two priorities that I want to define Flat Creek.
"We will be developing prayer teams for Sunday morning and establishing prayer summits for our deacons and leadership. These summits will provide opportunities for us to get away from the hustle and bustle of our daily routines and seek the face of God. I would like for us to ultimately establish these prayer summits for our entire church body."
Saefkow plans to restart Sunday night worship services this August. He explained, "We are going to have a full choir and orchestra. We want those services to be multi-generational, Christ-exalting, celebrative experiences in worship. I want us to have the kind of music that stirs the heart.
"I have been told that you can't have big choirs and orchestras in churches any more. Public schools have big choirs and bands, but the churches seem to be the only ones that want to get rid of them.
"I believe in the strategic role of the Sunday School in the church. The Word of God must be taught clearly and boldly to all generations, and the Sunday School must be the evangelistic arm of the church. I also believe in revivals. We will have a spring and fall revival next year and I plan to use vocational evangelists to assist us in these efforts. "
Josh and his wife, Kelsie, a registered nurse at Fayette County High School, both have a passion for ministry and are already making a significant impact on their community for Christ. They have two daughters: Chloe, age 6, and Sophie, age 4.
Keep an eye on Flat Creek Baptist Church. Under Josh Saefkow's leadership it could become one of Georgia's most dynamic and influential churches.