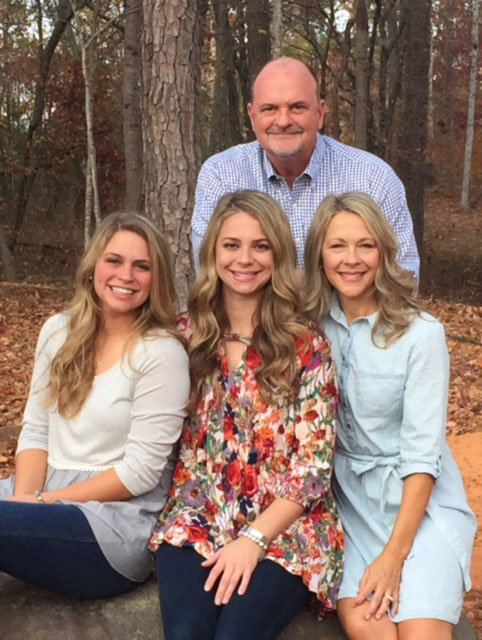 The Hammond family – Karley, Katie, Kerri, and Thomas – get together for a photo, Thanksgiving 2016. HAMMOND FAMILY/Special[/caption]
The Christian Index has typically provided to our readers a profile of the wife of the president of the Georgia Baptist Convention before he concludes his tenure of service. The following article highlights the life of Kerri Hammond, wife of Thomas Hammond. You would find it almost impossible to find a woman who epitomizes spiritual grace and charm more than the First Lady of First Baptist Church of Alpharetta, where Thomas is pastor.
ALPHARETTA — Kerri Hammond, the wife of Georgia Baptist Convention President Thomas Hammond, is a lovely, demure, and grace-filled woman who is extremely supportive of her pastor husband. Together they make marvelous partners in ministry at First Baptist Church of Alpharetta, where Thomas has served as pastor for the past five years.
Kerri grew up in Clearwater, SC, a town located in the historic Horse Creek Valley and five miles east of downtown Augusta, GA. She attended Clearwater Elementary School prior to enrolling in Curtis Baptist School in Augusta for grades 7-10. She was a cheerleader at Curtis High School and invested more than ten years in ballet. She graduated from Midland Valley High School in Graniteville, SC.
Kerri stated, "During my childhood years our family attended Clearwater Baptist Church. It was there as a young girl that I believed on Jesus as my Lord. When I was younger, my family did not often discuss spiritual matters and, so, I delayed professing my salvation decision. I was active in the youth ministry and was 15 when I publicly professed Christ and followed him in believer's baptism along with my younger brother, Brad."
Beginning a special journey
Kerri met Thomas at Curtis Baptist School when she was a freshman and he was a senior, but they did not date until they were in college. Kerri was a student at Lander College in Greenwood, SC while Thomas was enrolled at Augusta College. One can correctly imagine that Thomas became extremely familiar with the 60 miles of highway between the two schools during their courtship.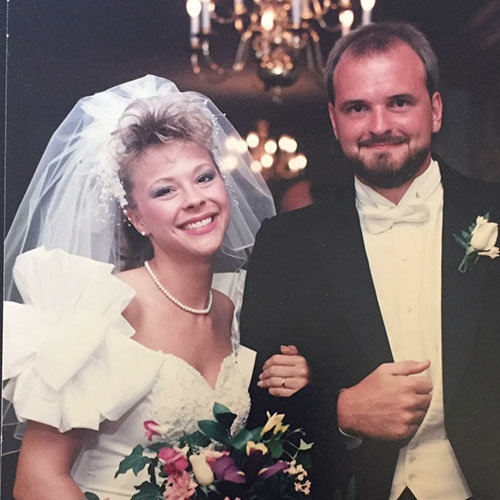 Kerri and Thomas pose on their wedding day. He proposed by saying, "God has me on a journey for Him and I believe He wants you to join me on that special journey. Will you marry me?" HAMMOND FAMILY/Special[/caption]
Thomas proposed to Kerri on New Years Eve of 1986. She stated, "I had no idea a proposal was coming. He was serving as a student pastor in Augusta at the time and on New Years Eve he rolled into our driveway before midnight, got down on his knees, and said, 'God has me on a journey for Him and I believe He wants you to join me on that special journey. Will you marry me?'"
Kerri stated, "I graduated from Lander College in December 1986 with a BS in elementary/early childhood education. I began teaching first grade in Augusta in January 1987 before being married in July. We started our honeymoon by going to The Cloister at Sea Island for three nights. The Cloister was gifted to us by Thomas' parents. We concluded our honeymoon trip by going to Navarre Beach in Florida."
For the uninitiated The Cloister is regarded as being in the Top Ten resorts in the United States by Travel and Leisure Readers. It is a Forbes Five Star Hotel. It is advertised as "Legendary. Elegant. And so much fun." It was a phenomenal beginning for a successful marriage.
At this point Thomas chimed in and explained, "The Cloister was great, but our vacation accommodations have been going downhill ever since."
From Memphis, to Ohio, then Georgia
Four weeks after the wedding the Hammonds moved to Memphis, where Thomas enrolled in Mid-America Baptist Theological Seminary. They attended a newlywed Sunday School Class at Bellevue on their first Sunday in Memphis and that week Kerri received a telephone call about a fourth grade teaching position at Sky View Academy. She taught there for one year before securing a job in the Memphis City schools where she taught for three years.
After Thomas completed his theological education at Mid-America Baptist Seminary, the Hammonds were commissioned by the Home Mission Board (North American Mission Board) to serve Christ as missionaries in Ohio.
"In Ohio," Kerri explained, "while waiting on a teaching position the Lord gave me a tutoring job teaching English to Japanese children. It was rewarding to develop friendships with the families and see their progression in the language."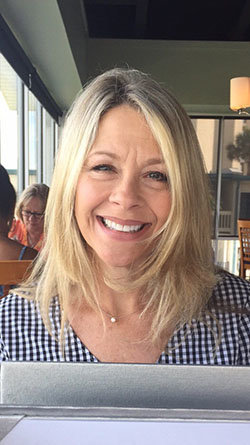 "Kerri is a friendly face for all as they enter the doors each Sunday morning, welcoming guests and helping them find their classes," declares Natalie Gravlee, First Baptist member. GERALD HARRIS/Index[/caption]
It was in Ohio that the Hammonds met Larry Wynn, who had come to the state on several occasions to minister. Wynn was pastor of Hebron Baptist Church in Dacula at that time and invited Thomas to come to Georgia to serve on his staff. From Hebron, Thomas became a part of the evangelism department at the North American Mission Board then to the Executive Committee of the Southern Baptist Convention before becoming pastor of First Baptist Church of Alpharetta.
The role she relishes
During those years of ministry, when Thomas' calling required a lot of travel and days away from home, Kerri faithfully stood by him and served Christ according to God's plan.
However, the most casual observer can tell that she loves being settled in a local church and relishes her role as a pastor's wife and her ministry at First Baptist Alpharetta. Thomas actually said that she is at the church almost every day.
Kerri stated, "It has been a challenge being married to Thomas. Just trying to keep up with him would test anyone's mettle. He is ready to tackle any task, accept any challenge, or climb any mountain. I am more of an analyzer. He looks at a challenge and says, 'This will be great,' and is ready to plunge ahead. I suggest that we need to be cautious and think it through."
Wherever needs arise
Lisa Leathers, executive assistant to Pastor Hammond, exclaimed, "Kerri Hammond is a courageous yet humble servant of God who demonstrates her love for Him, her husband, and her daughters daily. She is the first one to jump into action when and wherever needs arise.
"With the recent hurricane devastation, she was out collecting items for Send Relief Buckets almost before the rain had stopped. She is a true example of a Proverbs 31 woman and I am blessed beyond words to know her and honored to call her my sister-in-Christ."
Kerri works at the Welcome Desk at First Baptist on Sunday morning. She eagerly seeks out visitors and makes sure they feel the hospitality of the church. Natalie Gravlee, a member of First Baptist Alpharetta, commented, "Kerri is a role model for all Christian women. She seeks to honor the Lord in all areas of her life. She is a friendly face for all as they enter the doors each Sunday morning, welcoming guests and helping them find their classes.
"She is a devoted wife, mother, and friend. She serves in any way that is needed, always giving 100 percent and showing godly leadership to all who serve with her. Kerri's spirit of giving is shown in all she does, seven days a week. She may take food to a shut-in, help with whatever event is going on at church, travel with her husband to a meeting, and still have time to have coffee with a friend who needs someone to listen. I don't know how she does it all. Our church and community are blessed to have Thomas and Kerri Hammond."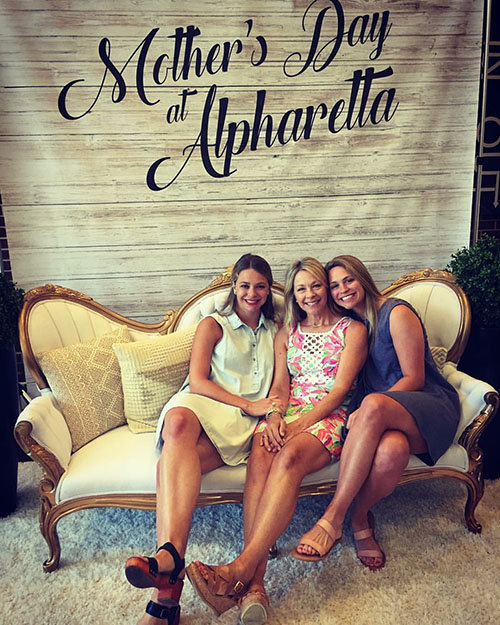 Katie, left, and Karley, right, join Kerri at First Baptist Alpharetta last May to honor her on Mother's Day. HAMMOND FAMILY/Special[/caption]
As a mentor
Keri is also intricately involved in the women's ministry. She serves on the First Foster Care Ministry Team, a ministry that urges couples to share the unconditional love of Christ with vulnerable children.
Thomas added, "The young women in our church find godly counsel in Kerri. She takes a special interest in them and they know she loves them and understands their life challenges."
Not only did Kerri aggressively work to assemble "Buckets of Hope" for Haiti when disaster struck that island nation, she is vitally interested in seeing that First Baptist members are involved in Operation Christmas Child sponsored by Samaritan's Purse.
Holly Crenshaw, one of First Baptist's most involved members, commented, "Kerri has a passion that everyone becomes a Christ follower. She unselfishly pours the love of our Father into people of all ages, meeting them where they currently are on their spiritual journey. Kerri serves our Lord faithfully and is an encouragement to all who have the privilege of serving alongside her. It is truly a blessing doing life with Kerri and Thomas."
A tremendous heart
Jody McClellan, a member at First Baptist and Regional Manager for Samaritan's Purse, remarked, "Kerri has such a tremendous heart for the Lord, always looking for ways that she can serve Him through the church and community. She lives out her faith and is a beautiful example to those around her."
Kerri stated, "I love the church God has allowed us to serve. I am in the church almost every day to find out what I can do to enhance our ministry there. It is wonderful to see the impact serving others can make.
"I love being outdoors. This day (the day of the interview) is a 'perfect ten' kind-of-day. The sky is clear – the perfect day for climbing a mountain or walking by the beach. I just love to observe God's beautiful creation.
"I love planting vegetables and flowers. When we built our house I made sure that we planted different flowers that would allow me to find a fresh blossom at all times throughout the year. I love to snip the flowers and bring them into the house. I like daisies, knock out roses, hydrangeas, and gardenias. Thomas brings me sunflowers; and I like them, too."
Grace, giving, godliness
Kerri is also a gracious hostess. She loves to bake and entertain guests. She entered a baking contest as a 10-year-old by taking a caramel layer cake recipe provided to all the contestants and winning first place.
"I am a basic cook, not a gourmet," she commented. "I do try to keep it healthy by not frying anything anymore. One of my favorite things to bake is a sour cream pound cake."
The Hammonds have two grown daughters: Katie and Karley. Katie is at Samford University in Birmingham, AL, and will receive her Doctorate of Physical Therapy next May. Karley is a junior at Berry College in Rome and a member of the Berry Vikings golf team.
Thomas stated, "Kerri is heavily invested in the lives of our daughters. She covers them in prayer, mentors them, and more than anything wants God's will for their lives."
The Georgia Baptist Convention president added, "If I had to characterize Kerri, I would say that her life is marked by grace, giving, and godliness."