Masey McLain, a Kennesaw State University student whose father, Marty, is a teaching pastor at a Georgia Baptist church, will portray Columbine High School student Rachel Scott. The movie is slated to come out in August. April 20 will mark the 17th anniversary of the shooting at the Colorado high school that left 12 dead, including the shooters. VISIBLE PICTURES/Special
---
KENNESAW — Masey McLain, a charming, talented, effervescent young lady, is the daughter of teaching pastor Marty McLain and has been cast in the role of Rachel Joy Scott in the movie I'm Not Ashamed, a product of Visible Pictures.
I'm Not Ashamed is a dramatic recounting of the Columbine Massacre of April 20, 1999, an event that completely redefined America's view of the life of high school students. The publicity agents emphasize that this film is the "story inside the story."
"Drawn straight from Rachel Joy Scott's words, through the insight of her mother, Beth Nimmo, it is the story of a high school student whose compassionate, caring faith caused her to reach out to fellow students including her killers and made her a target of their murderous plan."
Even though the tragedy at Littleton, CO happened almost 17 years ago the carnage at Columbine is seared into the memory almost everyone over 30 years of age. Two senior students, Eric Harris and Dylan Klebold, shot and killed 12 students and one teacher and then took their own lives. It was a heartbreaking tragedy that shocked the entire nation.
Perhaps the most compelling, personal story to come out of the Columbine catastrophe was the story of 17-year-old Rachel Joy Scott. She was the first one to get shot by the perpetrators of the massacre. She was a devout Christian. Three weeks before the shooting she had shard her faith with the two shooters. She encouraged them to leave their hateful feelings and turn to Jesus, but in their perverted thinking they responded by hating her all the more.
On the day of the shooting Rachel was outside the school having her lunch. Harris and Klebold first shot her twice, in the leg and again in the back. They left, but returned seconds later and discovered that she was still alive. Eric walked over to Rachel, grabbed her by the hair, lifted up her head and asked her, "Do you still believe in your God?"
Rachel's bold and unflinching response was, "You know I do."
The killers responded, "Then go be with Him," and shot her in the head.
Rachel's response reveals that she was unashamed of her God even in the face of death. In an interview with Risen Magazine, Masey was asked, "How did you feel when you first heard you were cast as Rachel Scott in the film, I'm Not Ashamed?"
Masey responded, "I was shocked! It was such a long process of the producers searching to find the perfect person to play Rachel that I didn't think I got it for a really long time. So when they finally told me that I was it, I was like 'What?' It was the biggest shock ever. It was awesome."
Masey McLain is the daughter of Marty and Stephanie McLain and in her last year at Kennesaw State University. According to her biography she fell in love with acting in the 9th grade when she had a leading role in her first play. However, home videos easily show that her love for the camera developed at an early age.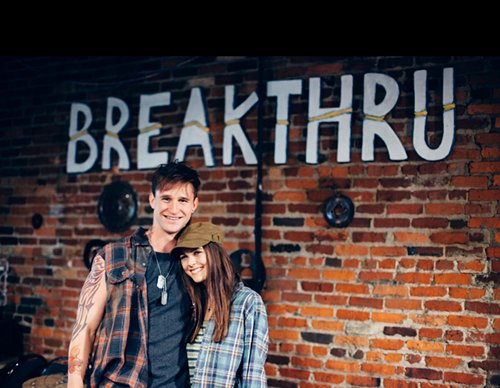 McLain stands with Ben Davies, who plays Nathan Ballard, a homeless man befriended by Rachel Scott. Past roles for Davies include Officer David Thomson in the movie "Courageous."[/caption]
After winning Most Outstanding Performance in her region's One Act competition, she decided to pursue her passion and signed with a top talent agency in Atlanta. Masey soon booked a commercial with the Jonas Brothers and has continued to book TV, print, and film engagements. She is a passionate Christian and leads worship at her home church.
Masey testified, "I asked Jesus to come into my life when I was seven years old. My family was at a revival service, and I remember leaning over to my dad and telling him I wanted Jesus in my heart. After that, the Lord completely changed my heart and I remember starting to feel the Holy Spirit guiding me. He has overtaken my life, given me joy and hope, and is constantly refining me in my journey to be more like Him."
The KSU senior continued, "My parents have been a huge influence in my life. My dad is a pastor, so I grew up learning about Jesus. My dad is a man that does everything through the lens of his faith. He lives by the word of God at all costs, and has always been a huge example to me of what it means to follow Jesus.
"The biggest thing that has facilitated my growth is the word of God. If I don't discipline myself regularly to stay in His word, I'm pretty useless in how He wants to use me because I'm not communicating with Him. Just like any relationship involves constant communication, so does mine with God.
"I've discovered that no matter how old you are, digging in His word changes everything. Praying scripture does too. I'm not perfect, won't ever be, and don't ever have to be. I definitely mess up all of the time, but trying to rely on the One who is perfect to live through me, is the goal."
The giver of talents
Playing the part of Rachel Scott in the movie was an emotional experience for Masey. She recalled, "I will never forget the day we filmed the shooting scene. The Lord flooded my mind with scripture and worship songs throughout that whole scene. I have never felt His presence so strongly. It was truly amazing and very hard to explain, but I felt the Lord hovering over that day so much.
"He allowed me to go to so many places emotionally that I had never been. I am an actress and have been acting for about six years and I know how to be in a moment during a scene emotionally, but it was the Lord that truly gave me everything I needed to do this part.
"He's the giver of any talents we have anyways, so this wasn't any different. I had to rely on His enablement every day, because stepping in Rachel's shoes was something I absolutely could not do without Him. There was a lot of pressure, because I was portraying a real person, not just a make-believe character."
Masey got to know Rachel's mother, Beth Nimmo, during the filming of the movie. Rachel's mom and dad divorced ten years before the Columbine tragedy, but Masey explained, "Beth Nimmo is one of the most incredible people I have ever met. She lights up a room and the Holy Spirit beams from inside of her. She's also feisty, but has a great sense of fashion. I loved any time I got to be in her presence. She was a special person.
"Also, in order to know Rachel's personality and character I was permitted to read all of her journals as well as talk to her mom. Her mom would sit down and tell me all about Rachel. During our conversations I discovered that I had some of Rachel's quirks and personality traits. The more I learned about Rachel, the more I would think, 'Hey, I can relate to that, or, I can do that.'
"Playing the part of Rachel Scott made a huge impact on my life. She did not have an easy life, and just like you and me, she struggled. Life can be hard and following Jesus is not easy. But it's worth it to follow Him because He's the only one who can truly satisfy our souls and give us hope.
"Following Jesus doesn't mean that you'll be popular or have a lot of Instagram followers, but it means your living for a greater purpose – a purpose that is eternal. Rachel's life makes me want to pray for an eternity mindset. To see souls instead of just bodies, and to pick up my cross and follow Jesus."
Brad Allen, the producer of the film, stated, "Rachel's story will break your heart and lift you up all in the same teardrop. Her truly unique relationship with God as revealed in her writings is an amazing display of truth and honesty that is every bit as relevant today as it was (17) years ago."
I'm Not Ashamed is slated to be released in August.