KEARNEY, NE — After a month's worth of debate and two student surveys, the University of Nebraska at Kearney's administration is moving forward with allowing Chick-fil-A as an option in the student center after opposition formed due to the CEO's 2012 comments supporting traditional marriage.
On Jan. 19, a survey including several restaurant options was put before students with 722 of the 1,222 respondents placing the chicken restaurant as the top choice, according to kearneyhub.com. Not long afterward, student government president Evan Jay Calhoun posted on his Facebook page that due to "concerns raised by a section of our student body" regarding Chick-fil-A's "corporate values and discriminatory policies" another survey would be given, with CFA replaced by another chicken restaurant as a different option.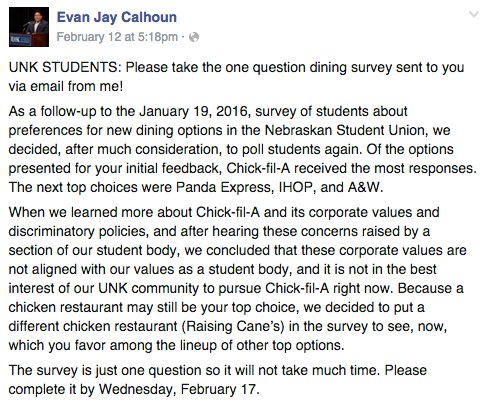 Following protests from students amid a perceived imbalance of influence by a minority, the school's administration announced Monday it was moving forward with considering Chick-fil-A along with Raising Cane's, Panda Express, IHOP, A&W, Sbarro, and Johnny Rockets. Raising Cane's was the option replacing Chick-fil-A in the second survey.
The opposition arose from a 2012 interview with Baptist Press featuring Chick-fil-A CEO Dan Cathy. Toward the end of the 1,200-word article that covered his company's beginning as a small diner in south Atlanta, building a family atmosphere among its then-61,000 employees, its "Closed on Sunday" policy, and efforts toward providing college scholarships and foster care for children, Cathy expressed support for traditional marriage.
Student Marilyn Synek, a sophomore studying political science and multimedia who is also vice-president of the UNK College Republicans and UNK Students for Life, pointed out that there are two Starbucks on campus, which some conservative students choose to not patron due to CEO Howard Schultz's support of gay marriage.
"I think it's good to engage in some dialogue, but I don't like how it was handled with the email and the second poll," said Synek. "I don't think that was the appropriate method."
A public forum for further discussion is scheduled for Thursday.
In a press release Kelly Bartling, assistant vice chancellor for communications and community relations at UNK, said, "The primary consideration, after obtaining student feedback, is to look at the business end: market potential and needs for these corporations, renovation costs, and ultimately what is feasible financially. This is what the administration is doing now."