Ten years ago Twitter founder Jack Dorsey sent out a short message – "Just setting up my twttr" – before the service became available to the public in July of that year. In March 2008 1.3 million registered users were on the site. Today, Twitter claims 320 million monthly active users, with 79% of those accounts outside the U.S.
Southern Baptists soon joined other groups in taking advantage of the microblogging service, making it a mainstream part of the conversation at the 2010 Southern Baptist Convention annual meeting in Orlando. The timing was perfect for such a platform, as the SBC had been going through months of debate over the Great Commission Resurgence Task Force report.
The GCR Task Force, formed during the 2009 meeting by First Baptist Woodstock pastor and then-SBC president Johnny Hunt, was approved at the Orlando gathering that also saw the election of another Georgia pastor to the national convention's presidency in Johnson Ferry Baptist Church, Marietta's Bryant Wright.
The first tweets of Georgia Baptist and Southern Baptist leaders and agencies below show a snapshot into their ministry at the moment, meeting up with friends, and being a little hesitant (at times) of trying out Twitter for the first time, a timidity long since overcome.

A year earlier, Index Editor J. Gerald Harris already had his own personal account.

Today, LifeWay Research Executive Director Ed Stetzer has more than 54,000 tweets under his belt.

First Baptist Colquitt Pastor Carl Marshall gave himself a pat on the back for adopting new technology.

Georgia Baptist Mission Board state missionary Buck Burch was about a decade into 13 years of service with the IMB in Russia and had yet to return to his home state.

Emmanuel Baptist Church, Blackshear Pastor Mike Stone was out on the town.

Maybe women's ministry leader Cindy Evers was somewhere other than south Georgia?

Abilene Baptist Church, Martinez Pastor Brad Whitt and Bellevue Baptist, Macon Pastor Jim Duggan alerted the world.


First Woodstock Pastor Johnny Hunt got the hang of it, with approximately 24,500 posts today.

Sherwood Baptist Church, Albany Pastor Michael Catt was in dad mode on his first tweet.

Ignoring his own obvious edginess, Cartersville First Baptist Pastor Jeremy Morton thanked Dan Perdue, media and technology director at Cross Point Church in Perry where Morton served at the time, for getting him set up.

Eagles Landing Baptist, McDonough Pastor Tim Dowdy and North Metro First Baptist, Lawrenceville Pastor Frank Cox started at around the same time, with Vidalia First Baptist Pastor Bucky Kennedy giving Cox's arrival some theological perspective.



Bible study leader Beth Moore is known for teaching God's truth, but even she had no idea just how truthful her first Twitter post was.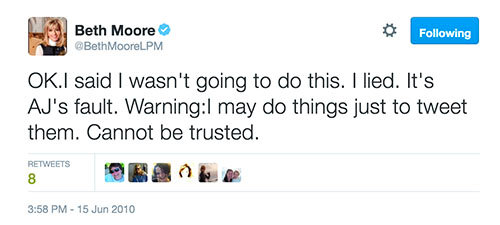 Bryant Wright's first post came off the heels of his election as president of the Southern Baptist Convention.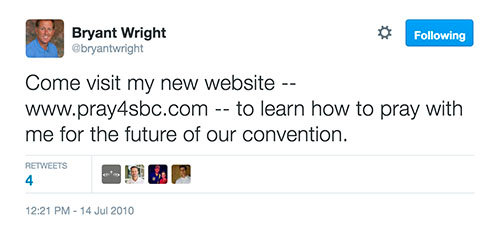 SBC Executive Committee President Frank Page was witnessing the aftermath of a tornado outbreak.

Georgia Baptist Mission Board Executive Director J. Robert White had just finished lunch with First Baptist Thomasville Pastor Dan Spencer.