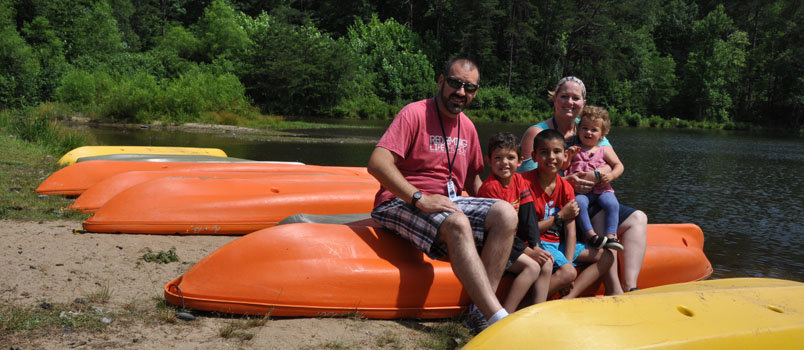 Bryan Catherman and his family – Daniel, Asher, and spouse Lisa holding Lydia – were the guest missionaries during a Culture Camp week in June at Camp Pinnacle. JOE WESTBURY/Index[/caption]
CLAYTON — God sometimes calls individuals to leave friends and family and move to another location as a missionary. And sometimes He calls an individual to be a missionary right where they live.
Indigenous missionaries, as they are called, remain in their home community or state and serve where they best understand the culture. They have natural insight that provides them with eyes to see the needs that someone moving into the culture may take months to recognize.
That indigenous ministry was the focus of Culture Camp at Camp Pinnacle for a recent week as campers learned firsthand about the ministry of Bryan and Lisa Catherman in Utah.
"It's hard being a missionary where you are from because you see the brokenness and lostness more clearly than an outsider. You know many of the people on a personal level so the pain is deeper as you struggle to lead them to Christ," Bryan Catherman told the girls in one of his sessions.
The couple are different from other missionaries because they were not always Christians where they serve. When they first met, Lisa was struggling with doubts of her Mormon faith and Bryan was not a believer. After they were married they felt they needed a spiritual foundation that was not tied to the state's dominant faith.
Within two years of visiting an independent church Lisa accepted Christ and Bryan followed. Before long he felt called not to church planting specifically, but "to make disciples and gather them into a church," Catherman explains.
He makes the distinction because he feels many church planters are focused on starting a church first and then growing the congregation. His approach, though very similar, focuses on winning people to Christ, starting a home Bible study as others are reached, and then gathering the group into a new church plant.
Laying the foundation
"I joined the staff of Holladay Baptist Church, a small congregation in Salt Lake City, where I served for 5 years helping them launch a new congregation. I had already completed my master's of divinity degree from Liberty University and was working on my doctorate from Golden Gate (now Gateway Seminary). Eventually Holladay Baptist – and our sponsors throughout the nation – sent Lisa and I out to find the lost, share the Good News, and gather them into a new church," he adds.
And that's the story the missionary couple shared with the young girls at Pinnacle. They told stories of hard work, of being lonely even while serving at home due to the lostness of Utah.
"It's very lonely work because of the spiritual darkness we encounter every day. We serve where there are fewer Christians than in some locations in the world; 97 out of every 100 people we meet are lost without a relationship with Christ.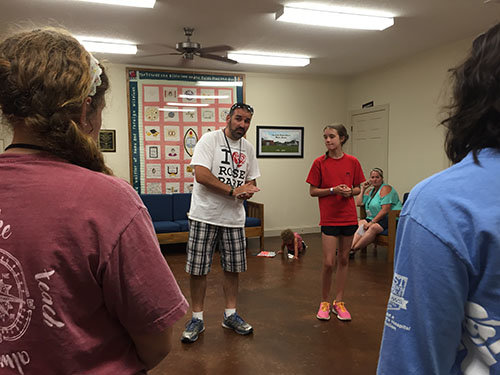 At one point during his presentation Catherman asked for a volunteer – in this case Adria Swiney of Ebenezer Baptist Church in Toccoa – to personalize a witnessing encounter. JOE WESTBURY/Index[/caption]
"What makes it even harder is that so many of those are members of an established religion (The Church of Jesus Christ of Latter-day Saints, commonly known as Mormons) so they feel that they have already found Jesus."
Volunteers key to their ministry
That hasn't slowed down the couple, though. Using volunteers from around the nation they and their small church have placed more than 20,000 door hangers on front doors, each one with a gospel message. They have also distributed 10,000 tracts and 400 Bibles "while praying for every home in the entire west side of Salt Lake City. We literally have stood in the front of each home and prayed for the individuals living there," Catherman says.
Growth, as expected, has been slow in such an environment. But still, 13 baptisms have been recorded since the new congregation – Redeeming Life Church – began at Easter 2015.
The church averages 60 members with more than 60% of those being new believers.
First Century church starting
"We live as close to a First Century church starting model as possible," he adds.
One way the couple brought the difficulty of finding the unchurched in the midst of a perceived churched state is through a creative exercise with the campers. First, Catherman enlists just three or four girls from the group to be open to the gospel if they were approached by a missionary. That left about 20 girls who would not be responsive to a witness. Then he chose one volunteer and gave her a tract, challenging her to see how long it took her to find those who might be seeking God … all the while the group is walking around the room.
The exercise brought the struggle home to the girls in just 10 minutes.
Following that experience the group visited a coffee shop similar to one where Bryan and his wife meet new prospects. Then the girls were asked to write personal notes or scripture verses on door hangers which the couple could use as they continue their door-to-door witnessing.
"We literally pray Luke 10:2 every single day in Salt Lake City, asking the Lord of the harvest to send laborers into the field because it is so hard and we are so few," Catherman stated.
"We trust that someday some of these girls, or a group from their church, will come to Utah to labor alongside us."
Pinnacle offers a distinctive missions education perspective
That's what sets Camp Pinnacle apart from other summer camps. While many include Bible studies and scripture memorization, Pinnacle offers a distinctive Southern Baptist missions experience. Missionaries from the North American Mission Board and International Mission Board regularly share their experiences from the field and offer one-on-one mentoring.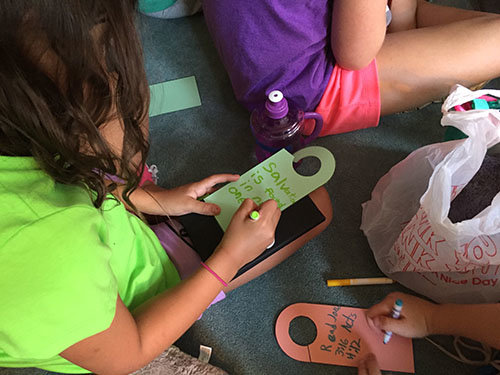 One of the activities was making door hangers which Bryan and Lisa Catherman would take back to Utah as they continue their ministry in the neighborhoods. The girl on the left is writing "Salvation is only found in the name of Jesus" while the girl on the right is writing "Read John 3:16 and Acts 4:12." JOE WESTBURY/Index[/caption]
And that's why Pinnacle remains a spiritual place for unknown numbers of girls who first surrendered to mission service through experiences like the one this year's campers are experiencing.
Camp Pinnacle is a ministry of Georgia Baptist Women's Missionary Union and Women's Enrichment Ministries. For more information on Camp Pinnacle or WMU ministries, call (800) 746-4422, ext. 324, or email emu-wem@gabaptist.org.
Registration for 2017's camping and missions education season will open in September of this year. Contact WMU/WEM for the schedule and affordable cost structure.