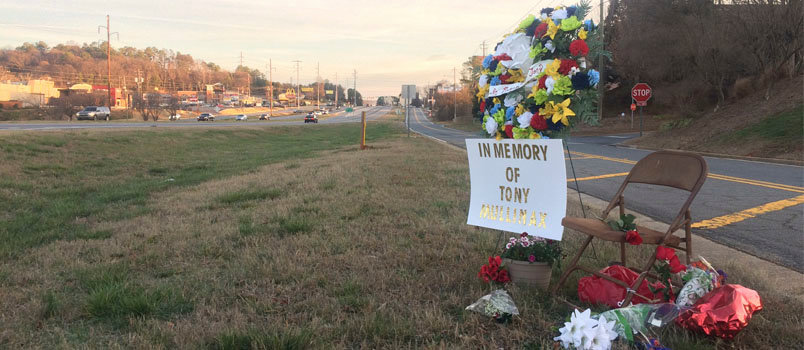 An empty chair sits beside highway 41 this morning in Cartersville where street preacher Tony Mullinax used to wait, counsel, and witness to others. SCOTT BARKLEY/Index[/caption]
Not long after moving to Cartersville in 2001, I noticed him.
I can't remember exactly, but it seemed Tony Mullinax sat there every day in a chair between highway 41 and an access road in front of Target. Handmade signs like "Jesus Loves You" indicated he was there to listen, counsel, and pray for those who wanted it.
And he was resolute. In mid-July he'd be there, sweating through his suit in the Georgia heat. He'd eventually drape his coat over the chair, but his tie remained cinched around the neck of his dress shirt. On a cold day in February, he'd be there, bundled up in a coat.
His posture wasn't one of desperation, hoping for someone to stop by. Instead it exuded expectation. A local website interviewed him in 2010. In it, he estimated around 10-30 people stopped by each day. Over the previous five years, he guessed, 6,000-8,000 had approached him.
I'd drive by and, when he wasn't talking to a visitor, see him with his head down and hands clasped on his Bible, praying. Like I said, he didn't appear to be hoping for a visitor, but continually preparing for one.
His style of preaching
Once I pulled up in the Target parking lot and walked down the hill to talk to him. I just wanted to chat him up and let him know I was praying for him and the encounters he would have that day. He was as kind and gracious as you'd expect. Preparing to leave, it hadn't been my intention to ask for it, but he wasn't going to let me go without praying for me. In the process, he inspired me to talk to others more about my faith.
But he didn't stay forever. Word about "Brother Tony" dying on Feb. 3 at age 63 in Arkansas made its way to Cartersville recently. Unsurprisingly, a makeshift memorial sprang up at the spot he occupied for those years. There may be others today in Cedartown, South Carolina, or Texas, places Mullinax took his brand of street preaching since he began in 1982.
I say "his brand of street preaching" because he had a different way of going about it. The term typically brings the image of someone proclaiming loudly from a place with lots of foot traffic. Nothing wrong with that, and if it were Brother Tony's method he easily could've done it about a half-mile away on Cartersville's town square. Instead, he chose an even more highly-visible area and waited. The signs placed around him made clear Who he represented and the perspective he was going to take if you wanted to talk. It centered around Jesus and the Gospel.
A congregation for all
A native of Cartersville, Mullinax had moved away but then Christ changed him. He returned to his hometown with a gift, and wanted to give it to as many people as possible. In fact, he considered his church including not just those who wanted to talk in person, but the people in their cars passing by on highway 41.
"The main ministry is sowing the seed … [to those] driving by every day," he said. "They attend every service, every day of the week. They stop. We pray."
And, his congregation was highly diverse.
"You get the educated, the uneducated, and from every walk of life. Some people hate God. Some people love God. Some people want God. You get all aspects of it, so we just sow the seed," he explained.
Brother Tony's example gives us sound advice in a world where were argue over what is fake and what is true. Rather than listen before speaking, we're more prone to give a preemptive shout. Instead, don't remain silent; be clear on who you are and don't hide it. Let your principles speak in your actions. Don't let the Gospel become simply a written dogma, but living and active in you. Eventually, people will want to know where all of that comes from.
Tony Mullinax didn't run for public office. He didn't occupy a traditional pulpit or lead a massive, multi-volunteer ministry. He wasn't a social media star with followers galore on his Twitter account or blog.
Nevertheless, he made a massive difference. Years after he last occupied the space, people here remember this street preacher clearly. They remember the message he preached, and the Savior he served.