By Shawn Hendricks
ST. LOUIS, MO (BP) — When Southern Baptists depart St. Louis after their annual meeting next week, says SBC president Ronnie Floyd, he will be praying they do so with a "deep burden for our nation, a new commitment to racial unity, and an extraordinary commitment to evangelize America."
With the theme of this year's June 14-15 gathering being "Awaken America: Reach the World – Agree, Unite, Pray," Floyd continues to point to passionate prayer as a critical tool for a "nationwide and global spiritual awakening."
"I pray that our SBC messengers encounter the living God through moments of worship, preaching, challenge and prayer," Floyd said.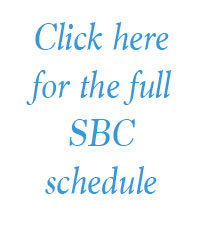 For the second year, Floyd will lead a Tuesday evening session devoted to prayer. "A National Call to Prayer for Spiritual Leadership" will feature a diverse group of Southern Baptist leaders and pastors with special guests Keith and Kristyn Getty. Floyd has also invited African American pastor Jerry Young, who is president of the National Baptist Convention, USA, Inc., to participate in the evening session. Young also will be among the speakers at a special session, "A National Conversation on Racial Unity in America," that will take place that morning.
Floyd described St. Louis as "one of America's significant cities."
"With the racial unrest in St. Louis due to what happened in Ferguson in August of 2014, Southern Baptists will have a strong opportunity to represent Christ through Crossover ministry in the city," Floyd said of the annual evangelism outreach event that takes place each year in the annual meeting's host city. They also have an opportunity to "speak to the racial challenges that face not only St. Louis, but our entire nation."
He noted, "I believe we will leave St. Louis with a powerful, strong, clear and encouraging testimony of the need for loving one another, regardless of the color of one's skin."
Election
As Floyd wraps up his second and final term as SBC president in June, messengers will elect a new leader. So far three candidates have been nominated for SBC president: North Carolina pastor J.D. Greear, Tennessee pastor Steve Gaines, and Louisiana pastor David Crosby.
Florida pastor Jimmy Scroggins announced in March 2 that Greear will be nominated for president.
Scroggins noted, for 14 years Greear has pastored The Summit Church in Raleigh-Durham, N.C. During that time, worship attendance has grown from 350 to just under 10,000, Scroggins said. Total baptisms increased from 19 in 2002 to 928 in 2014, the last year for which statistics are available through the SBC's Annual Church Profile. Greear served two years with the International Mission Board before being called to The Summit.
Former SBC President Johnny Hunt announced a week later that Gaines will be nominated for SBC president.
During the 11 years Gaines has pastored the Memphis-area Bellevue Baptist Church in Cordova, TN, the congregation has averaged 481 baptisms per year, according to the SBC's Annual Church Profile. Previously, he pastored churches in Alabama, Tennessee, and Texas.
Former SBC President Fred Luter announced later that Crosby will also be nominated as SBC president.
Crosby has pastored First Baptist Church in New Orleans for the past 20 years. The congregation has averaged 658 in worship and 24 baptisms annually over the past five years, according to ACP. Crosby has served a variety of leadership roles at the association, state convention and SBC levels.
Crossover St. Louis
During this year's Crossover evangelism outreach leading up to the annual meeting in St. Louis, an estimated 3,500 Southern Baptist volunteers are expected to converge on the metropolitan area June 11.
Along the I-70 corridor through Missouri's largest city are neighborhoods unreached with the Gospel, Jim Breeden, St. Louis Metro Baptist Association's (SLMBA) executive director, said. "We have 12 unreached areas of St. Louis that don't have a Southern Baptist church within a three-to-five-mile radius," he said. "Visitors driving on the I-70 corridor will pass some of the darkest and most dangerous areas of our city."
During Crossover, volunteer teams will visit five of those unreached areas to share the Gospel. SLMBA hopes to recruit church planters long-term via the evangelism outreach, Breeden said.
Four more area associations among the St. Louis metro area's 2.73 million residents are also planning Crossover events: Jefferson, Franklin, and Two Rivers associations in Missouri, plus Metro East in Illinois.
Proposals
Messengers gathering in St. Louis will consider a variety of recommendations during the annual meeting. Among them:
a recommendation amending SBC Bylaw 26 regarding questions to SBC entity leaders from the floor during the annual meeting. The recommendation is intended to provide consistency in the time allotted for messengers to ask questions. The EC will present the recommendation to messengers during the SBC's meeting.

a one-time transfer of funds from the North American Mission Board (NAMB) to the International Mission Board to assist IMB personnel leaving the board during its "organizational reset."

a new name for Golden Gate Seminary. If messengers give approval to the name change, the new name will be Gateway Seminary of the Southern Baptist Convention. To take effect, the bylaw amendment, which was approved during last year's annual meeting in Columbus, Ohio, must be approved again by messengers in St. Louis.
SBC app
Messengers to the annual meeting once again can stay updated by using the "SBC Annual Meetings" mobile application. The app includes a listing of speakers for the SBC Pastors' Conference and SBC annual meeting, as well as the daily program schedule, daily events, exhibitor listing, convention center maps, 2016 Book of Reports, and more. Download the app on your mobile device by accessing the App Store or Google Play.
Messengers can also follow on Twitter @SBCMeeting, @BaptistPress, @SBCLife, @sbccp, and @SBCPastorsconf for the latest annual meeting updates.
Registration/new guidelines
Register online here. NOTE: To help ensure the orderly flow of attendees and enhance security of the convention hall, this year each messenger, exhibitor, and guest will need to be registered and properly badged for entrance into the general sessions June 14-15.
After completing online registration, each individual will receive an eight-digit registration code to present at the annual meeting's express registration lane. There, the registration code can be entered into a computer and a nametag will be printed.
---
Originally published by Baptist Press, news service of the Southern Baptist Convention.