BIRMINGHAM — At their annual meeting held June 9-10 at the Birmingham Hilton at UAB members of the Southern Baptist Conference of Association Leaders, among other agenda items, voted to approve a list of recommendations for helping churches fight sexual abuse.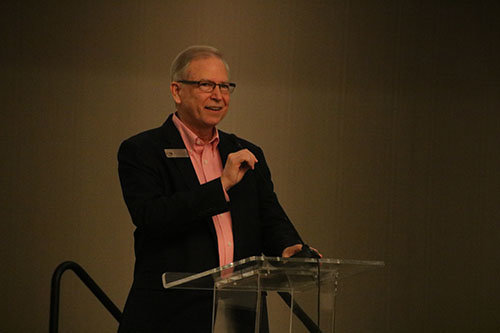 Ray Gentry, SBCAL executive director and associational mission strategist for Southside Baptist Network in McDonough, speaks during the group's gathering at the Hilton at UAB on June 9. SCOTT BARKLEY/Index
The document, titled "Encouragements to Associations, State Conventions, State Conventions, and Churches Regarding the Prevention of Abuse of Minors," states its purpose as to charge others to "diligently guard those whom God has given to us for the purpose of ministry." Those encouragements include regular review of prevention policies, utilizing background checks and the U.S. Department of Justice National Sex Offender database, and developing policies in regards to electronic communication with minors.
Ray Gentry, SBCAL executive director, said a Vision Team Report approved at the meeting will provide a ministry template for associational mission strategists.
"It encompasses so many things," pointed out Gentry, AMS for Southside Baptist Network in McDonough. "We're giving more practical helps so those leaders can better assist their churches in advancing the Gospel. We want to set a bar on what is an effective associational leader and if there is a bar, we want to raise it. It's a critical role in Southern Baptist life and so we want our churches to call on and trust us to help them at their point of need."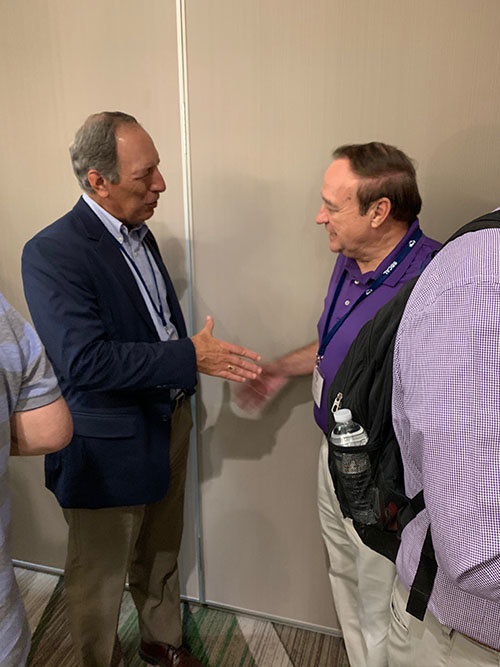 At right Chris Conner, who began only last week as associational mission strategist for Appalachee Baptist Association in Monroe, greets Mark Gonzalez, AMS for Royal Palm Network Association of Churches in Ft. Myers, Florida. SCOTT BARKLEY/Index
Sunday morning, June 9, NAMB Senior Vice President for Evangelism and Leadership Johnny Hunt addressed SBCAL members, calling them the "boots on the ground" for ministry. "I don't think there's an audience that excites me as much as this group here," he claimed.
'The point of the spear'
"We're the denominational entity closest to the local church," Gentry said. "We're the point of the spear."
With their close relationship to churches, it's important for associations to maintain consistent leadership at the helm, he added.
"Resources like the Search Committee Guidelines can help state conventions prepare for those times when they may be without an AMS. They also include 17 proficiencies suggested for associational mission strategists. We think this is really going to help associations in finding their next AMS when needed."
Attendees to the groups two-day workshop also took advantage of sessions hosted by association leaders. Georgia Baptists Steve Laughman of Centennial Baptist Association in Thomaston and Larry Cheek of Stone Mountain Baptist Association joined Gentry in those roles.
First resource book since 1984 to coincide with 60th anniversary
Gentry announced Sunday of a book currently being developed to guide associations into a new era of ministry. The last time a Baptist-produced book on the subject came in 1984, he said. To be published next year, the one in production will include various contributors in association missions.
"We want to be proactive and provide something that will be a reference book for years to come," he said. "It will provide the picture of what an effective associational ministry looks like."
Next year, he noted, will also be the 60th anniversary of SBCAL.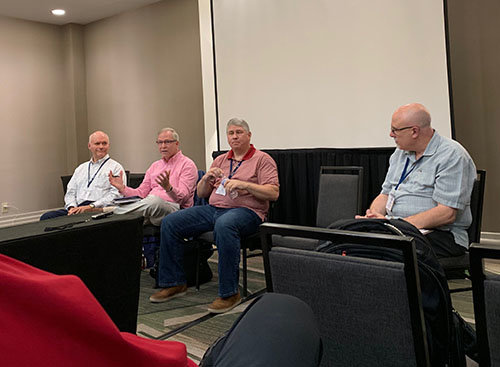 Ray Gentry, second from left, takes part in a panel discussion with peers at the SBCAL meeting. SCOTT BARKLEY/Index
As a resource to churches, Gentry acknowledged how technology gives pastors an instant answer to a ministry question. However, personal relationships remain important when working through a situation. And the quickest path often comes through the local association.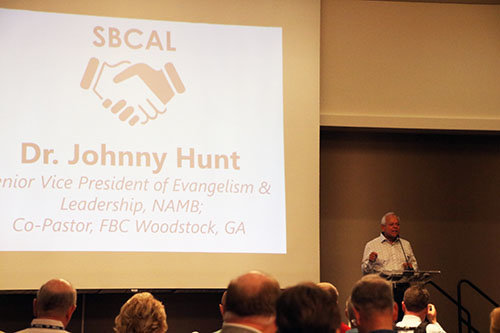 NAMB Senior Vice President for Evangelism and Leadership Johnny Hunt addresses SBCAL members during their Sunday morning worship on June 9. SCOTT BARKLEY/Index
"Even though we're technically not part of the state convention, many guys see us as we are. They know that we know people at the state. So, they'll often call us and say they need help with something, and if we don't have the answer who would be the best person to call with the state convention.
"When it comes to looking for those answers on the internet, sometimes you might not even know what to search for. You might not be able to find what you need on the state convention's website. We're still a pastor to pastors and minister to ministers. There have been times where a pastor calls me with a need and I connect him with another pastor in the association who can help. We're sort of like air traffic controllers in those situations."
Those situations won't be going away, of course. Gentry states that when they happen, associations will be there to help.
"The SBCAL is getting better, stronger every year. We're in a good place to help AMSs get more effective and, in turn, help their churches become more effective."