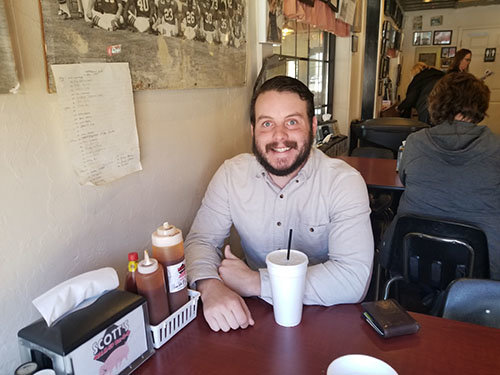 Denver Harris serves as senior pastor of Wofford's Cross Roads Baptist Church in White. SCOTT BARKLEY/Index
WHITE — While a fifth grader at Johnson Elementary School in Rome, young Denver Harris entered a public speaking contest. He did well enough to win the school competition, then regionals.
At the state level Harris knew he wouldn't be allowed to use notes, as had been the case previously, so he rehearsed his speech. "I knew it front and back. I could start it at any point and finish it," he says. State, he felt, was a lock. He knew this message as well as anyone could.
But it wasn't. Once on stage, the crowd of perhaps a hundred felt like a million. Harris stood there awkwardly, painfully for maybe 15 seconds. He could see his mother, Jill, beckoning him to start. Pick a place in his message. Any place.
But nothing came. The youngster had totally blanked. So, he walked off the stage.
The early road
Although it rocked him at the time, the 23-year-old Harris recovered from the humiliation. He went on to answer a call to the ministry, and today is in his first pastorate. Every Sunday the folks at Wofford's Cross Roads Baptist Church in northern Bartow County would have no idea he'd at one point had trouble bringing together a message.
That road to the pulpit began early for Harris. "I sat under my grandfather, learning from him, for many, many years," he says, referring to Tommy Harris, recently-retired pastor of Macedonia Baptist Church near Kingston. The younger Harris cites other pastors who he considers mentors: Don Hattaway, First Baptist Douglas pastor who served at Tabernacle, Cartersville through Harris' middle school years, and Ralph Jenkins, who baptized Harris at Sherwood Forest Baptist Church in Rome and later oversaw Harris' ordination ceremony. Jenkins now serves as pastor at Grace Baptist in Cartersville.
Harris says as a sophomore in high school he heard a message during revival services at Taylorsville Baptist Church, where Tommy Harris was pastor at the time. Guest evangelist Scott Shepherd preached a sermon on the Israelites wandering in the desert. That message brought Denver Harris to a point of answering a call to ministry, a call that would've been hard to fathom a few years earlier.
85 days
On the morning of Saturday, April 11, 2009 Jill Harris appeared to be in perfect health. That night, however, she told her husband, Eric, that she had severe back pain and needed to go to the hospital, now.
The next day, Easter Sunday, doctors found evidence of pancreatic cancer. It spread quickly. On the 5th of July – 85 days after feeling those back pains – Jill Harris died.
Her son took it hard, as one would expect of a 13-year-old. His mother had been as solid a parent as a kid could hope for, constantly encouraging Denver and his sister Whitney, who plays basketball at Toccoa Falls College, to be the best they could be.
"I was angry at God for two years," Denver says. "Even after I rededicated my life to Christ, I struggled with overcoming that anger and truly seeing that God loved and cared for me.
"I questioned God 'why'? My grandfather's a pastor. My whole family is saved. We believe in You. We trust You. What in the world are you doing, God?"
Toward the end of that summer Harris took part in SPLASH Bartow, a locally-focused missions event where students conduct various service projects. The theme that year was "I < Christ" ("I less than Christ"). That theme began to draw Harris back and heal his view of God.
The trauma of his mother's illness had affected him, he could see. "Instead of running to God, I'd run away from Him. So I decided to head on my own. It's where that bitterness came from.
"In going back to God I was saying I was going to trust Him more. I didn't know what that was going to look like, or what it was going to mean, but I knew it was going to be better than the bitterness I was experiencing."
'Riled up a little bit'
Denver Harris felt called to become a minister and didn't look back. He sought out ways to share his testimony and faith, doing so at one event that included students from throughout the county and hearing afterwards from peers who'd experienced something similar.
After graduating from Excel Christian Academy in 2014 he chose psychology as his major at Kennesaw State University to help him be a better pastor. His freshman year he took a Criminal Justice class and liked it so much he took another, then another, and another until he oopsied into having enough credits for it be his declared minor. He will soon begin classes through New Orleans Baptist Theological Seminary.
Harris served as youth pastor at Morning View Baptist Church in Acworth before accepting the senior pastor role at Wofford's Cross Roads. The church recently marked his second anniversary with the congregation.
One wouldn't describe him as low-key in the pulpit, which can be witnessed on the church's YouTube page. "I get riled up a little bit," he admits. "But it's not the coat-slingin', tie coming off."
Still, he gets riled up enough. He can't help but to. Shortly before Jill Harris' earthly death her children went into the hospital room to say bye. She hadn't moved in days, but Denver and Whitney were told she could hear them.
"I told her goodbye and turned around to walk out of the room" he says. "Then my grandmother calls me back in the room. My mother had raised her hand to me. That was her way ­– God's way – of saying she was going to be okay … and I was going to be okay, too."
It could also be said that Jill Harris' final motion to her son mirrored the one a few years earlier. As he did in the fifth grade, today he walks on a stage ready to deliver a message. It's a message he knows as well as anyone and can deliver at any time.
Only now, he never freezes.
"Sitting down with ..." is a new feature of The Christian Index profiling pastors from around the state and telling their testimonies. Denver Harris can be contacted at denvertharris22@gmail.com or on Twitter at @NotFromColorado.