DOUGLAS – Twenty years ago Christopher Lasch, professor at the University of Rochester, author, and critic of liberalism, was using phrases like "spiritual malaise," "spiritual disrepair," "spiritual desiccation," "spiritual torpor," "moral and cultural disorder," and "moral collapse" to describe the moral and spiritual condition of America.
A growing number of pastors and Christian laypersons are beginning to have an acute awareness of the desperate spiritual condition of our churches and nation. It has been well stated that man's extremity is God's opportunity.
Shep Johnson, pastor of First Baptist Church in Douglas, is aware of the spiritual condition in both his county, state, and country and has a heartfelt desire to do something about it.
Johnson recently explained, "There have been a group of people in our church and community who have been praying for revival for over 15 years. For the past ten years I have been praying passionately for revival. I don't know of anything else we can do. If there is not a movement of God, I don't have a great deal of confidence in the future of the church in America."
Henry Blackaby once explained, "All revival begins and continues in the prayer meeting. Some have also called prayer the 'great fruit of revival.' In times of revival, thousands may be found on their knees for hours, lifting up their heartfelt cries, with thanksgiving, to heaven."
John Butler, associate pastor at First Baptist Douglas, reflected on the Aug. 10 candlelight prayer walk at the Coffee County Courthouse when 1,500 people gathered to pray. He recalled, "Coffee County was well represented at the prayer vigil, but we also had people from Warner Robins, Conyers, Waycross, Valdosta, and other places across Georgia. We realized then that there were many people who were desperate for revival, desperate to see God move.
"Then in September at a Coffee High School reunion God did something that is really difficult to explain, because that reunion was somehow transformed into a prayer meeting. Willie Williams, Kell and Janet Phelps, Willie Carter, and others began to talk about how the Court House Candlelight Prayer Walk impacted their lives and they prayed at the reunion and took up an offering to provide 'seed money' for a country-wide revival meeting."
In October the Douglas Prayer Walk was transported to Atlanta to Liberty Plaza across from the Gold Dome where people prayed, sang, read Scripture, and then prayer-walked around the Georgia Capitol.
Spiritual leaders in Ben-Hill County are planning a similar prayer event in Fitzgerald on Dec. 28 at the county courthouse. Johnson expressed a fervent desire to see someone in each of the 159 Georgia counties get a vision to mobilize the people to pray. He exclaimed, "If you can inspire people to pray in each county, then when there is a need to muster the people to take a stand on some moral, civic, or spiritual issue you have a band of people who are battle-ready and prepared to move into action."
Johnson and Butler and those who are working with them to inspire the people of Coffee County and Georgia to pray have developed a website: www.standandpraygeorgia.com.
Johnson declared, "Today the church, the institution of marriage, and the traditional family lie in the crosshairs of a misguided and immoral secular culture. It is imperative that Christians across our state put on the full armor of God as we are instructed in Ephesians 6:11 and push back so that we can stand firm against the schemes of the devil and this fallen world."
The Douglas pastor then added, "Freedom unguarded is a freedom lost."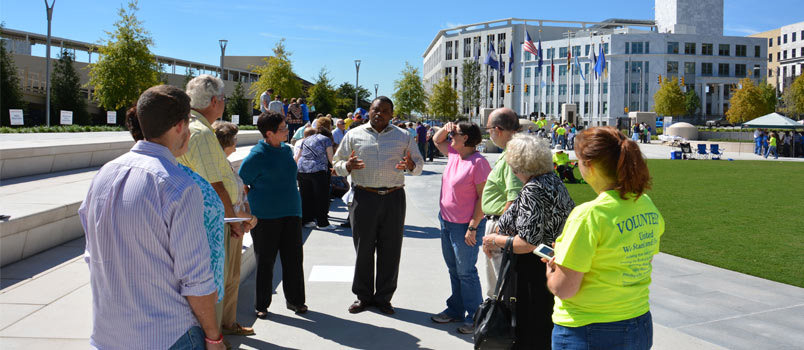 Pastor Shep Johnson and the people of First Baptist Church in Douglas sponsored a prayer rally, STAND AND PRAY", at Liberty Plaza across Capitol Avenue from the Gold Dome, Georgia's State Capitol on Thursday, October 8. More than 200 attended the rally. SHEP JOHNSON/Special[/caption]
United, not divided
In January the spiritual leaders in Coffee County have scheduled the "Rend Our Hearts" countywide revival services at the Coffee Middle School Auditorium. The services will begin on Sunday evening, Jan. 3 and continue through Friday, Jan. 8. The theme of the meeting is based on Joel 2:12-13 where the Old Testament prophet urges the people of Israel to "rend your heart, and not your garments, and turn unto the Lord, your God."
Johnson indicated that so far approximately 30 churches from five denominations are involved in praying as well as planning the meeting in January. He explained, "We are crossing both denominational and racial lines to unite in a time of seeking God for the revival of His church in Coffee County. We have seen barriers broken down and the people of the community come together in love and cooperation."
One of the Coffee County prayer brochures states, "We are united in Christ. We will not be divided by denominations, race, or even politics. Our desire is to see God move once again in our country. We believe that God will honor the prayer of His people. We are united in prayer, and are bound together by five core commitments: declaring Jesus is our only hope; seeking revival in America's churches; defending Biblical marriage; building Biblical families; and protecting our First Amendment rights."
In the conversation with Johnson and Butler their passion for prayer and revival was obvious. Their heart-cry for a spiritual awakening was gloriously apparent. Johnson's parting word was, "We are nobodies and we want to stay nobodies, but we want to see God move in such a way that only He can get the glory."
Stay tuned for more news from Douglas and Coffee County. There is some kindling wood there that God could use to start the fires of revival in Georgia and beyond.