CARTERSVILLE — In high school Kyle Walker first felt God's calling for him to become a pastor. That path began as a youngster in the youth group of Central Baptist Church in Americus and, after a family move, to becoming a leader in his youth group in Columbus, Mississippi as well as at First Baptist Church in Tuscaloosa while attending the University of Alabama.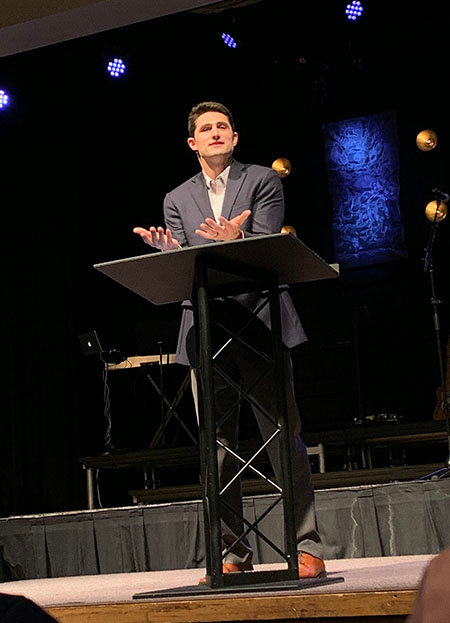 Kyle Walker, who was voted May 19 to become the next senior pastor of Cartersville First Baptist Church, is a Georgia native who has worked the last several years as a dean and vice president at Southwestern Baptist Theological Seminary. SCOTT BARKLEY/Index
Several years, first as a student and then in numerous leadership positions at Southwestern Baptist Theological Seminary in Fort Worth, Texas, brought Walker to be voted on as the next pastor at Cartersville First Baptist Church after preaching there in view of a call May 19.
Preaching that day from 2 Timothy 4:1-5, Walker described himself as an expository preacher. And despite his years of training in preaching, concluded that the practice boils down to a simple premise not just for pastor but parishioner.
"Speaking the Word of life must be a way of life," he stated. " Real preaching is simply repeating what Scripture says."
Walker's first Sunday in the CFBC pulpit is slated for July 14.
In 2005 Walker received his first ministerial experience as summer youth activities director at East End Baptist Church in Columbus, Mississippi. He would go on to serve the next year as a pastoral minister intern at Fairview Baptist Church, also in Columbus, before becoming a college ministry intern at First Baptist Church in Tuscaloosa, Alabama from 2006-07.
After graduating from Alabama in 2007 with a degree in Organizational Leadership, Walker earned his Master of Divinity and Ph.D. in Preaching/Systematic Theology at Southwestern. On December 26, 2010, he was ordained to the ministry by Fairview Baptist Church in Columbus, Mississippi.
After completing his time as a student at SWBTS, Walker was asked in April 2010 to stay in Fort Worth as director of admissions. He would keep that role for several years and during that time also serve as pastoral associate at Tate Springs Baptist Church in Arlington from 2010-2012.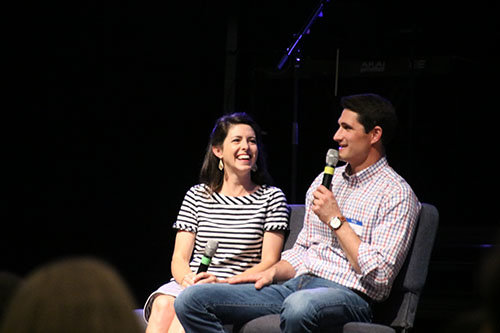 Kyle and Lauren Walker share their testimony during a Q&A session with Cartersville First Baptist members Saturday, May 18. The event was one of several introducing the Walkers to CFBC members in the days leading up to Kyle preaching in view of a call May 19. SCOTT BARKLEY/Index
In March 2014, Walker began his tenure as dean of students at Southwestern, a title he'd keep until attaining his current position as vice president for student services in February 2017. While in those leadership roles, he also served as an adjunct professor of homiletics (spring 2015) and assistant professor of homiletics (May 2015-present). In addition, he and his wife, Lauren, co-taught a newlywed class at Tate Springs Baptist Church from 2014-16. Kyle also served as interim pastor of First Baptist Church in Mansfield, Texas, from April 2016-March 2017.
The author of "Let the Text Talk: Preaching that Treats the Text on its Own Terms," Walker is a member of the Evangelical Homiletics Society and Evangelical Theological Society. In August 2012 he was presented with the President's Thanksgiving Award at Southwestern Seminary.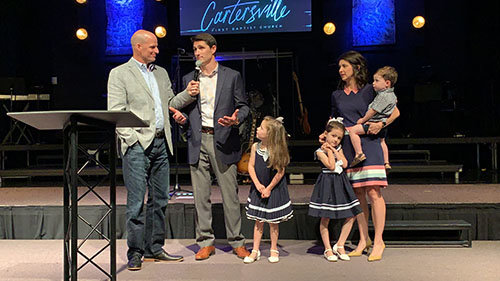 CFBC elder Andy Bishop introduces the Walker family: Kyle, Lauren, Taylor Grace (6), Libby Anne (4), and Clay Kyle (2). CFBC/Special
During his preaching ministry over the last four years, Walker has presented the Gospel and trained preachers throughout Texas, Mississippi and Alabama as well as in the states of Kentucky, Oklahoma, Missouri, Georgia, New Mexico, and Virginia. Internationally, he's preached and taught in the Grand Cayman Islands, United Kingdom, Korea, Myanmar, Mexico, and India.
Walker, 34 years old, said he feels a call to minister to the whole church but certainly to reach the next generation with the Gospel and training up ministers. He and Lauren will celebrate their 11th anniversary in June. They have three children: Taylor Grace, 6; Libby Anne, 4; and Clay Kyle, 2.